Whether it's studio pressures, generic material or just risk aversion, sometimes it's tough to spot a filmmaker's voice in their own movie. Not Emerald Fennell. 'Promising Young Woman' and now her new black comedy 'Saltburn' are Fennell-ery right down to their britches. Her Oscar-winning debut, a revenge thriller with a serious sting in the tail, is an uncompromising vision of rapacious male sexuality getting its comeuppance. Now she's back with a poshos-in-their-pomp black comedy set at Oxford University and over a sticky (in every sense) summer at a grand country pile. It follows Barry Keoghan's working class Liverpudlian undergrad, Oliver Quick, who gets adopted as short-term bestie by Jacob Elordi's charming but flighty aristocrat Felix Catton.
'The hope with anything you make is that you tease open something a little bit and put your finger in,' Fennell says of its more subversive elements, unleashing one of her throatiest laughs (there's a whole spectrum). At the time of our interview at a Soho hotel, the actors' strike has yet to end, so she's doing 'Saltburn' publicity without Keoghan, Elordi, Rosamund Pike and co to share the load. 'I'm having a slight existential crisis,' she jokes.

Luckily, it's an easy film to chat about. 'Saltburn' is a riot – a sharply observed class satire, twisty thriller, and gross-out guilty pleasure all wrapped up in one champagne-soaked package – and full of the kind of authenticity the not-exactly-unposh writer-director (an Oxford grad herself) can offer. Even two films into her directorial career, a love of using genre thrills to provoke and shock is turning into a calling card. In 'Saltburn', a certain bathtub scene – no spoilers – delivers the kind of 'what-the-fuck-did-I-just-watch?' moment that'll be swirling around on your social media feed soon.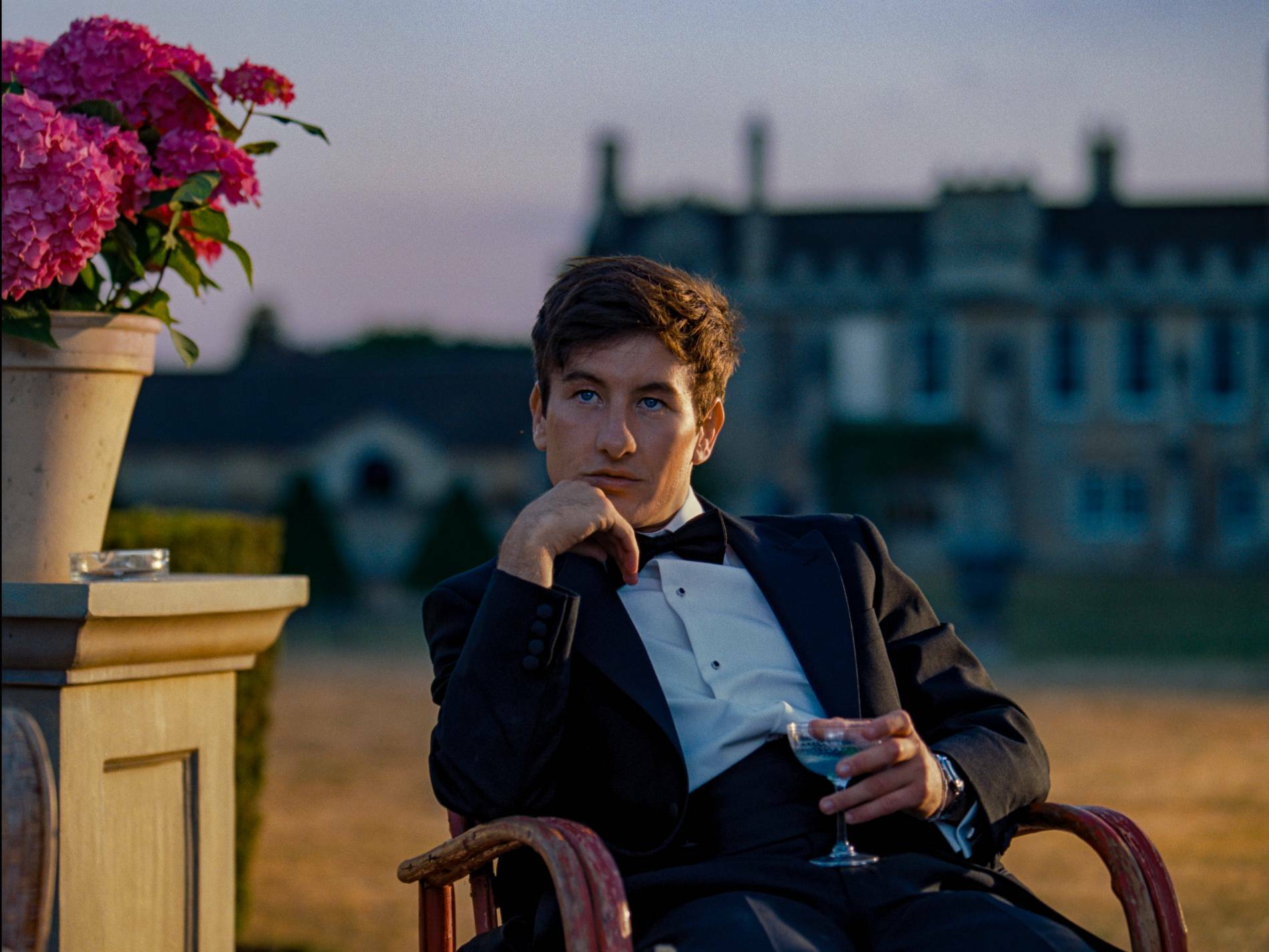 The bath tub scene in 'Saltburn' feels like a viral moment. What has the audience response been like to that?
'It's kind of a hard watch, right? To me, it is an unbelievably sexy scene. It's really exciting when you get to watch the audience turn on itself, and people all react differently. So many people who you would not expect to come and say: "That's the hottest thing I've ever seen."'
Can you give me an example?
'Everyone. Quite serious, buttoned-up middle-aged men. Elderly women. Teenagers.'
There's a theory that cinema has lost its horniness.
'It's been quite horny this year, don't you think?'
You've brought some horniness back for sure.
'Thank you! But it's post-Covid, isn't it: not being allowed to touch, not even think about fluids of any kind. We were bleaching groceries, so it makes sense that two years later there's so much stuff that's unleashing this primal feeling of wanting to touch.'
Was Saltburn born out of that moment?
'Yes, probably, in hindsight. I've been thinking about this film for a really long time, but I really started properly thinking about it during Covid and I wrote it at the tail end of lockdown. It feels like it's about not being able to touch someone, and what that does to you.'
You've realised that almost in retrospect?
'I think so. A lot of questions I get are: "Why this now?" and usually the answer is: "I don't fucking know." But that feels like it was something I hadn't realised even when we were making. We were so isolated from each other, and it is a film about distance, so it makes sense.
I felt the influence of Ealing Comedies. Has that bit of London film history inspired you?
'Absolutely, in the tone it established: the macabre, post-war darkness, gallows humour and almost violent satire. And then there's Peter Greenaway and Merchant Ivory, those British people who were making things that were as sensual, tactile and expressive as they were intellectual. You can't make an English country house gothic movie without acknowledging that heritage. But you use that familiarity to then undermine it. Why do we love these people and these houses – now more than ever? What the fuck's going on?' (laughs)
Why do you think we still kowtow to the aristocracy in this country?
We're attracted to light and beauty and power as a species, so we create structures against our better judgment and happiness. This film is about a court: it could have been set in Henry VIII's court or Kim Kardashian's or the Vanderbilts'. People who have power and status and money and beauty and we're like sunflowers in the sun; we look and look and we want it to look back but it won't. Does that fundamental power struggle change? I don't know (laughs). That's the thing about being human: we like watching and being watched (laughs).
You do have a unique perspective on it.
(Anticipating the line of questioning) 'Yeah, yeah.'
Your perspective is closer to this world's than most people's.
'Maybe.'
Have you been to places like Saltburn? Did you have flirtations with these sorts of people when you were at Oxford?
(Thinks for ages) 'It's not a memoir. What I am is interested in why we are the way we are. So my own personal connection to it isn't that useful [or] interesting. I was at Oxford at the time so I was able to add a layer of detail that adds credibility maybe, but I hope that I'd be able to write something completely divorced [from my own experience]. I hope my own personal connection to it isn't the thing that's very useful or interesting, I guess.
What did it make you most nostalgic for about uni life?
It's quite destabilising to go back to a place like that. Having said to you that this isn't a piece of memoir, I like that it's a place that attracts people who want to make themselves. Also, dreamers and fantasists – myself included – and people who are attracted to its weird charisma. There's a huge fetish for that sort of place that I'm not immune to. It makes sense that so much literature is trying to unpack why we're fixated on those places. What is so alluring and toxic about those kinds of places?
Barry Keoghan is having a massive moment. What makes him special?
He is supernatural. He's like an event, something that happens. He's unfathomably fascinating, like a close-up magician. He does nothing: he doesn't move and everything changes. We needed someone we could understand was so beguiling. He has this charisma that is like nothing I've ever seen before.
Do people still want to talk to you about the ending of 'Promising Young Woman'?
Yeah, of course. People feel very, very differently about it. It's the same with the ending of this film. Nothing's ever going to satisfy everyone. With 'Promising Young Woman', it's a very personal subject and people's relationship with it is tied up with that.
Did the conversation around that film go in the way you expected it to?
I try really hard not to look, so it's mostly people telling me things. The only thing I could have ever said about that film, a bit like 'Saltburn', is that it's interrogating the genre itself and asking why it is the way it is. Whether it provides us with a completely bogus catharsis that isn't helpful. It was the only ending that would ever have worked for me, so if it works for other people, great; if it doesn't…
The 'Saltburn' soundtrack is full of indie bangers. Were you an indie kid?
Oh yeah. I think I went to one of those mad Libertines gigs. Somewhere tiny and intense. I was really drunk and I remember them turning up, doing one song and it wasn't 'Can't Stand Me Now', which was the only one I knew because my attachment to almost anything is on an almost entirely surface level. I saw Arcade Fire at Glastonbury in 2007 and it was so good. But many of the bands we used [in the film] didn't quite outlive the era, which is useful in place setting and time setting.
What are the places in London that inspire you?
(Shakes head wistfully) I have two small children. Have you heard of Gambado in Fulham? It's the hottest ticket in town. It is a soft play area with thousands of children living their best life and two hundred crying mums.
Okay, so you've got a day off from the kids. Where do you make a beeline for?
I'd probably sit on my arse and watch television, but no... I'd go to Hatchards on Piccadilly to get a book, then I'd go to Picturehouse Central because they've got the best sweets. I go to the cinema for the beautiful art, but mostly the sweets. If you eat in the dark there are no calories.'
What are your memories of winning the Oscar?
Terror and joy. I was holding the Oscar, bewildered, and Frances McDormand came up to me and asked if I wanted some advice. I said yes please and she said: 'Ken doll clothes fit him exactly.' It was the best advice.

Read our review of 'Saltburn' here.

The 100 best British films ever made.