Joe Lycett is a man of many talents, and one of those talents is knowing where the best bins in London are.
'Borough Market!' he enthuses. 'They're very jolly, they look like they're smiling because they've got two holes for coffee cups. There are also some lovely bins around the Clerkenwell area. Lewisham's I think are the ugliest: they're just blocks of blue, like cylinders of PVA glue.'
We're not specifically here to talk about the fact that the superstar comedian and sometime artist has just released a limited-edition, £95 coffee-table book of photographs he's taken of bins (it's called 'Bins' and I believe its print run of 1,000 copies has already sold out, so maybe let's not dwell on it). In fact, this interview was loosely conceived as a catch-up on his remarkable 2022. But he will insist on constantly announcing more stuff. In the two weeks before we meet, a pair of new projects comes to light: the book, and 'Late Night Lycett', a live Channel 4 Friday-night comedy show broadcast from his hometown of Birmingham from March 31, spotlighting England's second city and its inhabitants.
'A new show coming from London is like: So what?' he says. 'But hopefully the people of Birmingham will be excited about it happening here and I'll be excited at doing it in Birmingham and that excitement will translate on to screen and it will bring something that you've not seen before.' The show will also eschew traditional celebrity guests in favour of 'real Birmingham working people'.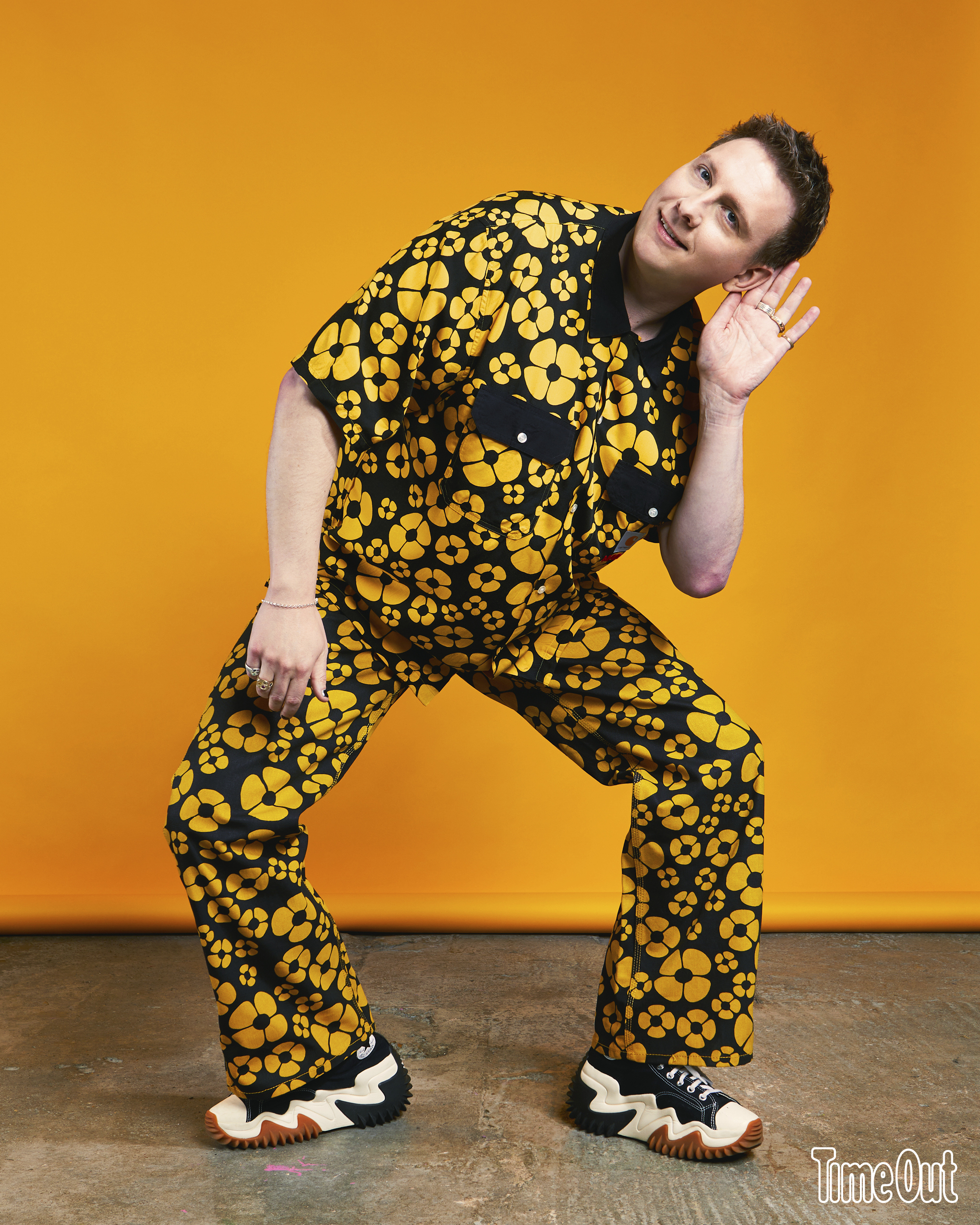 He admits to some nerves, but says he's less afraid of failure these days. And quite right too. Although still just 34, Lycett has been famous for a long time now and for a lot of things: as a stand-up, as the erstwhile presenter of BBC One's 'The Great British Sewing Bee', as the host of brilliantly arch Channel 4 consumer rights programme 'Joe Lycett's Got Your Back', as the man who legally changed his name to 'Hugo Boss' in order to protest at the German clothing company's aggressively litigious pursuit of small businesses with 'boss' in their names.
When he turns up for the Time Out photoshoot in an east London warehouse, he's exactly like the guy off telly: big, booming and jocular, cracking wise in that arch but ultimately very nice way of his, delighting the grooming guy by being already aware of him by reputation, cheerily flinging himself into the numerous retina-searing shoutfits the stylist has turned up with.
'I wasn't ever that interested in fashion,' he says of his penchant for flamboyant costumes. 'But then I got more and more bored with the clothes I got put in. I was essentially just being put in exactly what people think a telly presenter who's a bit camp should wear, and I feel a lot happier in things that aren't a suit.'
Homeboy
Is this the real Joe Lycett, though? Behind the good-natured japery and teatime-telly-friendly presenting skills he is, effectively, an increasingly powerful and visible social activist. And that includes his advocacy for Birmingham, the nation's much-maligned second city. It's part of the reason I wanted to do this interview: I'm from Birmingham too, and it fascinates me that possibly the nation's most famous comedian hasn't simply ruthlessly ditched Brum, but embraced it without sentimentalising or patronising it.
He does have a base in London: he stays in Peckham with a family friend. But he essentially remains a commuter, living in the modest Birmingham suburb of Kings Heath, just around the corner from his parents, and not far from mine (I'm from Kings Norton – for some reason our forebears couldn't abide possessive apostrophes).
Birmingham felt like a forgotten place and we were the forgotten people in it
Full disclosure: we even went to the same school, though he's years younger than me. Famous people aren't supposed to go to your school in Birmingham. Or if they do, they ditch Brum and reinvent themselves in a fancier city. Lycett lost most traces of an accent a long time ago, which in part he puts down to a queer culture thing brought on by mainlining a lot of Quentin Crisp recordings back in the day (it's difficult to imagine his schtick working in the same way if he did have the ponderous hometown drawl). But he's a Brummie to the core. In fact, it's kind of where his unique brand of activism began.
Nobody in their right mind loves Birmingham when they're a teenager and Lycett was no exception. 'I was not a fan when I was younger,' he says a week later on a Zoom call from his house, much more serious and contemplative than the guy I met at the photoshoot. 'I thought it was a bleak place. I've never suffered from depression but I thought it was depressing: I didn't think it was aspirational, I didn't think anyone of interest would ever want to come here, it just felt like a forgotten place and we were the forgotten people in it.'
Four years at university in Manchester gave him some perspective, though. He realised that Birmingham had more potential than he'd given it credit for. It just needed people to stay there and fight for it. And since then he's been giving it his damnedest: 'Late Night Lycett' is a big deal, of course. But so too is the saga detailed in last year's special 'More, More, More. How do You Joe Lycett?', wherein the bisexual comic managed to place erroneous news stories about Kings Heath being one of the world's most famous gay suburbs, an enthusiastic lie that gained enough traction to lead to Kings Heath gaining its own small annual Pride Parade, dubbed Queens Heath (still no apostrophe).
Still, it feels a world away from more glittering events like the recent National Comedy Awards at London's Roundhouse, where Lycett was presented with the Comedy Game Changer award and proceeded to cheerily slag off a multitude of public figures – including, topically, beleaguered BBC chairman Richard Sharp (Lycett called for him to step down and declared that it was the official opinion of Channel 4). He looks like he's effortlessly at home amid London's celebrity society. Not really, he says.
'I don't like going to things,' he declares. 'I hate it when I'm nominated for an award, I'd love it if people stopped nominating for them because I feel like going to them is a waste of time. There's lots of people there I'd like to see, but I don't get a proper engaging conversation with them and then I sort of overdrink to compensate. I'd much rather go to the pub with a few friends or be in the studio making art or writing a joke.'
He assures me that he does like London, he just enjoys the distance from it that Birmingham affords: 'I get less bothered here,' he says. 'They can't ring me up and say: "Somebody's dropped out of '8 out of 10 Cats' tonight, can you come?" Because I can't! I'm not as readily available. But I also feel very protected by the people around me. All my neighbours are protective over me and I feel protective over them.'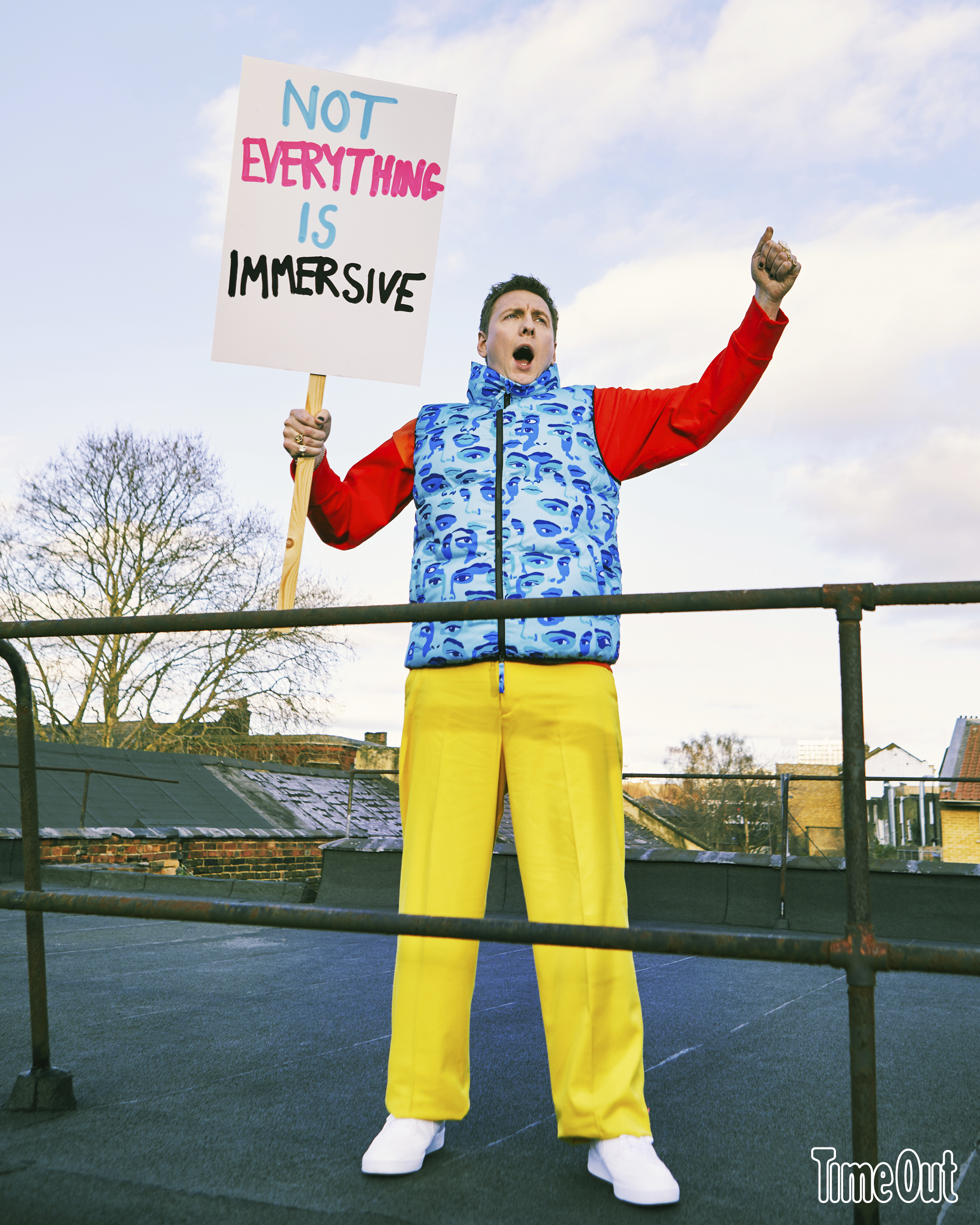 Troubling Truss
Last year was an eventful one for Lycett, one in which his singular blend of activism and arch whimsy propelled him from 'well-liked telly guy' to 'full-blown folk hero', thanks to his merciless public eviscerations of Liz Truss and David Beckham.
In case you don't remember her, Liz Truss was the prime minister of this country for a few weeks last autumn. Her time at the top will be remembered for three things: she crashed the pound, she was outlasted by a lettuce, and Lycett called her 'the backwash of the dregs' of the Tory party on the inaugural episode of Laura Kuenssberg's Sunday morning politics show. Sarcastically claiming to be a 'very right-wing' superfan, he was the nation's annoyance with the interminable Conservative Party leadership contest made manifest, mocking her with a total lack of deference that sparked outrage in the right-wing press and even an angry mention in the House of Commons.
I don't want to be respectful to these people because they've not been respectful to me or the public
'I was really angry with her and with Rishi and the whole situation really,' says Lycett of the unedifying spectacle of the contest, wherein Truss and Rishi Sunak tore strips off each other for weeks on end while nobody actually seemed to be running the country. 'I am generally left-leaning but I've never told anyone how to vote; I don't think it's my role. But I really did feel like this particular group of politicians were so villainous and out for themselves and so incompetent and so cynical and spiteful that I just thought: No, I've got nothing to lose. I'll happily defend this to the end of my days. I don't want to be respectful to these people because they've not been respectful to me or the public. They don't deserve my respect.'
His performance was not elaborately scripted. 'I went in with a rough idea that I was going to be sarcastic,' he says, 'and I'd only made that decision on the way in. I was nervous about being a pundit, because that's not who I am. But what I have done is be sarcastic to politicians on Twitter: it was just an extension of that. It's quite easy to do, you say whatever they would say and just repeat it as if it was the most amazing thing you've ever heard.'
He didn't end Truss's premiership – in fact, she didn't formally become PM until the next day – but his flagrant contempt set the tone for her brief car-crash tenure.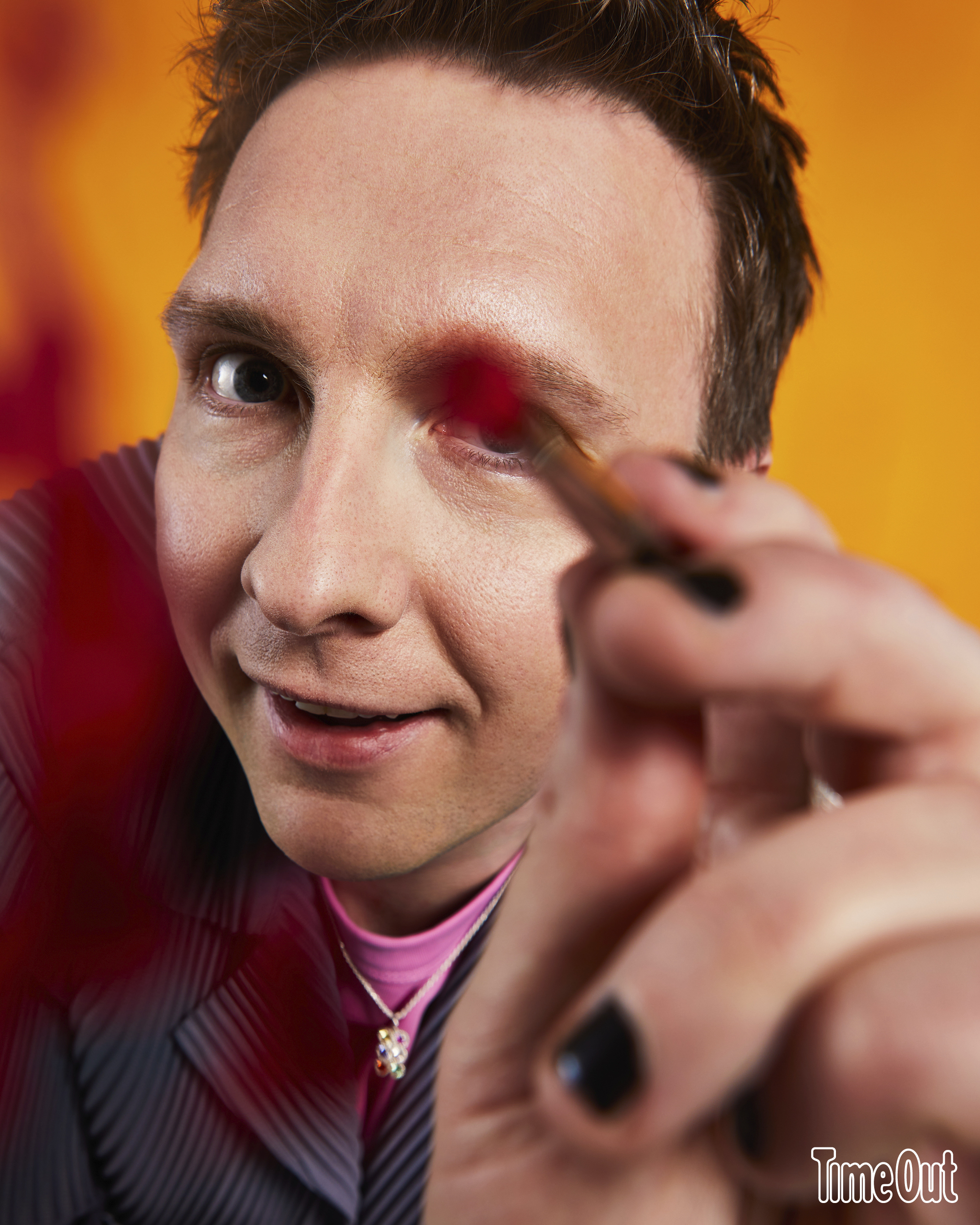 Bothering Beckham
Within a few weeks of Truss's departure, Lycett had a new target. He was politer about David Beckham. But it was his sense of extreme disappointment in the former England football captain that gave his campaign its moral force.
Ur-metrosexual Beckham has reaped a lot of cultural cachet over the years for his supposed allyship with the LGBTQ+ community. But last year saw him take up a paid ambassadorial role with Qatar, a country that nominally punishes homosexuality with death or imprisonment. Lycett said how hypocritical he believed this to be, and threatened to shred £10,000 of his own money – otherwise earmarked for gay charities – if Beckham didn't step down from the role.
Intent on raising awareness of Qatari human rights abuses, Lycett and team figured that Beckham would be a more viable target than the state itself. 'The reason for going for Beckham was that it was the most likely out of all the scenarios that it might do something,' he says, 'that by putting it all on his shoulders he might say something, might slightly change his ways in a way that would affect the global mood.'
That's not to say Lycett expected Beckham to do anything. 'The whole thing was set up under the basis that you would hear nothing from him,' he explains. 'People get to a level of fame where they become lizard people: they don't even have their own phones, they disappear into myth, you can't contact them.'
In the end, Beckham was forced to put out a half-baked statement to try and justify himself. He has not noticeably done much ambassadorial work for Qatar since. Lycett was never going to shred the money – instead he destroyed a bundle of copies of the 2002 edition of Attitude with Beckham on the cover. Although he was hardly the first to raise the alarm over the Qatar World Cup, in the immediate run-up it was Lycett who felt like our nation's conscience.
And perhaps this is the crux of what Joe Lycett does. Yes, much of his activity is simply funny or purely entertaining. But his most genuinely impactful work sees him take on the peculiar dual role of activist and ironist, attempting to genuinely change society for the better while avoiding seriousness at all costs.
It's a weird balance, but one that Lycett has pulled off with remarkable skill to this point. But is it sustainable? Can he continue to have our backs without turning into Bono?
He laughs. 'The older I get, the closer I get to earnestness. On the new show, I've asked them to raise an earnest alarm if I start saying something that's trying too hard to be meaningful.'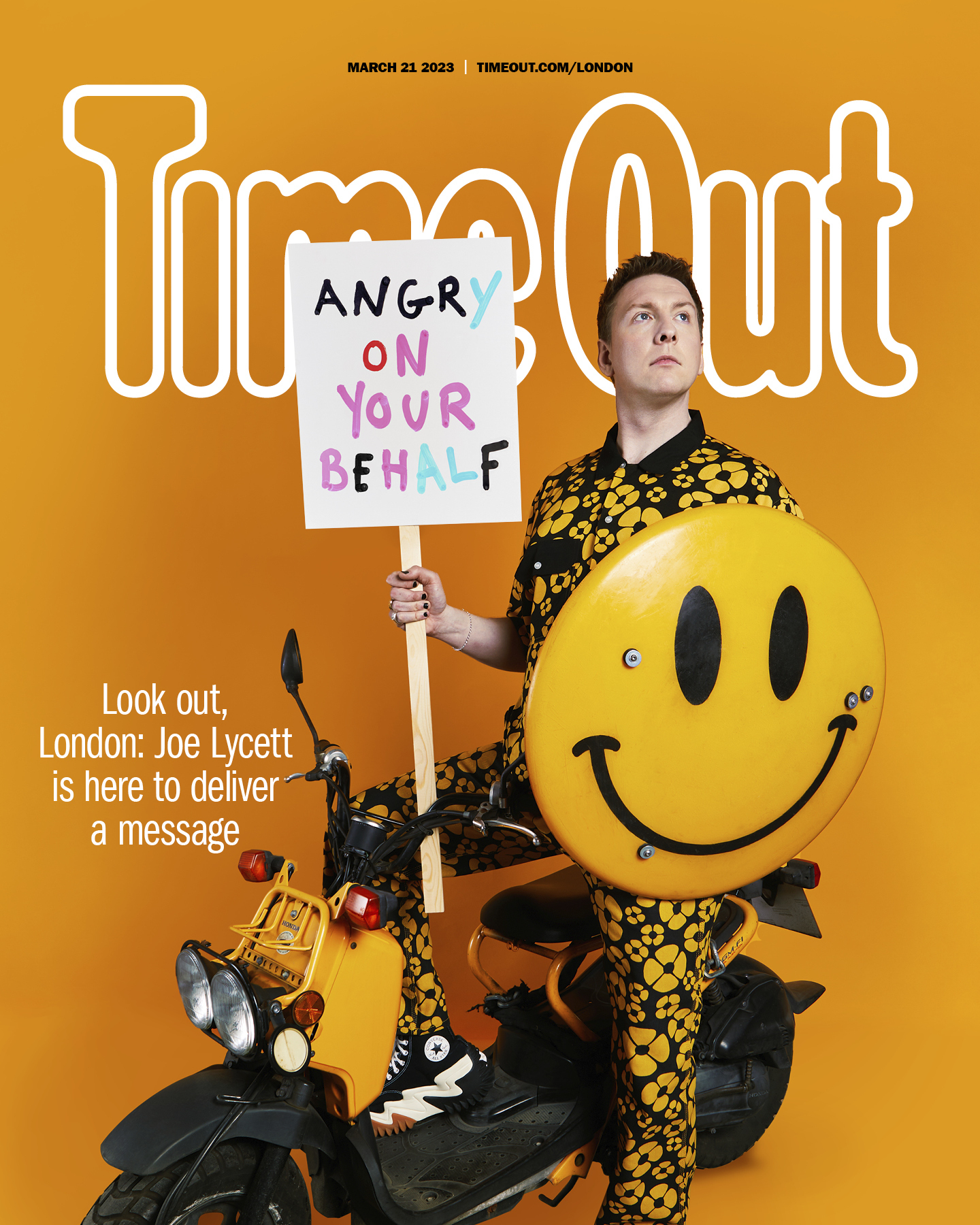 An activist who hates earnestness, a big national celebrity who lives in a quiet Birmingham suburb, a superstar comic who is putting out a book about bins: I wouldn't say Lycett is a bundle of contradictions, more that he's interested in a surprising melange of things, and has carved out a strange niche that seems to be able to accommodate them all. I think he both loves and slightly mistrusts his fame: he'll talk about his previous stunts with enthusiasm, but he's keen to point out that many of the '…Got Your Back' interventions are done anonymously. He says less telly, more stand-up, is how he can see the future going, though I think that might just be good old Brummie pragmatism about how long he can stay on top.
Whatever the case, he is adamant that what he does must be funny, or there's no point.
'I saw somebody who I won't name doing a speech,' he recalls. 'They'd won a Bafta and they were thanking everybody. They were thanking the sound crew and they were going like: "Yeah, if you don't have sound you don't hear the movie." And I thought: Urgh. That's the enemy, I don't want that. I don't mind myself believing in something and talking about it, but it has to be delivered at least with a twinkle in the eye. My role as a comedian is to make people laugh. The moment it slips entirely into earnestness it becomes something else.'
'Late Night Lycett' will air on Channel 4 for five weeks from Mar 31.
Grooming: Sven Bayerbach
Styling: Sarah Rose-Harrison
Location: The State51 Conspiracy @state51
Look 1 - Necklace: Bleue Burnham, Jumper: Howlin
Look 2 - Shirt and Trouser set: Marni x Carhart, Bracelet: Skomer, Rings: Blue Burnham, 7879 and Skomer, Trainers: Converse at Schuh
Look 3 - Shirt: Sandro, Gilet: Kidsuper, Trousers: Calvin Klein, Bracelet: Skomer, Rings: Blue Burnham, 7879 and Skomer, Trainers: Nike at Schuh
Look 4 - Tshirt: Sandro, Necklace: Blue Burnham, Jacket: Homme Plisse x Issey Miyake