From cult hero to one of the most successful writers on the planet, author Neil Gaiman is currently in Scotland working back to back on two TV adaptations of his work ('Good Omens' and 'Anansi Boys'), while Netflix's long-anticipated 'The Sandman' drops next year. First, though, there's the long-anticipated West End transfer of the National Theatre's hauntingly brilliant adaptation of the 2013 fantasy novel inspired by his own childhood, 'The Ocean at the End of the Lane'.
You seem to be culturally ubiquitous at the moment.
'Dear God, yes I am.'
How does that feel?
'Weird, really weird.'
Working on two TV shows while doing press for a play doesn't seem like dream scheduling.
'It's not. There's a stack of auditions I need to watch this morning, there are some rewrites I need to think about… I'm just honestly glad right now that "The Sandman" is shot. It's nice. But it's weird. I spent most of my career feeling out on the fringes. And it feels like all the fringes have come to meet me, so now I'm right in the centre of some kind of weird mainstream without changing what I'm doing.'
Was 'Ocean…' easy or hard for the National to talk you into?
'I'm fairly free with rights, I like it when people do theatrical adaptations of my stuff. Getting plays to happen is hard. I think there were three to four years of waiting with "Ocean..." as it moved from an idea to a notion to a sort of a shape of a thing.'
Are you a theatre lover?
'Seeing "Iolanthe" aged three, being taken to pantomimes every Christmas season, going to Gilbert & Sullivan annually all made a huge impression on me. The thing that really got me to the core would have been a 1993 production of "Sweeney Todd" at the National Theatre with Alun Armstrong and Julia McKenzie, and being splashed by blood in the front seat and going: this is as good as it gets, astonishing.'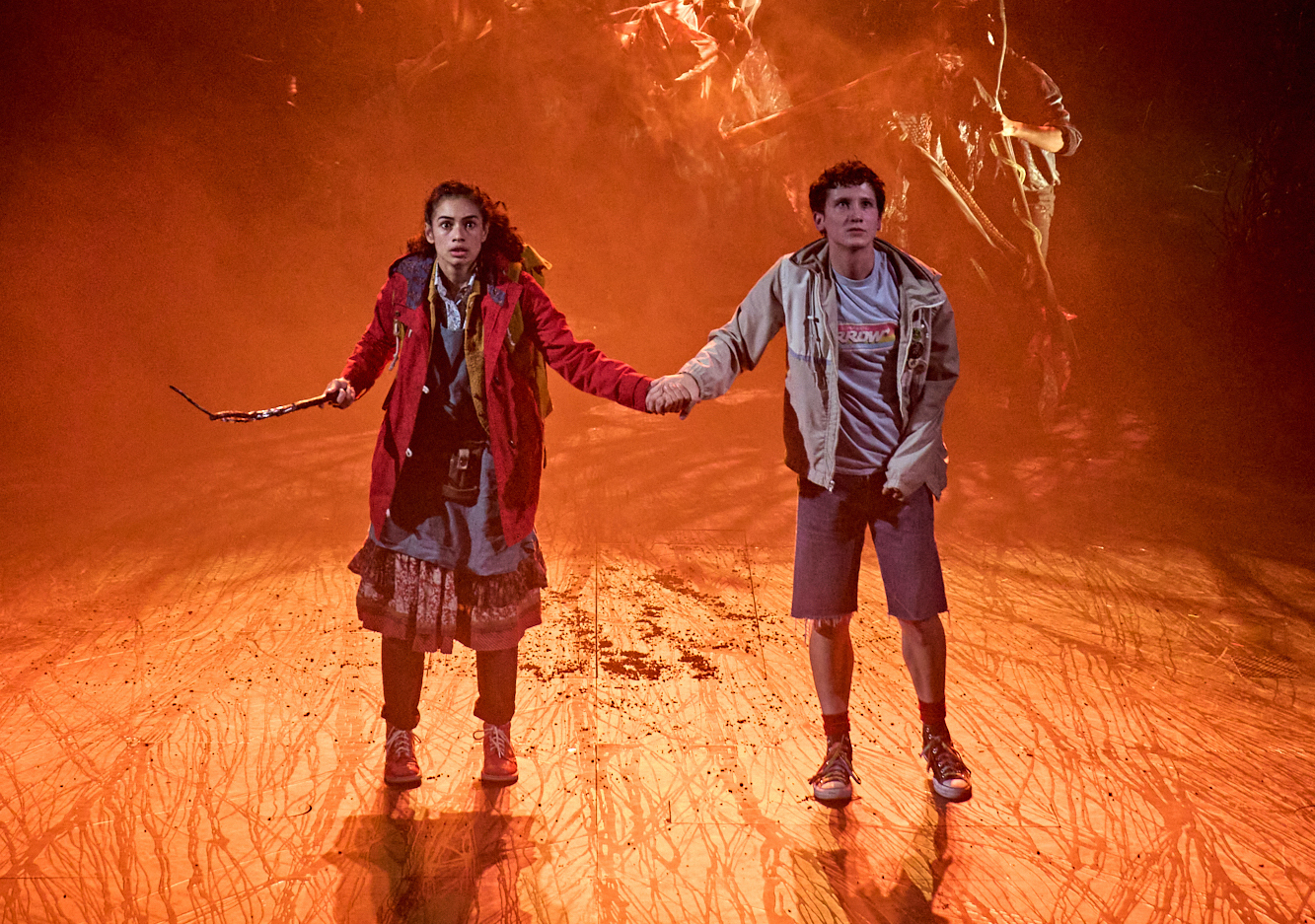 Did you have to take a leap of faith that something as fantastical as 'Ocean...' would work in a theatre?
'Yes, I did. I didn't need a lot of winning over because I had utter confidence in Katy [Rudd, director] and I had enormous confidence in Joel [Horwood, playwright]. But truthfully I had to walk out on a limb and I had to be willing for it to be terrible. Sometimes people do terrible adaptations of things. And when they do that's fine: they just never get to do it again. Things fade from memory. But in the case of "Ocean" that wasn't necessary.'
Have you ever thought of writing a play?
'I've always wanted to and I don't know why I haven't, other than the time wasn't right or that I couldn't quite get it together. When I was living in the Midwest I sort of introduced myself to a storied local theatre and they were a bit baffled by me and showed no interest and I thought "Oh, okay, I can't" and wandered off.'
'Ocean…' is about a forgotten childhood – is your childhood important to your writing?
'It's utterly important to "Ocean...", because it really is a child's memory. It may not necessarily be very important to the next thing I make. But I always need to remember what it was like to be a kid reading fantasy and building worlds in my head and caring. And that level of care and that level of love has to be in anything I'm building now. Otherwise the magic won't be there, otherwise it won't work.'
The story is inspired by an incident when you found out much later in life that your family lodger killed himself in your parents' car when you were seven. Was that traumatic to process? Or just strange?
'I was in my forties and I'd asked my father a question about the old family car. I'd just bought a mini for myself, and I said to him: "I loved that little white mini we had, what happened to it?" And Dad said "Oh, didn't we tell you?" and he told me this story. Given it was a story about somebody I didn't remember having existed, it didn't come with trauma or sorrow, it was a very abstract thing. If I'm going to be honest, my main reaction was: "You mean something interesting happened when I was seven years old and nobody told me about it?" Obviously it was a tragedy. But what fascinated me about it as fiction was the idea: well what if I had known?'
Do you feel closer to a relatively recent work like 'Ocean...' than things like 'Good Omens' that you wrote as a young man?
'Sometimes. It's a strange kind of mess of things. There were episodes of "The Sandman" that I watched with tears in my eyes, crying at things that I wrote more than 30 years ago – that was unexpected. It could never be like that for me looking at the comics. For "Ocean..." the gulf is actually bigger. It's about who I was 53 years ago, things that I dreamed and imagined 50 years ago, 48 years ago, then taking all that stuff and nine years ago crafting it into a story as a present to my wife as a bunch of flowers, to try and explain who I was.'
What else of yours would you like to see adapted for stage?
'Oooh, good question! I'd love to see an "Anansi Boys" musical, because I think the songs would be amazing. I'd love to see "Neverwhere" be a thing. There was a terrific amateur production that then went around America, but I'd love to see it on a big stage with pros. And I'd love to see "The Graveyard Book" – which can't happen. So many fabulous directors and theatres have reached out about "The Graveyard Book" and we can't do it because the film rights are owned by Disney and that freezes the theatre rights. I wish that while Disney isn't making a movie they would maybe allow some fabulous theatre of "The Graveyard Book". I will say there are mysterious things being plotted in the background in various stages of evolution. I can probably say that much I didn't talk about "The Ocean at the End of the Lane" until it was basically ready.'
'The Ocean at the End of the Lane' is at the Duke of York's Theatre until May 14 2022. Buy tickets here.
The best London theatre shows to book for this year and next.