Stefflon Don is the Clapton rapper whose teenage dreams of global domination are actually coming true. You'll know her from 'Hurtin' Me', a smash collab with NYC rapper French Montana that's racked up 100 million YouTube views.
But that classy slice of dancehall-pop shows just one side of Steff. She can also hop between trap and grime, her bold bars switching seamlessly between an unmistakeable east London snarl and a punching patois.
Born in Birmingham to Jamaican parents, Steff (real name Stephanie Allen) spent her childhood in Rotterdam before settling in Hackney aged 14. As a teenager, she worked as a cake decorator to fund studio time where she'd spit over grime tracks, looking to legendary '90s rappers Lil' Kim and Foxy Brown for inspiration.
She first snatched attention by jumping on a remix of Section Boyz's breakout hit 'Lock Arff' back in 2015. Then her own track 'Real Ting' sealed the deal. When she boasted in it that labels were chasing her, she wasn't exaggerating: Steff has since landed a seven-figure record deal. Now, it looks as though she's about to crack the lucrative US market. This year she became the first ever UK artist (and the only woman this year) to be included in XXL's prestigious Freshman Class, a list of hip hop's next gen.
When we meet at her central London studio, she arrives looking shoot-ready: flawless make-up, poker-straight Barbie-pink hair, Gucci accessories and a massive silver chain showing the numbers from her record label 54 London.
In person, she's softly spoken and witty. There's a flicker of the ferocity she gives her music when I ask about the recent Nicki Minaj and Cardi B beef. Steff has no time to fuel hyped-up spats: 'Nothing to say. I just wish people would get along, really.'
But what stands out most is her self-confidence: this is a woman in complete control of her music, image and business matters. Stefflon Don isn't waiting for a coronation, she's already wearing the crown.
Can you remember the first time you thought 'I've actually made it'?
'When I performed [at] Wireless Festival and I had my own set on the Pepsi Max Stage and everyone was singing along to "Real Ting". I had always waited for that moment – to have a whole crowd singing along to my song, word for word. And because it was in London, it was like, "Yeah, this where I'm from."'
You called your latest mixtape 'Secure'. Is there a story behind that title?

'I feel like a lot of people today are not very secure in themselves. And coming into music, there were certain times when I was feeling insecure about certain stuff. That was weird for me, [because] I knew: Nah, that's not how I am. And so I realised how bad things can be when you don't feel secure.'
It's a big topic to cover in a mixtape title.
'Yeah. You know, a lot of people message me and say "I feel so confident because of you". Some people are like, "I listen to you before my exams". And if that's how I come across, that's really good. So calling the tape "Secure", and knowing I will have to talk about why I called it that, it's a message in itself.'
Do you feel a responsibility to fans?
'No! I do what I do and whatever you take from it is good for you, innit. There's a lot of things I've seen fans take [from me]and I didn't think it would be a big thing – like me being more thiccer, I didn't think that would be a big deal. But it's all good.'
I've heard you're in total control of your visuals.
'First, I didn't even know that other people could be in control of your look! But it's important to me that no one is telling me what to wear, because I'm basically projecting myself here.'
But is it tough not having a persona, like Gaga, to separate Stephanie from Stefflon Don?
'Well, Charli XCX, for example, the way she looks onstage [compared to] normal day-to-day life, you'd hardly recognise her. I wish I could do that. Maybe I could if I took my wig off, but I won't be doing that!'
At this stage, can you walk down the street without getting recognised?
'People always recognise me but it's not, like, bombarding, unless I went to Westfield after school. But I wouldn't do that, that would be silly.'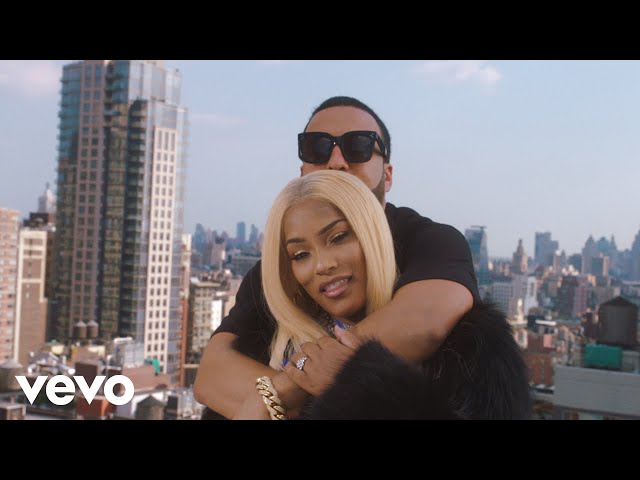 Please tell us about your record deal because it was such a boss move.

'I took my time. I had three or four deals [on the table] for like a whole year. But I felt like it was too early, the Stefflon Don sound wasn't really stamped at that time. I knew there was so much more I wanted to do before I had to answer to somebody. And I also wanted more money!'
You eventually signed a £1.2m deal with Universal – or rather, they signed your label and then you signed yourself.
'Yeah, so now I have a label called 54 London. [But] no one really gets offered something like this, especially on their first time around, so it was really a good deal. And I've seen a few people where I'm like, "Hmmm, maybe I should have you in my label."'
But you still live with your family, right? That's you, your mum and seven siblings, which sounds noisy!
'Yeah, I'm waiting for them to move over to the new place. I used to always wonder what it was like to be quiet, but it's really not that good!'
Is it hard to write in such a busy home?
'It's hard because everyone is like "Let's go to Steff's room!" Like they think something magical is in there – I don't know what, but they keep coming back. You don't really get time to write, so I mainly write in the studio now. But there's always someone at home to give me feedback.'
You're leading the way for UK rappers in the US, especially with XXL's shout-out. Is this the dream?

'I never set my sights on a particular country, I always set my sights on the whole world. But it was a shock for XXL to pick me because they have never picked someone from outside America and that's crazy. It's history.'
Are you hyped for November's hometown show?
'This tour is gonna be a real show, with a lot of dancers and a lot of stuff coming out the bag. It's not gonna be just listening to Stefflon Don songs, it's almost gonna be like a movie.'
And London audiences are still the best, right?
'Yeah, I love them. I feel like everyone just loves a good time here, and I guess they don't mind showing that by being very loud!'
Maybe they pick up on the fact you're happy to be home again?
Yeah, when I'm standing on stage here, I feel like "Yeah, London, I know you."'
Stefflon Don plays Eventim Apollo Hammersmith on Nov 29.