It's Christmas, and the church bells are ringing. Know why? Because the Toffee Deluxe is back on Quality Street after being controversially booted out in favour of the Honeycomb Crunch in 2016. Hallelujah! Now we just need to crowdfund the return of the Coffee Cream, the Almond Octagon and the Peanut Cracknell. Okay, not the Peanut Cracknell. It was gross. Anyway, to make Christmas 2017 extra-special, why not have a family game of 'What your favourite Quality Street says about you'? It's guaranteed bickering-free* (*not guaranteed).
NEW(ish)! Honeycomb Crunch (oval, orange wrapper)
Like an 'EastEnders' character who'd just been released from prison, the Honeycomb Crunch turned up suddenly last Christmas, and immediately caused mayhem. The Toffee Deluxe inexplicably disappeared, becoming a kind of confectionery cause célèbre for social media saddoes, but order has now thankfully been restored (see below). To be honest, the Honeycomb Crunch is a bit out of his league on Quality Street. Like Carlito in 'Carlito's Way'. Still, he's family.
If this is your favourite: You're a big man, but you're out of shape.
Orange Creme (round, orange wrapper)
The Orange Creme is what once passed for Continental sophistication on our grim rainy island. The '70s were great, weren't they? All Ford Capris and plastic furniture. Not the three-day week and the Guildford Four. Are you considering getting a grey leather blouson? Are policemen looking younger? Have you stopped putting the Hawkshead catalogue straight in the bin?
If this is your favourite: You're a pensioner, or looking forward to being one.
The Purple One (quenelle shaped, purple wrapper)
Until February 2016, you could make a little joke about 'The Purple One' being a bit like the other 'Purple One': famous sexy popstar Prince. Then Prince died, unexpectedly. So it became awkward. Obviously, this will only ever bother a tiny fraction of the population, and certainly not Nestlé, who are still tastelessly promoting its spin-off, 'The Giant Purple One'. Maybe one day a giant purple Prince will return and smite them.
If this is your favourite: You're a dinky Minneapolitan with carefully tended chest hair.
The Green Triangle (triangular, green wrapper)
A colour-coded shape, the Green Triangle is a triumph of formatting: easy to spot in the tin, you can simply point at it with your foot, and whoever is looking after you over Christmas can unwrap it and pop it in your mouth. Well done! Choosing the Green Triangle means you are developing coping strategies.
If this is your favourite: You're a dimwit, not good with words, or an alcoholic.
The Chocolate Toffee Finger (narrowly rectangular, gold wrapper)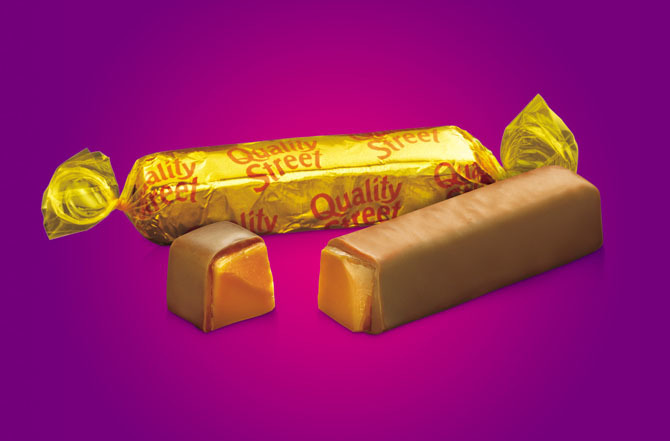 The Chocolate Toffee Finger is a filling-pulling delight which you can nibble demurely from one end, or shove in widthwise all in one go, like a wild mustang being forced to accept its first bit. As my Aunty Joyce once said: 'I've had my satsuma, a good handful of nuts and now I'm ready for a hard toffee finger.' God rest her soul.
If this is your favourite: You're a no-holds-barred thrillseeker. Nice one!
Vanilla Fudge (oval, pink wrapper)
No messing about with this one. It's fudge, yeah? Fudge, mate. FUDGE. Hands up who likes fudge. No one. Yeah.
If this is your favourite: You're not sure what fudge is.
Caramel Swirl (sort of hemispherical, gold wrapper)
The Caramel Swirl is a chocolatey version of a 1968-style psychedelic wig-out, in that it sounds pretty fucking mind-blowing, but is actually just kind of ho-hum. Less UFO Club, more the wallpaper you find behind the wardrobe in the bedroom of a dead grandparent. Go on, quote that bit out of 'Withnail & I': you know, the funny bit.
If this is your favourite: You're a crazy retro-futurist (and like Pop Boutique).
Toffee Penny (round, gold wrapper)
The Toffee Penny is a confectionery abomination. Disgustingly nude in a tin of chastely chocolate-clothed sweeties, its texture is like the top of a very very old man's head. The only possible explanation for it is that it's for people who buy chocolates then remember that they don't like bloody chocolate.
If this is your favourite: You're a weirdo. Don't come round mine at Christmas.
Milk Chocolate Block (oblong, green wrapper)
You're in the queue in Sainsbury's: turkey, spuds, Paxo, veg, pud, booze, extra booze etc. You know the drill. And what are you thinking about? Post-Christmas dinner washing-up. You're a martyr, and the unbelievably down-in-the-mouth Milk Chocolate Block is for you: another chunk snapped off the choccy bar of life. See how few remain!
If this is your favourite: You're a killjoy. Cheer TF up.
Strawberry Delight (round, red wrapper)
The dark chocolate is pretty sophis. Okay, the 'delight' might be a bit hopeful: no one likes Turkish 'Delight', after all, and don't go thinking that the fruit component makes it one of your five-a-day. The Strawberry Delight is one big glucose rush. With the sugar that's in this baby, you could make the corpse of Willy Wonka into marmalade. It's like spice for nans. Do not give it to kids. Ever.
If this is your favourite: You're a dangerously mood-shifting lunatic.
Orange Chocolate Crunch (octagonal, orange wrapper)
It's fucking octagonal. Woo-hoo! The investment needed to tool-up the QS factory to churn out this beauty might explain why the poor old Toffee Penny is bald. The Orange Chocolate Crunch is a 'special favour' in sweet form. It's making evidence disappear. It's lush, and it's probably not for you.
If this is your favourite: You're freemason and/or a bent copper.
Coconut Éclair (oblong, blue wrapper)
First things first: the Coconut Éclair is not a mini Bounty. You can find a mini Bounty in Celebrations, which are leaving-do chocolates. Instead, it harks back to an era of sexual possibilities, relaxed drink-driving laws and untamed hair – tonsorial, pubic and other. It's exotic, from an age that knew almost nothing about foreign cultures, but which was full of inchoate longing, and that gives it a special nostalgic splendour.
If this is your favourite: You're a dreamer, and we love you.
IT'S BACK! Toffee Deluxe (oblong, brown wrapper)
The return of the king! Forced into exile last year by the upstart Honeycomb Crunch, the mighty Toffee Deluxe is back for 2017. Let joy be unconfined! In possibly the lamest piece of confectionery marketing ever, Nestlé even felt obliged to announce its reinstatement in a news story. The Deluxe is a proper grown-up chocolate, though, reminding us, as it welds your top and bottom jaw together for the entire duration of whatever Wallace & Gromit movie is on, that there is a more serious message to this time of year. Quality Street: God bless 'em, every one!
If this is your favourite: You're the blinkin' King or Queen of Christmas.
More festive fun:
Pret's entire Christmas menu, ranked.
London's Christmas sandwiches ranked worst to best.
London's best mince pies.