Heads up! We're working hard to be accurate – but these are unusual times, so please always check before heading out.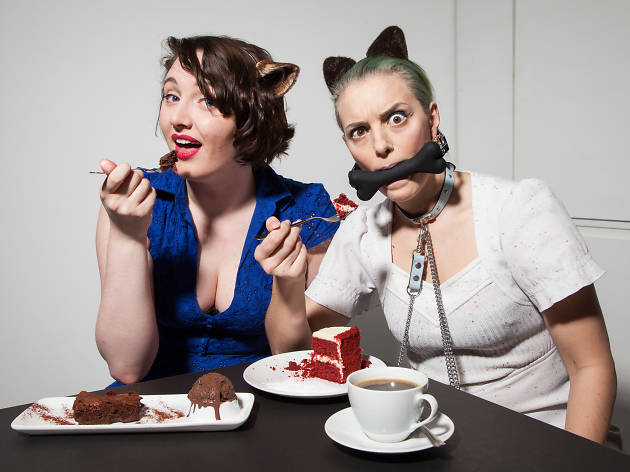 Heavy petting: meet the Londoners who role-play as pets
We visit Wagging Tails, Wet Noses – a social gathering for human pets and their handlers
'Here you go – this is for being a good girl,' says the waitress, as she serves me a colossal wedge of red velvet gateau the size of a skateboard ramp, more heavily frosted than the Abominable Snowman's car windscreen.
It looks delicious. But I can't eat it. Because my mouth is blocked with a black rubber gag in the shape of a dog bone. A string of saliva lurches from the side of my lips and bungees down onto the table top. 'Aw, are you hungry, poor little pup?' asks the woman standing over me, looking kindly into my eyes as she pulls lightly on the lead around my neck. 'Let's take off that muzzle so you can sip your cappuccino – I'll pour it into a bowl and you can lap it up from the floor.'
I swear this isn't a shaggy dog story…
I'm at Coffee, Cake and Kisses, a café on Warren Street that doubles as an event space and specialises in holding workshops, talks and meet-ups centred around relationships and sexuality. Tonight, the café plays host to Wagging Tails, Wet Noses: a monthly 'munch' for folks who get turned on by role-playing as pets and their owners. 'A munch is a chilled-out get-together for like-minded fetishists, beginners and experts alike, where they can meet new mates, ask advice and swap saucy tips over a beer – or a brew and a brownie,' explains the group's organiser, a 23-year-old 'adorable yet sultry kitten' named Bambi. 'It's not a sex club, so nothing explicit happens and guests all wear everyday clothes,' she clarifies, 'but pet players are encouraged to don accessories if they wish.'
'Owners reward good behaviour, whether that's by feeding their pets a treat or giving them an orgasm'
Glancing at the two dozen X-rated animal am-dram fans, I spot several furry tails attached to belts, leather collars with ID tags dangling and jangling and a chap sporting a cat ear headband wired up to some sort of sensor stuck to his forehead. 'It's called a Necomimi and it's from Tokyo,' he smiles. 'The chip measures my brainwaves and moves the ears automatically according to my emotions, so I can communicate just as a real cat would.' They say men think about sex every seven seconds, but this guy literally has pussy on the brain.
As impressive as his high-tech headgear is, I suspect there's much more to pet play than just dressing up. 'It's a means to explore different aspects of your character in the bedroom, and experiment with submission and dominance by acting as the obedient pet or the strict owner,' states 28-year-old 'excitable puppy' Dan.
In fact, while pretending to be a frisky Fido or Felix may ostensibly seem like a pretty specialist or extreme kink, Dan reckons it's a great option for BDSM newbies as it offers familiar templates to follow. 'A lot of people wouldn't know where to begin taking on the role of a dominatrix or master, but as a pet handler it comes naturally to order your human pooch to sit, beg, stay, or fetch,' he reasons.
'Pet play has a really caring aspect to it as well,' adds Andrew, 35. 'Whilst a trainer might reprimand their pet for misbehaving by, say, spanking them, they will also reward good behaviour – whether that's by feeding them a treat or giving them an orgasm. For me everything is done with a deep sense of affection and tenderness.'
'I've met a dolphin who wore a shiny turquoise Lycra bodysuit'
And what about water-based pets? 'I've met a dolphin who wore a shiny turquoise Lycra bodysuit,' chirps Andrew. A 22-year-old named Eddie chimes in: 'I once played as an otter in the bath, with my handler challenging me to see how long I could hold my breath and dive under the water.'
'I've had fun as a pet piglet,' says Scott, 27. 'My owner force-fed me lots of chocolate and examined and measured parts of my body as though I was going to be sold at market. Piggy play is common amongst people who are into "sploshing" or "WAM" [short for 'wet and messy']: rolling around in mucky substances like custard, mud, baked beans or shaving foam.' Presumably after getting gunky, they get down to makin' bacon?
Eighteen-year-old Lunette tells me she has several pet personas that she adopts according to what mood she's in. 'If I fancy being restricted and cosy, I play as a kitty. If I'm feeling energetic, I take on the nature of a sweet baby deer who likes to frolic and bounce around.'
'I had one of the hottest experiences of my life when my ex role-played as a wolf'
I learn that animal personalities may be broadly divided into two camps: domesticated pets and primals. The former can be very cutesy, and there's often a charming element of regression to the childlike. Primal personas are more about getting in touch with raw, uninhibited sexual instincts. 'I had one of the hottest experiences of my life when my ex role-played as a wolf,' Andrew recalls. 'She was Mexican and naturally had a fiery temperament, but that night it was like she unleashed her true soul. We had really forceful, intense sex, going at it like primitives. Amazing.'
'One of the most powerful sessions I've ever had was when playing as a dog,' offers another guest. 'My partner decided she would control when and where I went to the toilet, just like you would a real Rottweiler. She made me hold my wee until I was bursting, then go in the garden where the neighbours might spot me. It felt like the ultimate in domination.'
'Pet play is about escapism,' philosophises Bambi. 'For some people, taking time off from conversation and focusing on physical sensations can be immensely freeing.' While I can certainly see myself donning cheeky kitten ears and indulging in some passionate pawing and clawing, I think I'd draw the line at my partner directing my peeing. Then again, at this point I've downed three luscious large lattes and if I don't drain my spuds I'm going to pop. Time for the kitty litter?!
Wagging Tails, Wet Noses takes place at Coffee, Cake and Kisses on the third Thursday of each month and is free to attend. Thanks to www.lovehoney.co.uk and Ann Summers for Alix's accessories.
Discover London's grown-up side
Prudes, beware – we've rounded up London's naughtiest bits and put them right here for your titillation. Discover the best adult fun to be had in London.