Heads up! We're working hard to be accurate – but these are unusual times, so please always check before heading out.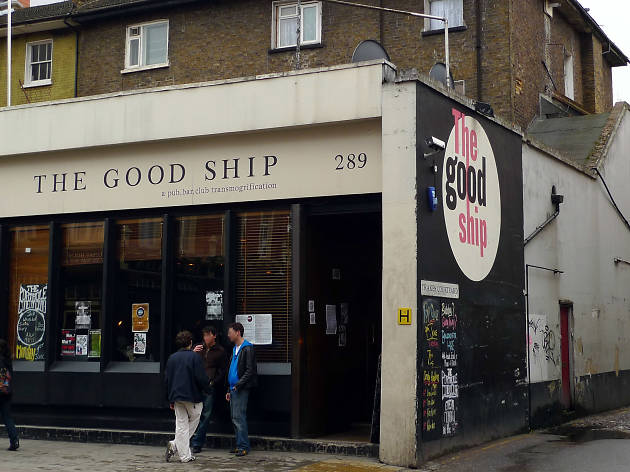 Kilburn risks losing its last remaining music venue
The Good Ship is the latest late-night venue in London facing a licensing review
Almost a week after the Jubilee line night tube began serving north-west London, The Good Ship – Kilburn's last remaining live music and nightlife venue – has found itself under threat.

Owner John McCooke has spoken out against 'draconian measures' put forward by police to Brent Council's licensing committee that could result in the venue's closure. Echoing the Met Police's intervention with Fabric – which was forced to shut in September – police have compiled a report on the venue regarding issues of safety. The venue currently has a late licence until 4am on weekends, but with certain restrictions.

According to McCooke: 'The big problem is the authorities said we're not allowed to let anyone in after 2am. It means crowds build up: sometimes we've had 60 people outside. This is the core of the problem, it causes all sorts of grief.'

The police report recommends that The Good Ship stop entry even earlier, at midnight, and close at 2am – as a response to alleged drunken behaviour and fights inside and outside the venue. 'I've told them if we close early, we close down.' The venue is busiest between 10pm-2am. 'It's just vandalism what they're suggesting,' reckons McCooke. 'It will have such a poor impact on Kilburn High Road. They will just help it become more ghettoised. The only thing that brings people specifically to Kilburn is The Good Ship and a show at the Tricycle.'


S. M. Secchi
'I've told them if we close early, we close down.'
The venue – which plays an important role in London's music scene by providing new and upcoming bands a place to cut their teeth – acknowledges that punters often get rowdy, but feel they are being blamed unnecessarily. 'I don't deny that some people who turn up late are rough around the edges.' says McCooke. 'We turn away tons of people and we make sure to report everything to the police. It's not our fault the area has got rough. They give up on the Kilburn High Road after around 12am.'

McCooke claims that The Good Ship already exists within the 'desert' of north-west London nightlife, and cites the tighter licensing restrictions and closure of nearby venues as having a direct effect on their clientele. In particular, he claims stricter ID checks at the nearby Betsy Smith and the closure of Lower Ground Bar now mean that people wanting to stay out late have no choice but to try their luck at The Good Ship.

'We had a gang hanging around for two months this summer and reported that to the police.' claims McCooke. 'The neighbourhood copper was absolutely brilliant and he cleared them but we lost our best doorman because of death threats. There's no mention of that in this report.'

The Good Ship now has until October 28 to make a representation to the council. Sadly, McCooke simply doesn't have the funds for legal advice so he is calling on any residents or people who have had positive experiences at The Good Ship to write letters of support to Brent Council at business.licence@brent.gov.uk.
A spokesman for the police told us: 'Officers felt the need to act due to concerns about crime and disorder and the prevention of public nuisance; this follows a number of assaults at the club. Officers from the Brent licensing unit continue to liaise with management to resolve issues and ensure public safety.'
'London has a world-renowned night-time economy and people should be able to enjoy it safely, without concerns of serious crime. The Met is committed to fully playing its part in keeping people safe.'

What's on at The Good Ship
The last remaining live music venue in Kilburn regularly packs in up-and-coming bands, giving musicians that all important experience and the audience the chance to discover their next favourite band (or not).