In a nutshell…
Quirky café by day, brilliant disco by night.
Where is it?
Kingsland High Street, just opposite Tesco Express. Keep an eye out for Superstore's famous striped awning proudly shading the pavement.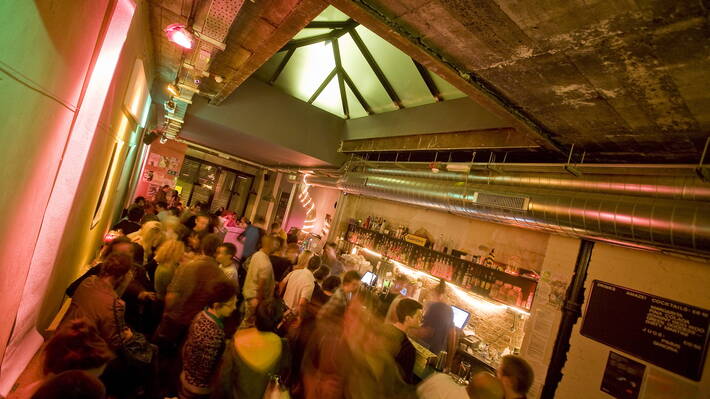 Dalston Superstore © Michelle Grant
What's the vibe?
Since opening in 2009, Dalston Superstore has lived up to its name by using an airy two-level space in a way that's fun, fresh and flexible. Pop in for a burger from noon, grab a drink at the upstairs bar as dusk descends and shimmy on down to the basement dancefloor when the clock strikes midnight. At Sunday afternoon's awesome Power Brunch, punters can even tuck into eggs and bacon while watching a drag queen lip-sync to Celine Dion.
What makes it a great venue?
It attracts a pansexual crowd that's hip but chilled: don't be surprised to see drag queens next to off-duty dads from nearby Stoke Newington. Dalston Superstore is owned by East End hero Dan Beaumont so its club nights are always on-point: Uncontrollable Urge serves up eccentric electro on Wednesdays, Goldsnap! is a glitzy new girls' night for Thursdays and SorryNotSorry Sundays offer a monthly helping of unapologetic pop.
What's the booze situation?
Draught beer from £3.90 a pint, wine from £4.40 a glass and all the usual spirits and mixers. Superstore also offers a range of zingy cocktails with names like Lusty Jenny and Brandy & Monica.
Finally: what happens to all the coats left in the cloakroom?
According to the venue: 'We hold on to everything for two months, then it goes to Traid charity shop on Kingsland High St. We always have bags filled with random wigs waiting to be claimed.'
Previously: So you've never been to… Royal Vauxhall Tavern?