Heads up! We're working hard to be accurate – but these are unusual times, so please always check before heading out.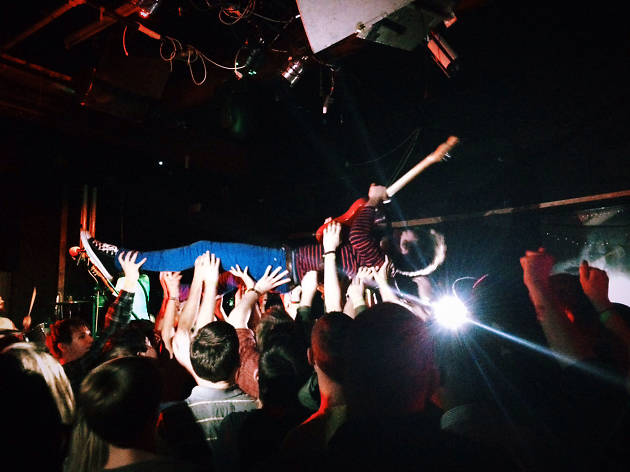 So you've never been to... Electrowerkz?
Everything you need to know about this unassuming warehouse near Angel
In a nutshell...
A dimly lit warehouse oozing pools of dark vibes, with an interior as crude and black as an oil spill.
Where is it?
It might feel about as pure as a pirate copy of 'The Human Centipede', but it's only a few paces from Angel. You'll find it behind a rather unassuming set of midnight-black doors.
What's the vibe?
It generally feels like stepping into a Bauhaus video: there's a sense of seediness and roughness around the edges that's weirdly charming. Everyone from fans of industrial rock to old school ravers worm their way through the piped corridors and dank, dark mists. It's alternative, but not in a fuck-off way.
What makes it a great venue?
It's best known for hosting neo-rave temple Bang Face and Slimelight, a weekly combination of goth, darkwave and futurepop that attracts punters like a giant magnet made of septum rings. But it also hosts a load of cool gigs: everyone from Kiko Bun to Swim Deep. Plus, its history is rad: it started off as a stables for the horses that pulled London's trams before becoming a metalworks in 1925. In 1980, in its degenerate state, it became the venue we have today. It's still got flickers of its past though: part of the building is still used by a scrap merchants. Oh, and it's got half a tube train chilling inside.
What's the booze situation?
Not especially cheap – but they're always stocked up with cans of £3 Red Stripe, which ain't too shabby. The bar's always pretty busy, though, so you'll have to slither in like one of the ceiling's snaking wires.
Finally: what happens to all the coats left in the cloakroom?
According to the venue: 'We keep any stragglers for six months and then donate them to charity.'
Find out more about Electrowerkz