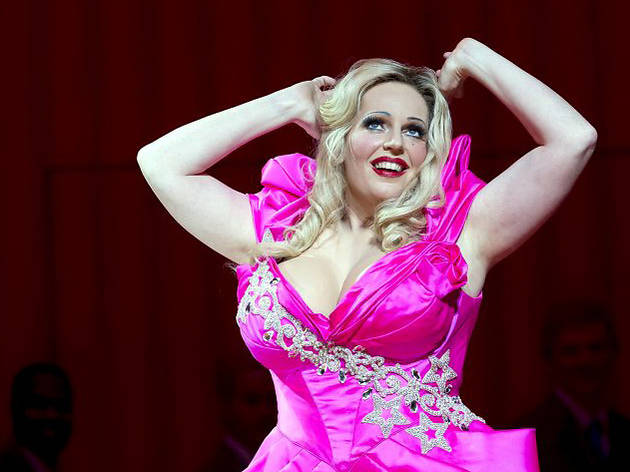 Inflated, titillating, overhyped and overblown – three years on from its premiere, Mark-Anthony Turnage's swearfest musical returns to the Royal Opera House once again on the main stage.

It sets the tale of the real-life, gold-digging woman from trailer-trash Texas, who married a ninety-something billionaire, having seduced him with her enormous silicon breast implants – for this she paid the price of a lifetime of back pain and prescribed medication, which eventually killed her. Meanwhile, the court case for her late husband's money dragged on while she ate hamburgers and toured the media circuit playing the fool.

All the resources of the Royal Opera House have been lavishly applied here – huge chorus, large orchestra, top conductor Antonio Pappano pushes the players on; leading stage director Richard Jones produces a lavish, impressively choreographed show, the set enchanting, courtesy of Miriam Buether's designs; the singers all pedigree – a dazzling performance from soprano Eva-Maria Westbroek in the title role.

But the relentless smut and debauched comedy in this satire on sexism and the American Dream only serve to keep the tragic heroine a figure of fun to be laughed at rather than pitied. The libretto by Richard ('Jerry Springer: The Opera') Thomas, is a music-hall script to which Turnage seems overly subservient, providing a pastiche of musical styles that lack motivic connection and serve merely as an accompaniment to the singing, itself mostly recitative.

By the end of two hours presenting Anna Nicole's life in a linear picaresque narrative, it all flags so that even the death of our heroine produces no emotion. A curious conclusion for a story of such obvious tragedy.

There's no denying this is great spectacle, but whatever poignancy is intended to be at the centre of this heartless mockery is lost.