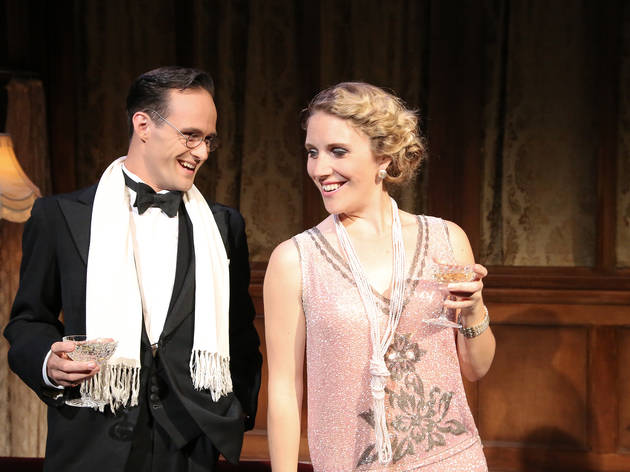 1/5
© Andreas Grieger
Lawrence Olsworth-Peter (Alfredo) and Louisa Tee (Violetta)
2/5
© Andreas Grieger
Flora McIntosh (Flora) & Lawrence Olsworth-Peter (Alfredo)
3/5
© Andreas Grieger
Flora McIntosh (Flora) & Lawrence Olsworth-Peter (Alfredo)
4/5
© Andreas Grieger
Flora McIntosh (Flora), Lawrence Olsworth-Peter (Alfredo), Louisa Tee (Violetta)
5/5
© Andreas Grieger
James Harrison (Germont) and Flora McIntosh (Flora)
Since OperaUpClose have established an Olivier-winning trademark of paring down large-scale operas for young casts, you'd expect Verdi's most popular work to be a shoo-in for their plucky style of makeover. But they get a little bogged down in 'La Traviata', a slow-moving tragedy, set up for vocal fireworks, reliant on the athletic voices of three principal characters and a belief in their relationships.

Director Robin Norton-Hale, who translated and directs this English-language version set in 1920s New York, cuts down the usual peregrinations of OperaUpClose singers into the audience to a single appearance on a balcony. It's an unfussy staging, with the three live musicians fitting in well as the high-society party entertainment. But while the chosen decade makes for a suitable updating, the American setting is mere distraction, its presence sporadic.

The star of the show is Louisa Tee. She is superb as Violetta, engaging both vocally and dramatically, her full-voiced soprano thrilling in both coloratura cabaletta and mournful aria – 'Go to Your Daughter' is particularly moving. She brings a brash confidence to the character of this self-sufficient, high-class courtesan yet displays a convincing vulnerability when persuaded by her lover Alfredo's father, Germont Snr (consummately sung by James Harrison), to give up her scandalous relationship with his son so that Alfredo's sister can marry respectably.

But Lawrence Olsworth-Peter fails to convince as Alfredo, lacking the energy and lyric sparkle required, making it hard to believe his character – a preppy New Yorker more resemblant of Harry Potter than a wealthy playboy – would be a match for the worldly wise Violetta.

The ensembles, too, also fails to find the swaying rhythms and joyous decadence of the music; perhaps many of the performers in this revolving-cast production are still finding their feet in this run.