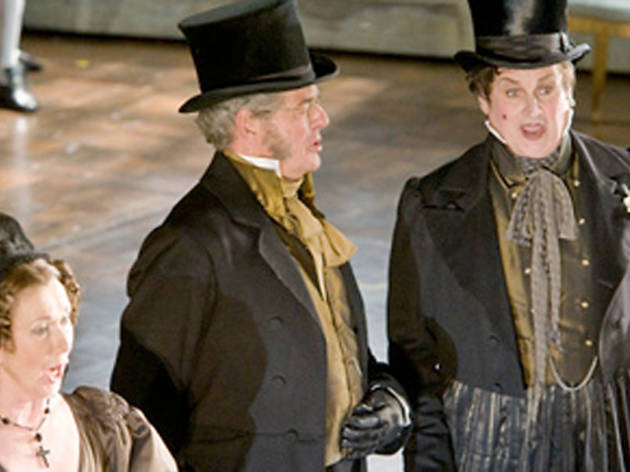 Time Out says
David McVicar's direction of Mozart's 'The Marriage of Figaro' is with us again. The operatic version of Beaumarchais's comic drama, it stands up well to such revival (this is the fourth), given its traditional costumes and softly-lit sets.
Savvy servant Figaro is betrothed to Susanna, while their employers, the Count and Countess, are having problems in the bedroom department. Farce and double-dealing, recriminations and reconciliations ensue, those below stairs outwitting those above and sometimes conniving together – mostly to outwit the philandering Count. Deeper feelings, though, are also expressed in this comedy, where the human condition is not far away.
It's all bustled into life under John Eliot Gardiner's conducting. If the 'Egg-timer Overture' is too fast (resulting in its being soft-boiled), the score is played with singer-friendly precision, vibrancy and sensitivity. It is also consistently deft and shapely, with both 'authentic' leanings and what might be considered extremes and flexibilities of tempo. While Gardiner finds energy and heartfelt repose, he also encourages vividness – bringing horns, trumpets and timpani to the fore; slow numbers are expressively shaped and quicker ones energised with chiselled rhythms. Only the aria 'Non so più' was misjudged; Renata Pokupi in the trouser role of the randy page Cherubino breathlessly chopping the line and lacking vocal allure elsewhere.
Figaro – Luca Pisaroni, who possesses a mahogany-dark baritone with an attractive burr – and Susanna – soprano Lucy Crowe, sparkling and endearing – canoodle and squabble in equal measure. As the Count, Christopher Maltman is imperious and calculating, as he shuns his wife and espies the main chance with Susanna while trying to rid himself of Cherubino. Meanwhile, the isolated Countess is wonderfully taken by Maria Bengtsson – sublime at times, with pianissimos that are spellbinding (Gardiner visibly crouching in sympathy).
The stage business can be distracting, but subterfuge and witty asides, and a magically nocturnal final act in which disguises, innermost feelings and reunions lead to a happy ending, ensure this 'Figaro' continues to hold its own. Colin Anderson
Details
Users say