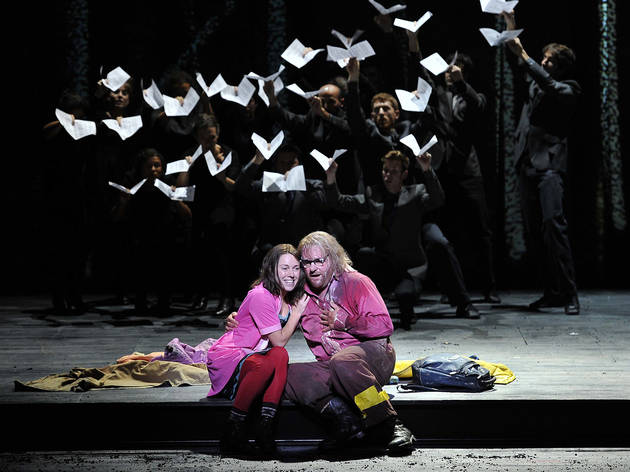 The English National Opera will be reviving 'The Magic Flute' in February 2016, with Allan Clayton as Tamino, Lucy Crowe as Pamina, and Peter Coleman-Wright as Papageno. This review is of the production's initial run in 2013.
Given that Mozart's late opera 'Die Zauberflöte' is a comic fairytale – in which a prince in search of his princess undertakes a series of trials to test his worthiness, assisted by an idiotic bird-catching companion – one might expect a joyous performance full of light and colour. However, in this new English National Opera production, director Simon McBurney has set his gloomy and charmless interpretation on a black-box stage, attempting to offset such onstage inadequacies with fussy theatrical irrelevancies.
Indeed, the only set worthy of mention is a raised, floating platform, which pitches precariously as the cast attempt to sing on top of it. Perhaps such austerities may be explained by the expense of employing 14 – count them – 14(!) actors just to flutter pieces of paper in representation of Papageno's birds. If this were not distracting enough, on stage right, scribblings on a blackboard are sporadically projected onto a translucent curtain, while on stage left, a foley artist is busy creating the sounds of footsteps, etc. Such amplified effects, part of the sound design by Gareth Fry, moreover, are accompanied by a noisy hum throughout, much at odds with the Classical-period music.
There is a nod to eighteenth-century performance practice – the orchestra sits in a raised pit and the lights remain on at the beginning of the overture and are only gradually extinguished. Otherwise, the dark and sombre proceedings seem far removed from the opera that Mozart wrote with impresario Emanuel Schickenader. While the original makes no narrative sense, and is inconsistent on many levels, it is clear that the pair conceived the piece as a light-hearted singspiel, coloured with masonic overtones.
That it is competently sung by a cast including tenor Ben Johnson (Tamino), Devon Guthrie (Pamina) and Mary Bevan (Papagena), cannot compensate for the inexplicable characterisation in which the Queen of the Night (soprano Cornelia Götz) delivers her arias from a wheelchair; and her sidekick Monostatos (Brian Galliford) becomes increasingly feral and hirsute. The Three Ladies are dressed in combat fatigues; and the three boys, meanwhile, are emaciated spirits, prematurely aged. Sarastro, sung strongly by bass James Cresswell, is apparently a menacing motivational speaker who runs a corporation full of suits – but isn't he supposed to be the good guy in this? The starring role, of course, still belongs to Papageno. Here he is played as a Northerner in thick spectacles, carrying a plastic bag and dressed as a council labourer in a fine performance by baritone Roland Wood (his urinating in bottles to tune them is one of the few funny moments).
Aside from the additional sound effects, the music is always joyous and young Hungarian conductor Gergely Madaras invests much energy in producing a lively response from the ENO Orchestra, although it is a little polite in places, notably the glorious overture. Jonathan Lennie
Rating Breakdown
5 star:

2

4 star:

4

3 star:

0

2 star:

1

1 star:

0