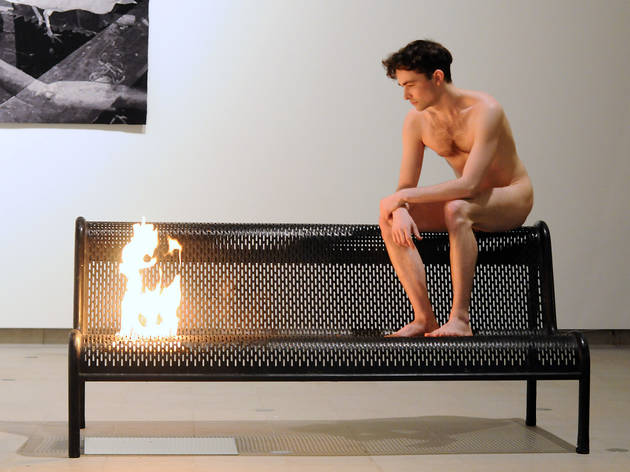 Nottingham's had it twice, it's been to Edinburgh three times and it's even going to Plymouth later this year, yet, amazingly, the quinquennial British Art Show has only ever been to London once, in 1990. Somewhat like this seventh edition's titular comet, then, it's finally streaking back into view for a brief spell, before pushing on to light up Glasgow.
This moving target of an exhibition morphs perceptibly on each leg of its tour, refusing resolutely to perform its bang-to-rights survey function and instead leaving a fleeting trail of current names and divergent pieces to drift in and out of their relative orbits of visual and mental contention. Indeed the subtitle of 'The British Art Show 7: In the Days of the Comet', taken from an HG Wells novel, also purposefully references the infrequency of Halley's eponymous ball of space rock (last seen in 1986, next expected in 2061) as if to claim the impossibility of fixing something as variable and subjective as a moment in British Art at all. The here-today-gone-tomorrow strategy is a risky one for the curators, Tom Morton and Lisa Le Feuvre, as it also begs the question of which artists among this group of 39 might crash, burn or survive – worse still, will we actually remember any of them in five years' time?
Best be careful what you wish for in these fickle days of the comet, we are warned in an accompanying text to Charles Avery's decade-long project to document his fictional 'Island': 'I feel as though I am walking sideways through time,' says the imaginary protagonist, 'my past to the left of me, my future to the right'. Judging by his latest desert vitrine and an engrossing pencil drawing – similarly slicing a timeless path between history and prophecy – Avery is fast becoming one of this country's most memorable artists. Roger Hiorns will be remembered too, although not perhaps for the dangled resinous casts or stripped car engine shown here. In times gone by he might have ornately encrusted these sculptures with ice or crystals but instead he's simply instructed a local prayer group to wish them well from a far (if they don't forget them, of course).
Those really left behind in the past seem yet again to be the painters, especially perennial paddlers against the tides of trend such as George Shaw, Maaike Schoorel and Milena Dragicevic, with only Varda Caivano's deliciously unfinished blobscapes holding their bare wall together, albeit while slipping around their surfaces uncomfortably as though her canvases were embarrassed by the merest presence of paint. The curators seem to have done painterly twosome Cullinan Richards no favours either, by leaving their work in the stairwell with one picture seemingly left in its bubble wrap. This deliberate aesthetic strategy wins, however, as the mute paintings are rescued and subsumed into one soaring, minimalist installation of packing tape and plastic sheeting.
Temporary is clearly contemporary: Karla Black's fragile soil hillock is prettified with stripy stratification and a light dusting of acid-yellow powder, while the nearby tables and wall-tacked print by Wolfgang Tillmans also speak of laissez-faire impermanence and an antidote to art as slick-finished, luxury take-home product.
This British Art Show's main strength is not its lauding of the extemporal or atemporal, but in its insistence on (nearly) every work of art requiring a curious, engaged viewer. Take nothing at face value in the art-house version of 'EastEnders' by Nathaniel Mellors, for example. Because, when mockney (and all other languages besides) begin to fail the cast of odd characters in his film 'Ourhouse', we are left to pick up the strands of this startlingly non-linear sitcom, which seductively repeats its dumb mantra like the regurgitating prosthetic head he's installed opposite.
Focus on the ephemera of cult film director Johan Riding and it soon reveals itself as a complex fictional account masterminded by Olivia Plender with Craig Burnett and Nick Santos-Pedro, complete with a convincing review purportedly dredged up from a 1988 edition of Time Out. There are whole miniature worlds to see in Ian Kiaer's tiny models and spatial windows, just as Matthew Darbyshire's hideously tasteful home set, 'An Exhibition for Modern Living', reveals a sinister, near fascistic order beneath the colour-coordinated lifestyle detailing.
The disappointments of Steve Claydon's inactivated sculpture and Spartacus Chetwynd's empty caravan, awaiting her troupe of players, will no doubt be dispelled when they perform alongside their works next month, while the missing naked man from the burning bench by Hiorns is also a reason to return. Better still is an umpteenth opportunity to lose any sense of presentness in 'The Clock', Christian Marclay's daylong paean to cinematic escapism, in which each clip enriches as much as it infuriates with each minute of time lost. Make haste for the Hayward, as British art may not burn this bright for long.