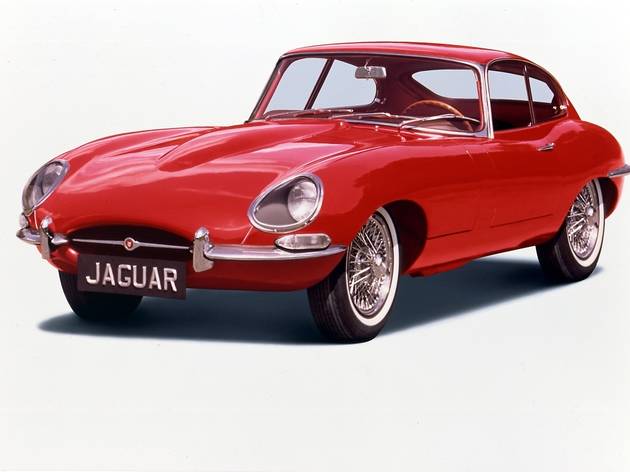 1/2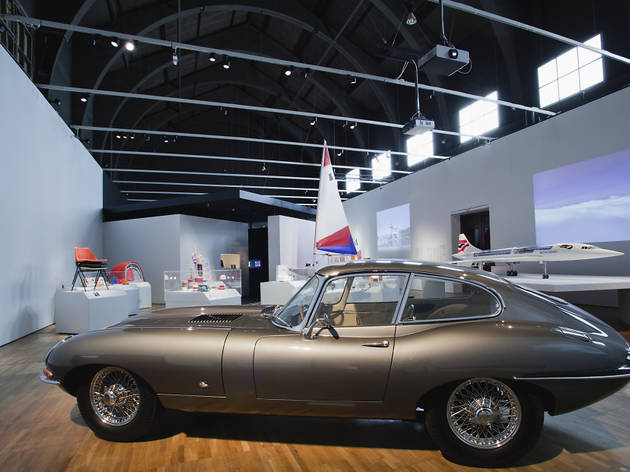 2/2
'British Design 1948-2012: Innovation in the Modern Age' installation view
In its favour, this survey of British design isn't the backslapping exercise you may have feared. It doesn't look as if it's been guest curated by Austin Powers – despite the inevitable Mini/Mary Quant/Bailey/'Blow-Up' moments it contains. And it doesn't make a colossal deal out of the two London Olympic Games whose dates function as neat, if not terribly design-relevant, bookends.
Still, a sinking feeling hits you a short way into the exhibition when you realise you've already witnessed the rebuilding of Coventry cathedral, the Festival of Britain, the coronation, the construction of the National Theatre and the emergence of the road signage we know and love. There's stained glass by John Piper, chairs by Ernest Race, couture by Norman Hartnell, brutalist concrete by Denys Lasdun, a clearly signalled turning to Droitwich by Jock Kinneir and Margaret Calvert… and nowhere for the discombobulated design traveller to pull over.
This is history at warp speed, with countless trajectories opening up while narrative threads unravel before your eyes. Before you know it, it's the 1960s – exemplified by mid-mod treasure like Whitefriars 'drunken bricklayer' vases, bark-textured cutlery by Gerald Benney and Ridgway Pottery's 'Homemaker' – then it's quickly on to punk, via Allen Jones's kinky chairs, Brian Eno's feathered epaulettes and Bowie's off-the-shoulder, one-legged knitted number. Phew. Even a stultifying dead-end dedicated to Damien Hirst's Pharmacy can't put the brakes on the curatorial march towards Chingford lad Jonathan Ive's iMac G3, Foster's 'Gherkin' and Zaha Hadid's Aquatics Centre for London 2012.
Decelerate and focus if you can and you'll discover one of the show's main points – that the kind of progressive modernism espoused by the Festival of Britain grew in tandem with an equally strong celebration of tradition, as encapsulated by the coronation. Perhaps the exhibition's most interesting thesis is that these two, apparently contradictory impulses exist side by side at the heart of British design. So, you have Hugh Casson designing for both Festival and Coronation and Sanderson creating textiles by (admittedly mild-mannered) modernists like John Piper along with more trad designs, without troubling what today we might call their 'brand identity'.
Maybe what the curators call the 'modern age' in Britain has always been a bit magpie-like, a bit postmodern. In Vivienne Westwood and Alexander McQueen, tradition and innovation become entwined in ways that seem quintessentially British without ever appearing regressive or predictable.
But all readings here are tempered by a retrospective air, even – or especially – design milestones like Concorde, symbol of an age and ideology that was outmoded before it took its first commercial flight. In this respect the show is a great leveller, a patina of nostalgia settling equally over imagery of the young Queen and Jamie Reid's design for 'Never Mind the Bollocks'.
If an attendant melancholy pervades, it is compounded by the sense that design and social idealism have become divorced, and that our post-industrial landscape gives us fewer treasures to admire. For all the positive spin put here on how we lead the way when it comes to computer games, the graphics and tinny synth soundtracks that play out the latter stages of the show make for a fairly depressing ending.
Average User Rating
1.5 / 5
Rating Breakdown
5 star:

0

4 star:

0

3 star:

0

2 star:

1

1 star:

1
We are great admirers of British design who were sorely disappointed by this display. The exhibition lacks coherency and even a basic ability to showcase and explain the best in British design innovation. The layout is disappointing and shows a poor use of space. There is little attempt to interact with the museum visitor (who has forked out the considerable sum of £13.50) and virtually no attempt is made to explain the importance or impact of the designs on display. Sadly, this is a missed opportunity for the V&A. It felt at times that they have searched through their store room for items that could be placed on display to lure the tourists that will arrive for the Olympics. In the end, all the exhibition really shows is a lack of innovation in museum curatorship.