John Cage: Every Day is a Good Day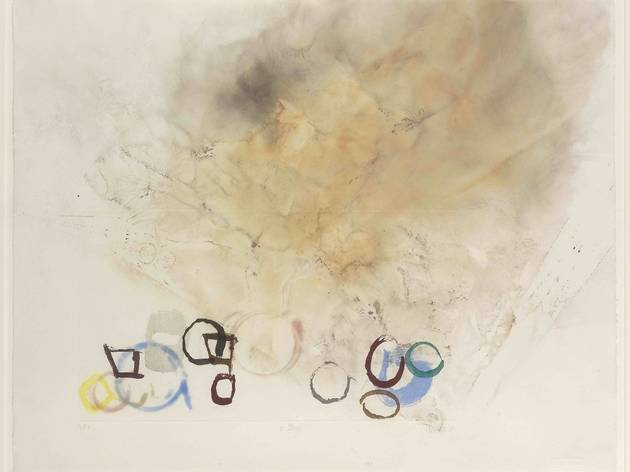 Time Out says
Friendly warning! We're working hard to be accurate. But these are unusual times, so please check that events are still happening.
Anyone interested in a crash course in why American avant-garde musician and artist John Cage (1912-1992) is such an influential figure could do far worse than spend a couple of hours at this Hayward Touring show. It may be an edited-down version of what's been seen at previous locations but there's still plenty to give a feel for what the man was all about. Cage is best known for his experimental music compositions, in particular his 1952 work 4'33", which lasts the duration of its title and has three movements, none of which contain any notes. But it's his prints, drawings and watercolours which are the focus here.
Cage didn't pursue visual art until the late '70s, but when he did he used the same discipline of 'chance operations' that governed his composition of music. His system was to devise questions about which combinations of materials, colours and methods of mark-making that he should employ. He then used a computer programme based on ancient Chinese divination system, the I Ching, to provide the answers. In keeping with Cage's esoteric ideas, the choice and display of works in this show have also been chosen by a random number system and will alternate, like a changing score, throughout the exhibition's duration.
Cage's aim was to try and remove ego from the art making process so that works would not be limited by the artist's conditioned notions of good or bad (hence the title, 'Every Day Is a Good Day. He definitely seems to have been onto something. Each of the 40 or so works on display – whether made by painting around stones with feather brushes or etching onto smoked or soaked paper – are beautiful examples of the possibilities of line, texture and colour. Context to all of this is provided by the inclusion of a 1990 film documentary about Cage and various film and audio clips.
When much contemporary art seems to be about nothing more than the artist's ego or clever referencing of other art, it's refreshing to be reminded that art can also change our perception of the world. Or, as Cage described his process, it's 'art as self-alteration, not self-expression'.
Details