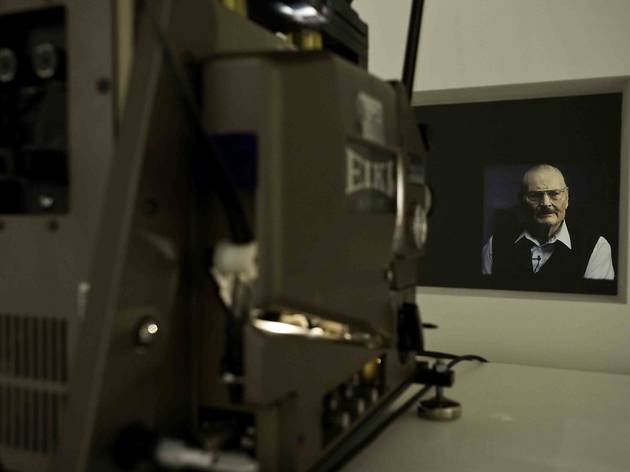 Although at first appearing slightly beige or dated, there are moments of great poetry to be unearthed in Kerry Tribe's new co-commissioned body of work, 'Dead Star Light'. Whether it be a slow-mo clip of autumn leaves spiralling in a zero-gravity space capsule, or micro-scans of butterfly wings that appear as large as they do miniscule, mimicking oceans, planets and galaxies, these elegant insertions lift the American artist's tired use of 1970s structural techniques.
The presentation of 2009 16mm film installation, 'H.M', documenting an amnesiac who can no longer make long-term memories, existing instead in 20-second loops of time, sets a strong precedent for Tribe's three new works. Reel-to-reel audio installation 'Milton Torres Sees a Ghost' wraps magnetic tape around the gallery walls, with speakers at either end narrating a UFO sighting by a pilot. By way of neat implication, it takes 20 seconds to walk its length, all the while experiencing a 'lapse' in the unheard tale. Highly crafted, Tribe has also edited Torres's account so that his recollections could be misconstrued to be a description of Tribe's own complex construction.
Similarly drawing attention to its own anatomy, looped work 'Parnassius Mnemosyne' uses a suspended Möbius strip of film to project microscopic footage of the titular butterfly's wings. Fading in and out of recognition, the image inverts as the film flips, questioning our ability to recall. Similarly, with video 'The Last Soviet', based on the marooning of cosmonaut Sergei Krikalev following the collapse of the Soviet Union, Tribe dislodges the subtitled narrative from its images, causing an uneasy slip that nods to the disinformation tactics being used at the time.
Lauded for her lucid philosophical enquiries into the delicate filaments of consciousness, with this latest body of work Tribe introduces a new playfulness in relation to personal mechanisms of memory and their tricky relation to time.