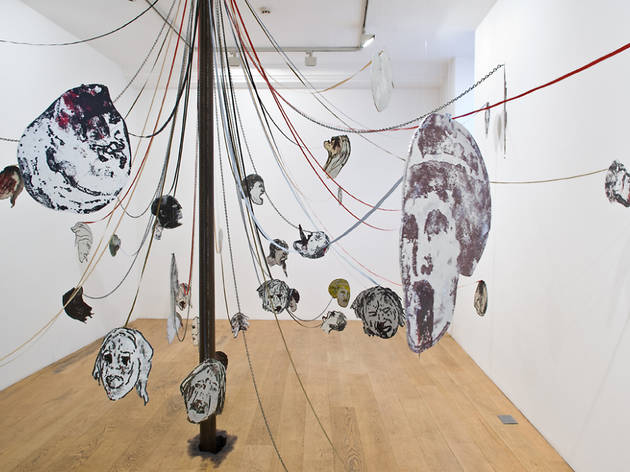 Testament to the strength of Nancy Spero's artistic output, this retrospective of works from 1956 to 2008 (she died a year later) resists unwieldy acts of historicisation. Ignited by the Civil Rights Movement and the Vietnam War, the artist's political life rightly stands as a point of fascination, but these works slip from the '50s, '60s and '70s to find searing relevancies in the acts of political violence prevalent today.
Marked by a sense of impermanence, Spero's use of lightweight materials in her paintings, collages and prints, jar with the strength of her emphatic mark marking. Hand-printed on concertina-ed paper, Spero's text-piece 'Woman Breathing' (1978) offers a beguiling point of entry. Referencing Spero's continued depiction of women, alongside this basic vital function, this seemingly ephemeral piece delivers an endlessly direct and vibrant address.
Documenting the mounting passage of Spero's complex symbolic language, the prints on show incorporate goddesses drawn from Greek, Egyptian and Pagan mythology, alongside porn stars and representations of Lilith, Medusa and Kali. This inhabitation of found images signals Spero's desire to distance these works from a subjective portrayal of individuality. Importantly, their subsequent timelessness assists their unhindered transition into the very fabric of our present.
The rawness of Spero's visual vocabulary resonates most with works from her 'War Series'. Loose and aggressive washes of gouache depict the unmediated facts of war, with 'Female Bomb' (1966), 'Sperm Bomb' (1966) and desperate work 'Victims' (1967), referencing her personal symbolism whilst generating a universal impression of deep despair.
Continuously moving between the intimate and the common, Spero's works question the role of the artist in relation to public responsibility – a debate that continues to goad contemporary practitioners and audiences alike. Achieving an arrestingly straightforward relationship to the social injustices that undoubtedly charged her every mark, Spero's dynamic techniques truly attend to the sense of duty felt by their imaginative maker.
Rating Breakdown
5 star:

0

4 star:

0

3 star:

1

2 star:

0

1 star:

0
Small enough to be explored in under an hour. I quite liked the video in the entrance on how to banish masculinity from your home. I suppose, I saw it more as how to redress the balance. Read some of the text on her work. It's abhorrent and yet all true.