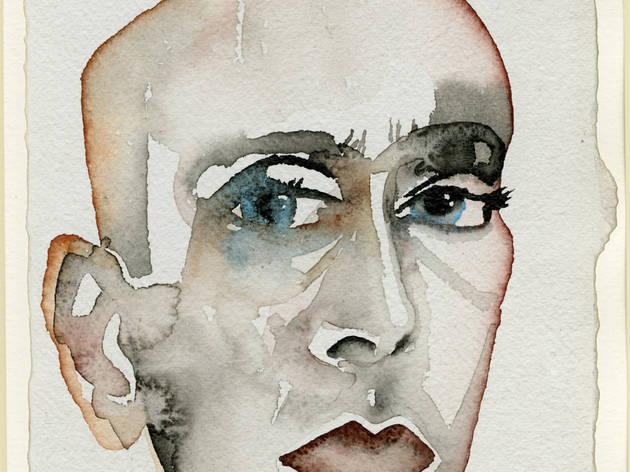 The unchangeable nature of Room 90, the Department of Print and Drawing's dark and scholarly exhibition space, does not always work in favour of the temporary exhibitions drawn from its 600-year collection. This impressive display of modern and contemporary drawings, however, fares surprisingly well, though it's not how we are used to encountering such works on paper in any other institutional context: dimly lit and presented like artefacts or specimens for inspection under glass. The room of cases, in this instance, elicits the sense of being inside a stationary zoetrope, or some other old-world, still very much operational machine, each future revolution engineered to animate another random moment in the story of art.
The chronological ordering highlights some forgotten and curious evolutionary links – between artists, historical styles, ideas and events -- but this is not a survey exhibition and each connection is easily lost within the rhythms of the room and the museum at large. Pen and ink works by influential German expressionists (Israeli-born) Jacob Steinhardt and Ludwig Meidner, pale in comparison with the scratchy brilliance of those they likely influenced: Otto Dix and George Grosz. Given the late Louise Bourgeois's impression on the moment it seems odd to find her linear ode to tools and materials nestled here amongst drawings by the likes of Magritte and Matisse, but of course it was made in 1947.
Picasso and New York-based Ethiopian painter Julie Mehretu may neatly book-end this selection, but it's not the examples of their works here that stick in the mind. Rather, the unmistakable aesthetic signatures of Guston and Kline in comparison, say, with a formal charcoal portrait by pop figure Jim Dine. Or the many unconventional elements of a Bonnard watercolour that contribute to its emotionally evocative whole. There are too many significant works to mention, virtually all essential footnotes to the making of art and collections.
Rating Breakdown
5 star:

0

4 star:

1

3 star:

0

2 star:

0

1 star:

0