The Shape of Things to Come: New Sculpture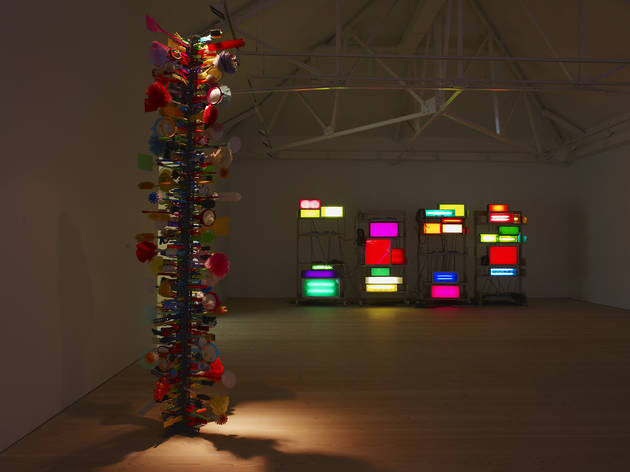 For the committed gallery-goer, Charles Saatchi's exhibitions can seem like an unnecessary reprise of yesterday's commercial shows, eliciting little more than, 'Oh, he bought that' (punctuated with 'Whoa, he bought that?'), while prompting the thought that the immediate museumification of contemporary art isn't necessarily a good thing.
From the off, 'The Shape of Things to Come' – a relatively focused survey of 20 sculptors from around the world – feels different. Not because remembrances of recent gallery outings are banished, but because the shiny and new share room with the 'old' – and, with pieces made more than a decade ago, some of the works here are ancient by Saatchi's standards.
If the show has a shape it is loosely circular. Lassoed together are established figures like John Baldessari, whose wall-mounted ear trumpet is an audience-activated exploration of sound's space-filling potential as well as a (pretty tired) gag about Beethoven's deafness, and more recent art world darlings like David Altmejd. In 'The New North' Altmejd presents us with one of the show's oddball highlights, an alluring cryptid conjured from mirror, horse hair, crystal and wire – a disco yeti.
Sculpture's history – from totem, to statue, to readymade, to installation, through countless 'isms' – is dipped into freely, its major figures directly referred to. Dirk Skreber's cars wrapped around metal posts are beguiling but wind up seeming somehow less dangerous than the John Chamberlains they resemble – despite the bonus aroma of oil coming from Richard Wilson's permanent installation in the gallery below. Elsewhere, material presence impresses, giving real heft to Kris Martin's jokey idea to put miniature crosses on the tops of boulders as a kind of potted manifestation of the sublime; despite his installation's connotation of shaky faith and implications of failure, Martin's work is stately and beautiful.
Impressive too are Rebecca Warren's clay sculptures, a deliberate lack of finish lending these exaggerated figures an air of anticipation that is echoed in the primordial-looking accretions of Peter Buggenhout and in Sterling Ruby's stage-set-like installation. Qualities we wouldn't automatically associate with the Saatchi brand set a tone of seriousness that, along with a sensitive installation, lead to the abiding impression that this is his best show in Chelsea by some distance.