1/10
© Jessican Long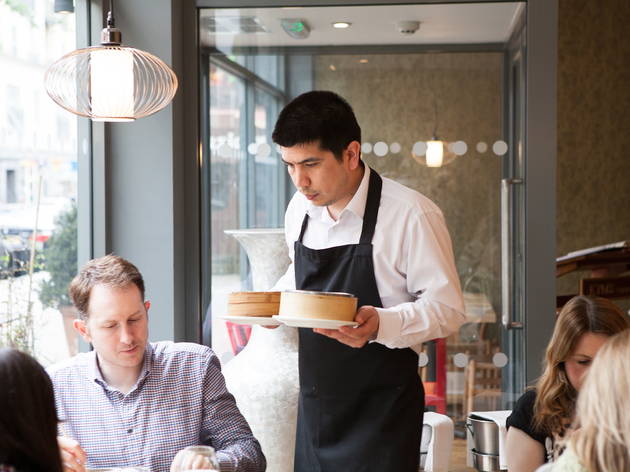 2/10
© Jessican Long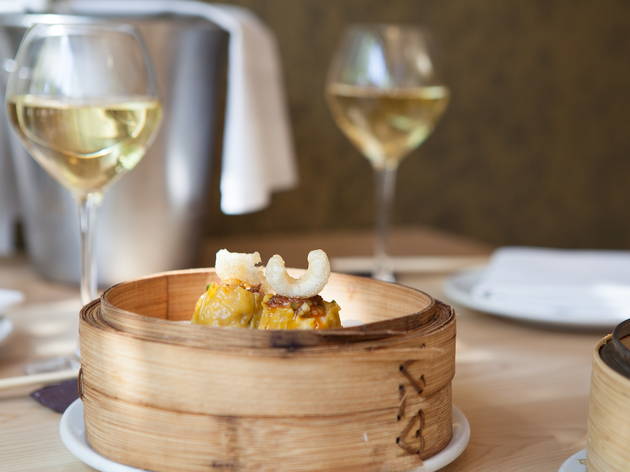 3/10
© Jessican Long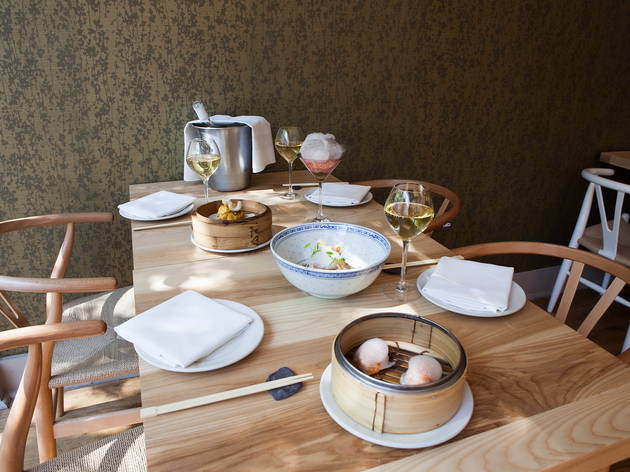 4/10
© Jessican Long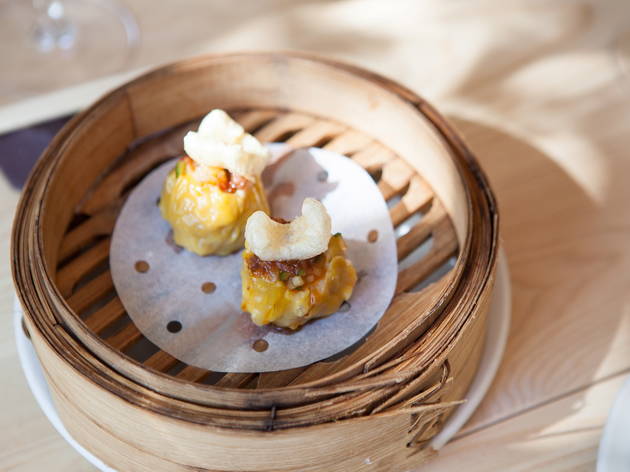 5/10
© Jessican Long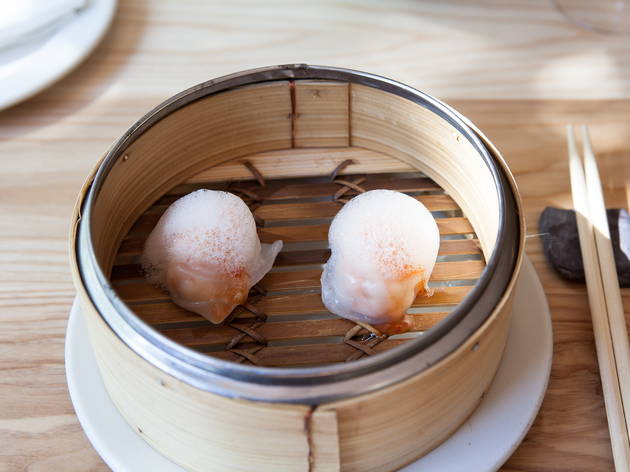 6/10
© Jessican Long
7/10
© Jessican Long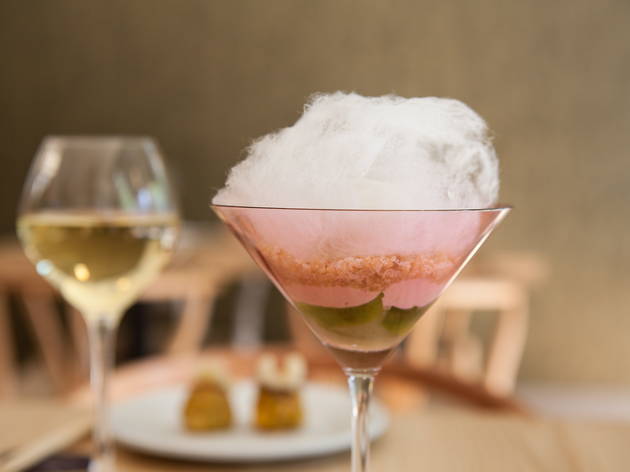 8/10
© Jessican Long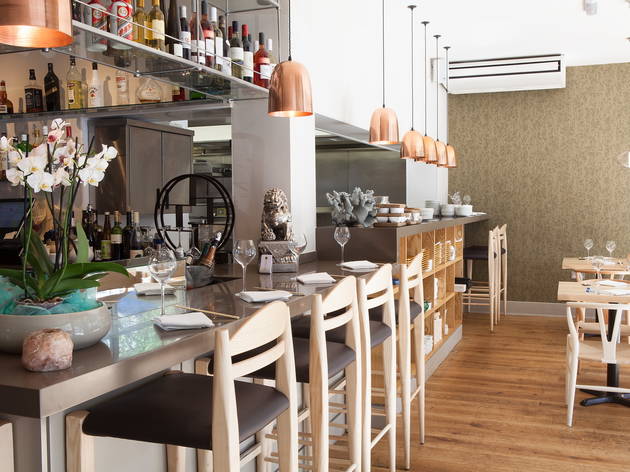 9/10
© Jessican Long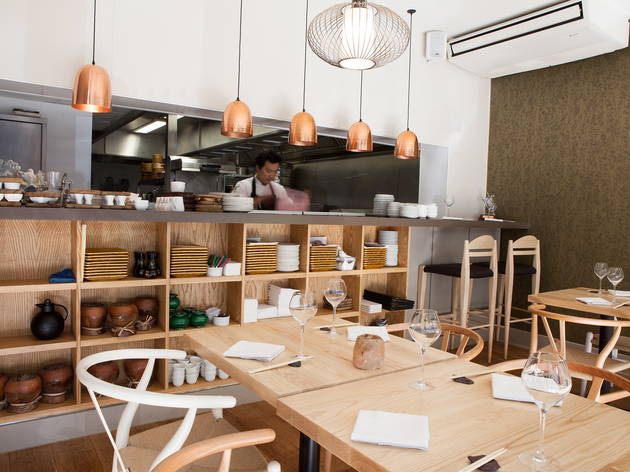 10/10
© Jessican Long
Time Out says
This modern Chinese restaurant dispenses with gilded dragons, book-length menus and oily stir-fries to win over discerning Western palates and aesthetes. Like quietly upscale Hunan, self-consciously stylish HKK and moodily modish Hakkasan, chef and owner Andrew Wong's pared-back venture beautifully reinterprets Chinese cooking using the finest ingredients.
Unlike his contemporaries, however, chef Wong elevates the cuisine without hiking the prices. Dim sum and snacks inspired by street food can be ordered by the piece, inviting anyone to pop in for a spot of daikon cake with wind-dried sausage and shrimp. Plump pork and prawn dumplings were the best we've tried, thanks to the flavour of high quality pork and the strip of airy crackling topping.
Preserved duck egg – fermented to a gelatinous black – is diced and combined with quivering cubes of cold marinated tofu and chili soy sauce, transforming the often sulphurous ingredient for a clean, delicate starter.
The tasting menu is a relative bargain at £38.88 for eight auspicious courses (eight being a lucky number for the Chinese), showcasing Wong's knowledge and passion for China's diverse regional fare. Each course is stylishly presented, sometimes with faddish touches such as citrus foam on the har gow (prawn dumplings). Poached razor-clam with sea cucumber, pickled cucumber, vinegar tapioca and wind-dried sausage was a gorgeous mouthful of contrasting textures and flavours. Chili barbecued pineapple with a light, tangy Beijing-style yoghurt was a revelation – proof in the pudding that dairy and dessert can successfully feature as part of a Chinese meal.
Gung bao chicken was presented in two versions – traditional Sichuan style and Wong's reinterpretation of this staple of Westernised Chinese cuisine. A decision to cut back on the cornstarch resulted in a watery sauce that failed to cling to the generous chunks of corn-fed chicken breast. A pity, because the jus captured just the right balance of sweet, salty and tingly.
The pace of the courteous service was also a let down; it took up to 20 minutes for some courses to arrive. In this café-like space furnished with bare tables and hard-backed seats, that makes for an uncomfortably lengthy wait, one that marred an otherwise enjoyable meal.
Details
Address:
70 Wilton Road
London
SW1V 1DE

Transport:
Tube: Victoria tube/rail
Contact:
Do you own this business?
Rating Breakdown
5 star:

4

4 star:

2

3 star:

1

2 star:

0

1 star:

1
Creativity is the slogan at this Michelin starred establishment nestled in the heart of Pimlico. Dishes are massively varied where each represents a different region of China but somehow they complement one another so beautifully. Andrew Wong, chef and proprietor, toured China exploring it's many cooking styles, before coming back to create his menu where taste and brilliance are of the highest order.
Immediately, I could tell that their small but functional open plan kitchen operated like a well-oiled machine. From the countless dishes I ordered there wasn't a dish anywhere that I could fault. The Prawn Crackers arrived as one enormous one, the size of a plate, with various tiny bits of extras on it – inventive yet very moreish.
The Shanghai steamed dumplings were so precisely thin and delicately folded. The Crispy Duck with pancakes was also very memorable. It arrived with a paint brush so you can brush the hoisin sauce on. Small portions play with both taste and texture.
Their desserts are outlandish yet the sort that dessert lovers would rave on about. I thought their Tea Smoked Banana Nut Crumble with Pineapple and Chocolate couldn't have been better until their Mahjong domino-shaped white chocolate mini-bars arrived. These were filled with subtly flavoured strawberry ice cream. If only all petit fours could be like this, rather than the rushed afterthoughts they usually are in other places.
The bill came to just over £50/ person - great value for the amount ordered.
Andrew Wong genially breaks away from the traditional. The new Oriental has hit town.
Not worth the price! Seating near the kitchen is far too hectic for a nice dinner date. Good starter but main meal was just average to poor we thought.