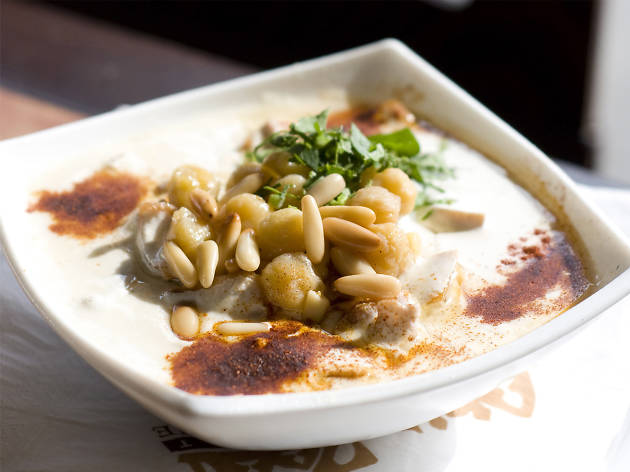 Time Out says
Big helpings, low prices and a rollickingly relaxed setting are the draws at this capacious Syrian venue near Shepherd's Bush Market.
Groups of teenagers, young families and couples after a quick, fuss-free meal seem to find this vast Syrian restaurant a convenient destination. The boisterous clientele, together with Abu Zaad's relaxed café-style seating, TV screens and what seems like an army of zippy waiters lend the place a pleasantly chaotic air. Service is pretty slick, though, and although the restaurant is often furiously busy, you're unlikely to have trouble getting seated at one of the plentiful tables – probably next to a garish painting of Old Damascus or near an ornamental brick arch. In keeping with the informality, the menu is cheap and portions huge. A sharing meze of cold starters – including parsley-packed tabouleh and lashings of thick houmous – would have been a filling meal in itself. Mains are hardly of modest dimensions either: a tomato rice maklouba (topped and filled with chunks of lamb and slivers of fried aubergine) would have been enough for two; and a grilled lamb kebab came with rice, bread and salad. There's a no-alcohol policy, but you can wash down the carbs with a glass of salty yoghurt ayran or a freshly squeezed juice, and round off the meal with a pot of mint tea.
Details
Address:
29 Uxbridge Road
London
W12 8LH

Transport:
Tube: Shepherd's Bush Market tube
Contact:
Do you own this business?
Average User Rating
3.8 / 5
Rating Breakdown
5 star:

10

4 star:

2

3 star:

1

2 star:

2

1 star:

3
lived shepherd's Bush for few years so visited often had some great meals...at great price planning another visit to London sooon so will be on agenda...
One of my favourite restaurants; great food, wonderful staff - amazing value. GO!
amazing food good prices, fresh salad good portions, the number one place to go for good wholesome healthy food, no doubt about it i am a very regular customer amd i can not get enough! a definite must!
Friendly service. Freshly made, well seasoned food, clean, professional and outstanding in price. I don't think you can ask for more. I love eating out, and this is a place that I am definitely going back to regularly. It came highly recommended, and I can now see why. Having eaten in Syria and Lebanon, I can say with confidence this is as good as it gets!
The best place in London! The staff is friendly and the food is great! One of the best places I ever been!!! Five star restaurant!!!
Ate there this evening, and the food was delicious. My partner and I had a very generous portion of smoky moutabal and refreshing tabbouleh for starter. For my main course, I had the lamb cubes marinaded with olive oil and lemon - very succulent and tasty - served with rice and salad. The flavours of all of our dishes were rich but well balanced. I also really liked the melon juice, which was wonderful. Everything on the menu is incredibly good value, and we were amazed at how inexpensive such a great meal was. Even though it was very busy, the staff seemed very courteous and showed just the right amount of attentiveness.
Make sure you're properly hungry when you go to this place as the portions are huge and proper filling. A non-fuss place that beats Westfield's pretentiousness by miles. Totally recommend!
Incredible good value in this buzzing and atmospherically Syrian diner. The delicious freshly squeezed drinks make up for its lack of a licence - lemon and mint is my favourite.
There are queues of people at this restaurant, especially during the fast. But you won't wait long and a good thing too: the food is sensational! The waiters will advise if asked but we've got our favourites now. This is my #1 restaurant in London.
ok first thing first , I am writing this review as everything is still fresh in my memory haven't even washed hands so the whiff of raw aubergines,a mashed up fattoush (salad), cold tortilla wraps is still haunting around. Me and my two mates were on the Edgware road looking for a place to have a good meal as we were looking around, time to break the fast(muslim fasting month) had come to an end and we had little time to decide, Abuzaad looked alright from the outside, and we went in , in the first 2 minutes when we were given a table the waiters started shouting at my mate as he thought we are going to sit on (apparently) reserved table where as my mate was only going through the tables to get to the place where we were told to sit. An extremely rude induction, but we ignored it as we had no time to go elsewhere. Waiter came to take the order within 2 minutes and instead of asking if we were ready he instead stood there with his notepad asking who wants what , and then he mentioned 4 dishes which were supposedly todays special. He insisted that we should get something from those 4 dishes , my friends had to decide whilst he was standing there as he was keep on asking which one. Anyway, despite telling him that we don't like veg's so something with meat(lamb, chicken) would be nice, and he instead on this dish called "makloba" with aubergines, as according to him it was the best ever dish out of dozens others in the menu. And we ordered a few starters and a bowl of chicken soup, which was never seen on the table ( luckily). Starters were taste less and salad was too mashed up, humus with chicken shawarma had bitter taste. Anyway, main meal came in a reasonable time , but as we started , I can tell you, it was the worst meal ever in my whole life, and at the time I realised that because of the waiter deliberately standing there and putting words in our mouths, two of us had the same dish " Makloba" with almost raw aubergines and lattice with long grain rice and a very tiny bit of lamb pieces on top with no taste what so ever. The fact that all three of us were fasting and super hungry we tried to eat but it was not going down as it was not food(literally) . I just ate them few pieces of meat , had a little salad with humus and with our plates almost full, we asked for the bill, paid 49£, the waiter wasn't even making eye contact when I called him , neither he said anything when he came with the bill. We left and had to go somewhere else to eat but because of that meal , we all had lost the appetite, long story short not recommended , its absolutely tasteless and dry.
Went there for lunch, horrible food, dry and tasteless and equally horrible staff! they rushed us through courses and out the door, will not go there again.
If there was a choice of eating at this restaurant or eating a supermarket ready made meal i would STRONGLY RECOMMEND the supermarket meal. Last night we had booked a table at this restaurant, we arrived and were greeted and seated to our table so no complaints there. Now we've ordered and a considerable time later a waiter power walks past us LITERALLY throwing a plate of Arayes on our table to the point the plate itself was spinning as it landed. Annoyed my partner tried to get a waiters attention, 10 minutes later the second starter appeared, then almost immediately our main had arrived with no word to us just thrown on the side of the table, then followed by our drinks. The food itself was of such poor quality, I had ordered the mix grill which made my local kebab shop kebabs seem heavenly in comparison. Now this is worst part, a waiter was clearing up from the next table as he reached over he accidently kicked me on my leg HARD, I let out a painful 'ahhhw' on impact to which he just looked at me straight in the face and walked away, he didn't say a word. Angered and not wanting to cause a scene we asked for the bill and left immediately. Now we've experienced bad service in other restaurants before, but I have to say this place is selective on who it provides bad service to as the Syrian family table next to us was provided with exceptional service.
Absolutely horrible. Went there on a Sunday night after making a reservation which was accepted. Told me they had a party taking place soon and was quickly rushed through the courses as they wanted us out of the door asap! They did not even bother to serve us the complimentary dates which all the tables had. Food wasn't great either. The mains only had tiny streaks of meat and servings were paltry. Would NOT GO there second time.
Being there today food was very nice as usual but staff very rude and unprofessionnal seems to me like they want to chase the clients away. Atmosphere very stressing and very loud music which was only on to entertain the staff!!
Snap up exclusive discounts in London
Time Out's handpicked deals — hurry, they won't be around for long...