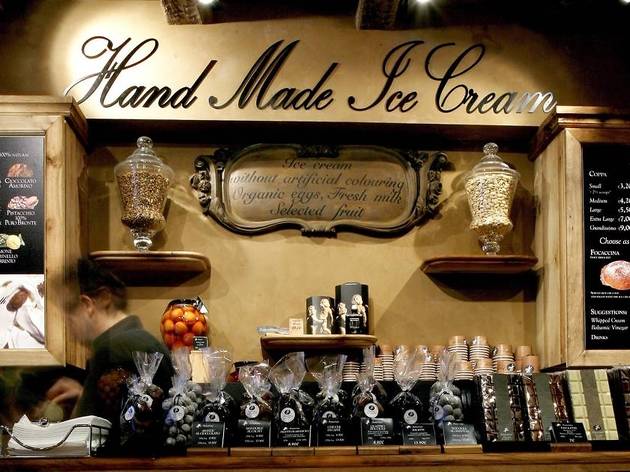 At this London branch of a US chain, your Italian ice-cream comes shaped as a flower. At least it does if you ask for a cone on which ice-cream slabs, rather than scoops, are formed into 'petals' atop a crispy waffle. The petals can be made from as many flavours as you wish – even if you choose the small size. This is a handy innovation, as the vast array of flavours can be a bit hit and miss.
A juicy passion fruit offered a tangy freshness, which complemented the dark chocolate hit from the chocolate sorbet; however, tiramisu tasted rather artificial, and the fabulously named L'Inimitabile, a nut-flavoured chocolate, was just too sweet. If you fancy something more substantial choose waffles, crêpes or brioches – all served with or without ice-cream. A small selection of chocolates and sweets is also for sale.
The shop itself is small, with dark brown wood furnishings that make it feel even more so. Still, there are enough tables to seat up to ten people at a time and you'll even find a few chairs outside on the pavement.
More
Less
Amorino says
We are an authentic Italian gelateria serving the highest quality gelato and sorbets, along with decadent sweet treats. Our gelato is churned using only the freshest ingredients, with no colourings or artificial flavours. Each gelato is served as a beautiful gelato bouquet; almost too pretty to eat!
More
Less
Venue name:
Amorino
Contact:
Address:
41 Old Compton Street
London
W1D 6HF

Opening hours:
Open noon-midnight Mon-Thur, Sun; noon-1am Fri, Sat
Transport:
Tube: Leicester Square or Piccadilly Circus
Menu:
View Menu
Do you own this business?
Average User Rating
4.2 / 5
Rating Breakdown
5 star:

13

4 star:

8

3 star:

2

2 star:

2

1 star:

1
Funnily enough, my first taste of Amorino was on a trip to Portugal! After discovering it, I made a daily trip to the gelateria – sometimes even in the morning! Imagine my delight, then, when I discovered that Amorino was back waiting in London for me. I'm more of a cup, rather than cone, gal, but if you do opt for a cone, the gelato floral arrangements are a sight to behold. Simply pick a size, pay, and then choose as many flavours as you want! My personal favourite is pairing raspberry with dark chocolate sorbet.
I visited the Notting Hill and Soho branches over the weekend and introduced two friends to Amorino for the first time. The weather was lovely, so we ate our gelato in the park, and it's safe to say that my friends became converts. Deliveroo also offers Amorino…there goes my self-control (and my waistline)!
Found lots of public hair in my ice cream. Never going there again. Disgusting.
SomPoint
The map location for Amorinoissompo.me/D0FAQRBE.SomPoint is a method to locate every point in the world using only 8 characters.You can convert every address and point on earth to only 8 characters.
I was pleasantly surprised by the idea of shaping the ice cream like a rose giving you the opportunity to choose as many flavours as you want is very good and makes this place stand out. I loved the chocolate sorbet, the caramel and the flavour of the month "Torta al Limone". I was quite disappointed by Amorino and L'Inimitabile. The ice cream cone is very good so go for it and let yourself be tempted by the waffles :)It's a pity they didn't have all the flavours that they advertised on their website and in the shop itself and I think they should put some actual chairs in the shop instead of only stools.
Sadly the service and the staff did not live up to the expectations of the lovely ice cream parlour set up in the heart of kings road. The gentleman taking our order really didn't want to be working especially on a Sunday! No smile and not a sign of happy welcoming service. Once we ordered soon after the crepes and milkshake arrived. Super quick service! The reason: the milkshake was not filled to the top and the crepes was COLD when we asked the waiter to re do it as it was cold we received a terrible arrogant attitude and told us this is how it's done. The big boss arrived and was even more arrogant and rude! Remember the paying customer is always right and when running such a place always provide service with a friendly attitude. The crepes was redone and practically slammed down the plate in front of us on the table not saying a word! A great shame as we will not be recommending this place to anyone or ever going back. Lack of friendly service and serious attitude!
This ice cream place is the best one in london from my view, I love the way its handmade and it tastes super delicious and the way they out it into a beautiful rose shape which makes me not want to eat it at all!
Amazing, worth every penny, beautifully presented in the chiller and on the cone. My 3 year old has never been so quiet or sat so still whilst eating anything until the other day when presented with a small cone filled with chocolate ice cream and vanilla petals of ice cream around the outside
I think their ice cream is utterly very good and I like the fact that they seem to never run out of whipped cream and also the flower-like shape they are able to give to the cones is lovely. The staff is always friendly and well trained. Also the fact that there is no limit to the number of flavours that you can have is cool, I think. Personally, I am addicted to their Ecuadorean Chocolate.
I have been a huge fan of Amorino for ages and always visit when I'm in France. I was really excited to see it come here. Of course, the ice cream is still as good, but for service I'd recommend going to the Kings Road branch instead - our server was beyond hopeless.
This is definitely one of the best Ice cream parlours in London. Ice Cream done by weight so you can try as many flavours as you like!! Nutella is very good and pistachio.
Just went there today as a lunchtime treat. I had their smallest size cone which would usually be the size of one scoop. Price was £3.30 which did seem steep. But when I selected the single flavour I wanted I was advised they could put more than one flavour in which is a nice idea for such a small ice cream. I thought it was beautifully presented in a cone with the ice cream made to look like flower petals. I really enjoyed the flavours and would definitely go back again for a special treat.
Grossly over-rated place. £3.30 for a small ice-cream, and an excruciatingly long wait while the po-faced staff member (quite unnecessarily) shaped it into a rose. The vanilla ice-cream was just about OK but a long way from the best I've had in London. Avoid.
More venues
Sponsored listings