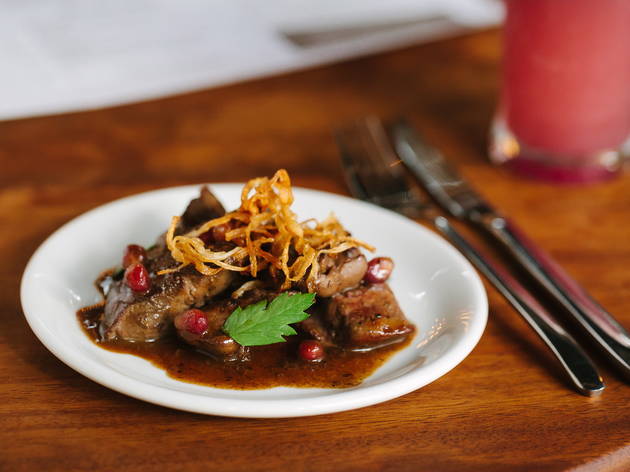 Time Out says
One of London's new-wave Middle Eastern-inspired cafés but with leather banquettes, cocktails and an unhurried restaurant experience; great meze.
With its fashionable buzz and lively energy, there's no other Levantine restaurant in London quite like Arabica. The setting at this enclave of proper Middle Eastern cooking in Borough Market is neither 'Arabian Nights' theme park nor brightly lit marble palace. The room has lots of bare brick and steel – it's a Victorian arch, after all – but the lighting's low and atmospheric.

A French map from the 1960s on the wall shows 'Asie Occidentale' with the Levantine countries hightlighted in yellow: Egypt, Syria, Iraq, Jordan and Lebanon. In those days, Beirut was the Paris of the Middle East – a playground for the rich and cosmopolitan. It was a golden age, and a moment in history that this new restaurant in Borough Market tries to recapture.

Muhummara is a dip that, once discovered, can become as addictive as swaying your hips to rai music. Roasted red peppers, here with toasted nuts, form a rough paste which in its native Aleppo is then flavoured in many variations. The versions I've had in Syria and Turkey were far hotter; but this one, though lacking the full drama of flavours, was spicy enough.

Meze dishes are the highlight of Lebanese cooking, and here the fried snacks such as lamb or spinach kibbeh – which look a bit like scotch eggs – were excellent.
The vegetarian dishes are inventive; baby pickled aubergine is stuffed with red pepper and walnut for the attractively textured dish called magdous.

Sit at the polished concrete bar, and you can watch the kitchen at work. Flatbreads are pulled from the searing-hot clay oven: our favourite was lahmacun (a Turkish/Armenian crisp 'pizza' with spiced lamb), while the man'ousheh breads were chewier and had a distinctive flavour: the bitter hint of Jordanian thyme in the za'atar spice mix.

Arabica joins the new wave of London's Middle Eastern-inspired cafés, but goes one better with leather banquettes, cocktails and an unhurried restaurant experience, which would satisfy any modern TE Lawrence. There's no need to 'yalla yalla' ('hurry up' ) here, as service is attentive and welcoming.

On the wine list, Israel cosies up next to Lebanon with bottles from the Bekaa Valley, while Arab, French and Turkish influences sit comfortably together on the menu. Arabica might not be able to bring back the 'golden age' of the Levant, but its menu gives it a good go.
Details
Average User Rating
3.6 / 5
Rating Breakdown
5 star:

2

4 star:

7

3 star:

5

2 star:

0

1 star:

1
Nothing memorable taste wise but rather exy for what it was essentially (bread and dips) and really meagre portions to boot. Great location though and if you go early you get a seat without issues.
The selection of food was ok, but I feel that's it's really ovepriced and the portions do not do it justice. I know a few cafes in Edgware road that do much better job in taste, portion size and price.

It was a mistake going to this restaurant !!
First of all, food could have been made much much better.. the portions are very very small and I even thought that they send a tester before the main dish!! And the price! omg! 1 koubeh: 3£, 50g of moutabel for 5.50£, 8 cubes of shish: 11£ !! when I spoke to the manger he said ... all our products are organic! well, if you wanna make something organic make it well then! what is the point of having under-cooked free range chicken?? and being organic doesn't justify your prices at all!! I swear to god that me and my other two friends went and eat pizza after we paid 62£ at this restaurant!! I felt that I have been scammed!
I have been here a couple of times, each time it's been great. The last time I went it was with a large group and we ordered a massive amount of food, I think we tried most things on the menu. I would recommend the halloumi cheese, some of the best I have had in a long time!
On the whole Arabica is worth a visit. Went last Saturday night without a reservation, waited at an outside table for 30 mins, so not too bad. I was with a Spanish friend who noticed they had a very good bottle of Spanish red listed, so we duly ordered with a bowl of Kalamata olives whilst we waited....wine was very good. Once inside there is little to identify this restaurant as middle eastern inspired, not a belly dancer in sight! tables are quite close to each other so felt a bit claustrophobic. Lighting good so a nice atmosphere. We ordered, I think it was 6 tapas style dishes, all were delicious, but in my opinion way too small. I personally could have quite easily devoured another 6 by myself, so if you have a good appetite, expect a sizeable bill. I was really impressed by the staff, very attentive and friendly but not overly so. Rather disappointed at the end of the evening when I tried to order an espresso but was told the kitchen was closed...What! But ultimately I guess I would return, just to try some of the other dishes which I'm sure are as tasty as the ones we had. Damage was £73 but I was STILL hungry.
I went for a nice dinner with my husband and we absolutely loved it!
The restaurant itself is beautiful, great style and atmosphere; old school chairs, stunning bar, good lay out; but we particularly loved the fact that you can see the kitchen from anywhere in the restaurant, it's all open and with the great tunes playing in the background we really enjoyed it!
The food was simply delicious!! Nothing to fault… cooked to perfection, great portion, unusual dishes (at least to me), very nicely presented.
Drinks were also very nice. We had a couple of cocktails before food which we really liked! The barmen were very good in explaining the drinks as well as understanding us and what we'd like!
Staff in general were very good. The nicest thing was that they knew the food menu and could actually explained what they were serving!
Overall a great experience! I've already told my friends about this place and we will definitely be coming back!
I went along with a friend and ate at the bar, the interiors of the restaurant was warm and inviting with some fabulous features. The staff were lovely and gave us a glass of water as soon as we sat down which was a nice touch, the owner of the restaurant even came over to see how our meal was which I thought was great. All the food was amazing, a great menu especially if you like sharing. For me I will never forget the Chicken & Pistachio Taouk washed down with a gorgeous cocktail recommended by the staff called the Rania's Spritz, you must try! Overall great meal, relaxed interiors and very nice staff, I will certainly visit again next time I am in that part of town!.