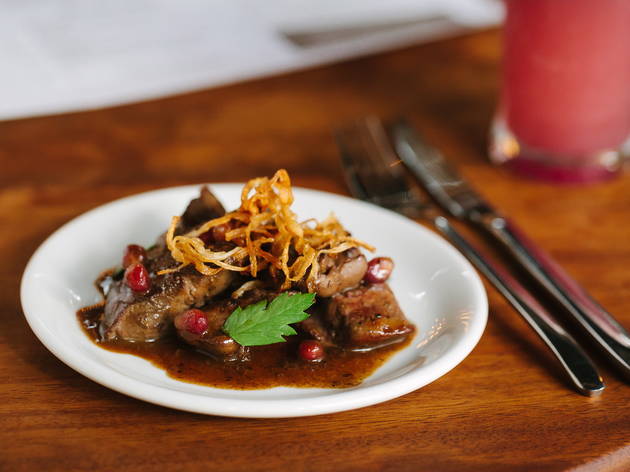 Time Out says
One of London's new-wave Middle Eastern-inspired cafés but with leather banquettes, cocktails and an unhurried restaurant experience; great meze.
With its fashionable buzz and lively energy, there's no other Levantine restaurant in London quite like Arabica. The setting at this enclave of proper Middle Eastern cooking in Borough Market is neither 'Arabian Nights' theme park nor brightly lit marble palace. The room has lots of bare brick and steel – it's a Victorian arch, after all – but the lighting's low and atmospheric.

A French map from the 1960s on the wall shows 'Asie Occidentale' with the Levantine countries hightlighted in yellow: Egypt, Syria, Iraq, Jordan and Lebanon. In those days, Beirut was the Paris of the Middle East – a playground for the rich and cosmopolitan. It was a golden age, and a moment in history that this new restaurant in Borough Market tries to recapture.

Muhummara is a dip that, once discovered, can become as addictive as swaying your hips to rai music. Roasted red peppers, here with toasted nuts, form a rough paste which in its native Aleppo is then flavoured in many variations. The versions I've had in Syria and Turkey were far hotter; but this one, though lacking the full drama of flavours, was spicy enough.

Meze dishes are the highlight of Lebanese cooking, and here the fried snacks such as lamb or spinach kibbeh – which look a bit like scotch eggs – were excellent.
The vegetarian dishes are inventive; baby pickled aubergine is stuffed with red pepper and walnut for the attractively textured dish called magdous.

Sit at the polished concrete bar, and you can watch the kitchen at work. Flatbreads are pulled from the searing-hot clay oven: our favourite was lahmacun (a Turkish/Armenian crisp 'pizza' with spiced lamb), while the man'ousheh breads were chewier and had a distinctive flavour: the bitter hint of Jordanian thyme in the za'atar spice mix.

Arabica joins the new wave of London's Middle Eastern-inspired cafés, but goes one better with leather banquettes, cocktails and an unhurried restaurant experience, which would satisfy any modern TE Lawrence. There's no need to 'yalla yalla' ('hurry up' ) here, as service is attentive and welcoming.

On the wine list, Israel cosies up next to Lebanon with bottles from the Bekaa Valley, while Arab, French and Turkish influences sit comfortably together on the menu. Arabica might not be able to bring back the 'golden age' of the Levant, but its menu gives it a good go.
Details
Best selling Time Out Offers