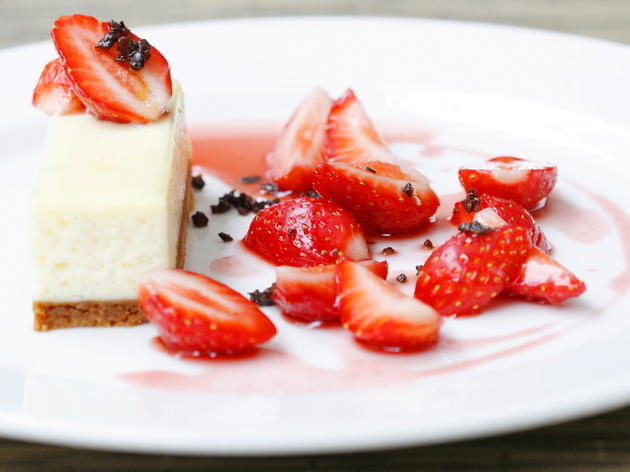 1/6
Ming Tang Evans / Time Out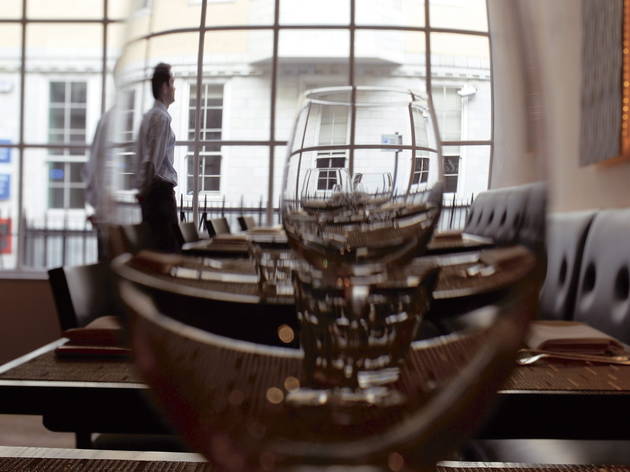 2/6
Scott Wishart
3/6
4/6
5/6
6/6
Please note, Arbutus is now closed. Time Out eating & drinking editors, July 2016.
Laying tables without salt and pepper is a sign of a restaurant confident in its seasoning and flavours, but on our recent visit to this smart modern eaterie, this confidence was slightly misplaced. A starter of Dorset crab, avocado guacamole, peanut and mango was untouched by seasoning, sauce or dressing, the result being bland rather than bold; and an otherwise delicious salad of broad beans, moroccan lemon and goat's cheese came with a wild garlic whose delicate flavours were lost to its heavy tempura batter. Arbutus is usually more disciplined, clever and successfully creative with unusual and less-used ingredients, and matters returned to their customary form with the main courses. Scottish salmon was of top quality, dark in colour and light in texture, nicely complemented by a concentrated hazelnut jus. Saddle of rabbit, prettily presented with small root vegetables and stuffed with liver, was intense and succulent – but small, until the accompanying shepherd's pie arrived 15 minutes later, a nice riposte with its salty flavours. We like the good-value set lunch and pre-theatre menus, the posh but proper puds and the fact that every wine is available by 250ml carafe. Also run by Will Smith and Anthony Demetre are Wild Honey in Mayfair and Le Deux Salons in Covent Garden.
More
Less
Arbutus says
A bustling, modern Michelin star bistro, with stylish décor and contemporary feel. Its modern artwork and design ties it closely to fashionable Soho. Arbutus opened in May 2006 with a simple but unique idea: to create a fresh, seasonal and affordable menu of the best quality and spectacular flair.
More
Less
Venue name:
Arbutus
Contact:
Address:
63-64 Frith Street
London
W1D 3JW

Opening hours:
Lunch served noon-2.30pm Mon-Sat; noon-3pm Sun. Dinner served 5-11pm Mon-Thur; 5-11.30pm Fri, Sat; 5.30-10.30pm Sun
Transport:
Tube: Tottenham Court Road tube
Price:
Main courses £16-£21. Set lunch £17.95 2 courses, £19.95 3 courses. Set dinner (5-6.30pm) £18.95 2 courses, £20.95 3 courses
Menu:
View Menu
Do you own this business?
You may be interested in:
Average User Rating
2.5 / 5
Rating Breakdown
5 star:

2

4 star:

2

3 star:

0

2 star:

4

1 star:

4
Still one of my favourite restaurants in London - even after all these years. Seriously good value for the standard of cooking, especially if you go for one of their ever-reliable daily dish offers. Pre-theatre's not bad either. Superb service from booking through to bill, a great selection of wines by the glass and some especially good offal dishes - make sure you give one or two a go if they're on.
Tempted by the mention of interesting dishes such as the mackerel and squid burger, I dined here with a friend. They have apparently made quite drastic changes to their menu, and none for the better. The service was inoffensive. The meal was bland, insipid at best, and tiny portions. I wish I'd not gone because there are far better restaurants in London for the same price, and at better tasting food and service too.
First time at this restaurant with friends for lunch. The restaurant is beautiful and in a great location. I had the pork pancetta which was bland and the cod for my main course which was extremely salty, I ate everything else but left the fish. It was a very poor service as the staff not once came to check on either course to see how it was, if they had I would have told them but myself and my friends had all tasted the fish and eaten half of it trying to decide if it was too salty, so i felt obliged to pay. The waitress didn't even as at the end of the meal if we enjoyed it or a reason why the fish was left. The restaurant wasn't busy and we had about 3 different waiters clearing and bringing drinks so not much of a excuse.
Decent setting, but the food I had was rather disappointing. I had a pre-theatre set menu with a chicken and eel terrine starter, which was a bit unimpressive but ok. The main course however - a goats cheese ricotta gnuti - was lacking in taste, and would have been more suitable as a starter. Also, the main course was actually smaller than the starter I had. To understand the size of the main course - imagine four fresh potatoes (about an inch in diameter) on a plate with some basil. That's it.
Have been to Arbutus a couple of times where I had the pre-theatre set menu with my wife and daughter. For the price it is fine, and the restaurant is convenient to West End theatres. But I fail to understand the Michelin star. Have had better presented meals at similar prices and at prettier, quieter, and more comfortable restaurants that have lost their stars.
I visited Arbutus on Valentines Day and despite the good food, the total lack of service and rude staff totally ruined my experience. I sent a complaint to them via their website TWICE and have never heard back from them. I understand it was Valentines Day, so the restaurant was fairly busy, but that did not excuse the waitors literally dropping our plates onto table and rushing off to serve other tables. We were never asked how our meals were, bread was shoved in our face, before we even had time to take off our coats and the staff showed a real lack of customer service. Service is one of the main things in a restaurant and it is severly lacking at Arbutus. Would never visit again
This place is awesome. I've been so many times now i've lost count. What makes it is the incredible service, even on the second time i went, the waiters remembered me and my partner, and everything comes with a smile. On top of that, they are all so well informed on every bit of the menu it's incredibly impressive. You can be sure that they know what they're talking about, and will give you honest opinions on anything you ask. Then comes the food... I've not once been let down. Everything I've had has been delicious, well cooked, well prepared and wonderful. Wine- good range, and on top of that you can get a 500ml carafe of pretty much everything on offer, for the same price as 2/3 of the bottle would be. Meaning you can chop and change wines depending on your course if you fancy. And always ask your waiter- they'll give perfect advice, and never very expensive ones Overall this place just has the perfect mix of great food, great service, but without the snotty attitude that so many places of the same standard have
Went to Arbutus last weekend with my boyfriend. And it was OK. Really OK. In fact this whole place just sits in this sort of flannel like state of mediocrity. We are shown to our tables, the restaurant interior and atmosphere is quite nice. The staff are pleasant and helpful with the wine menu. They bring round some decent bread- no salt and not enough butter (maybe I am just greedy!). There is so background music- I like no music and I think a restaurant has to actually be quite brave to do it. No music is far superior to bad music. Which incidentally, restaurant music usually is. Food: We both had the much talked about mackerel burger to start. It was ok. It was edible, I was hungry so I ate it. I mean it did not offend me, but it could have done with some more seasoning, the texture was a bit spongey too. It tasted quite fresh. All OK. But not setting the world alight or anything. Main course: I had the rabbit with rabbit cottage pie, endive and another green vegetable (?). Again, it was ok. A little dry but not enough to take back, again could have done with some seasoning. I was hoping for sumptious comforting cottage pie and rabbit and it was all a bit measured, neat and boxed in every way possible. My boyfriend had a steak. It was OK. BUT..listen up folks. The dauphonoise potatoes he had with his steak were just the best things I have eaten in a long time. Just creamy and perfectly salty and garlicky, soft with just enough bite and that nice skin on the top. These were good. Go to this place and order these potatoes. Three of them. Then leave. Anyway, then had the apple tarte tatin. I am particular about pudding. I am particularly particular about tarte tatin. Decent amount of caramel, no soggy pastry but not too dry either and the caramel should clump up a bit around the edges with a good dollop of vanilla cream or ice cream. This was not tarte tatin. This was stewed apples on pastry with a bit of caramel which had not been cooked for long enough. The pastry did not have that buttery warmness which you expect when ordering this very special pudding. This place has a Michelin star. I do not see how. Really do not get it. I think its actually just quite OK. If I went with the expectations which I would have when going to a high street chain French bistro-ey brasserie/gastro restaurant (like chain Cote or something similar) I would not have felt so dissapointed. In fact would have thought it was perfectly fine. As it is, its 'okishness' irriritated me. Alot.