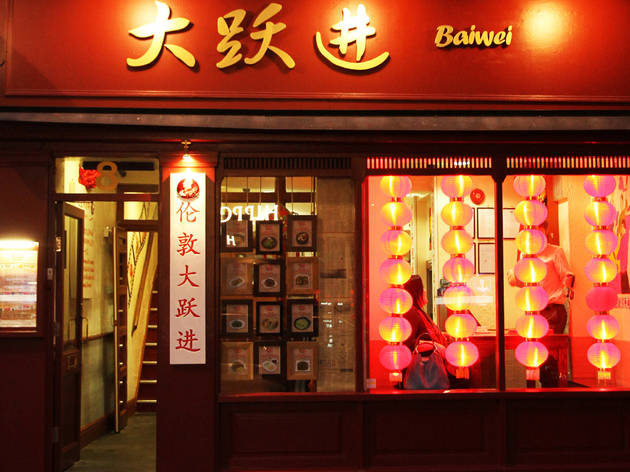 Time Out says
Please note, Fuchsia Dunlop is no longer a consultant here. Time Out Food editors, Jan 2018.
'One dish, one style; a hundred dishes, a hundred tastes.' Baiwei (which means 'a hundred flavours' in Chinese) exemplifies this Sichuanese culinary adage. This more poetic name has now replaced the unsavoury moniker the restaurant opened with – 'Big Leap Forward' – which stuck in the throats for some. (The Chinese characters pictured in the propaganda painting above translates as 'drumming support for The Great Leap Forward'.) The Mao-era decor remains, but it's a cosy place with a lengthy selection of authentic, home-style Sichuan, Hunan and northern dishes served with uncommonly friendly service.
Dispelling misconceptions about Chinese food and educating the masses on proper Chinese food one book at a time, Sichuan food expert Fuchsia Dunlop has also left her mark on the menu of this newest addition to the Barshu, Ba Shan and Baozi Inn restaurant group. True to another Chinese saying, 'China is the place for food, but Sichuan is the place for flavour', the dishes from the southwestern province are robust with an abundance of dried chillies, Sichuan pepper and fragrant garlic.
For the Chinese, the texture of food is as important as the taste. The slithery, rubbery bite of the cold pig's ear, tongue and tripe tossed in tangy black vinegar made an appetising starter.
The gong bao tofu is an interesting variation on the better-known gong bao chicken. Silky pieces of pan-fried egg tofu are coated in lustrous sweet and sour sauce, then lavished with crunchy peanuts and dried chillies.
Long beans are an excellent choice of vegetable for pickling, as the bean cavities nicely trap their sour brine. Here they are mixed with lightly marinated minced pork that has been fried, a pleasing contrast of flavours.
Only the dan dan noodles didn't live up to expectations. Though the ground beef was satisfyingly chewy and the sauce aromatic, the Chinese alkaline noodles were limp and waterlogged.
They say two's company, three's a crowd, and four's a party.This gang of four from the Barshu group are rocking Chinatown with their celebration of south-west China's home cooking.
Details
Average User Rating
2.9 / 5
Rating Breakdown
5 star:

3

4 star:

2

3 star:

1

2 star:

1

1 star:

4
We've eaten in restaurants all over the world including some pretty questionable backroom places in Kowloon and mainland China, but can honestly say that this is the worst meal of any we've ever had by far. We chose Baiwei on this Time Out 4 Star recommendation but simply cannot understand how these stars were achieved - either the place is under new management or the 4 Stars were given for the gallons of oil and grease in which every dish was floating. Such a disappointing evening but at least we now have a new adjective for 'really bad'. 'Baiwei'.
The food at Bai Wei was absolutely delicious.

If you like strong flavour I can recommend every single dish we tried. Aubergine duck egg, spicy pigs ear, prawn with pickled chillis, fish fragrant pork slivers and the big flavour sensation: Gong Baotofu. Every dish was packed with spice and flavour but the Gong Bao made them seem moderate with its chilli, garlic, ginger and Sichuan pepper kick.

I can imagine that people who prefer subtle flavours might not like the menu, but for me it was amazing. It's also worth noting that although many of the dishes were covered in chilli, they are not as fiery as you expect, instead providing flavour and spice as opposed to just burning your tongue. Portions were extremely generous for the price.

I'll be returning to try the rest of the menu.
This is a wonderful find, the only restaurant I've found in London so far that serves authentic Szechuan cooking. This is proper Chinese food, not a watered down European version of it. If you're after egg fried rice, sweet and sour chicken or whatever else you'd find in any generic Chinese restaurant in the UK, you will not get it here (hence some of the bad reviews on here). Instead, expect spicy broths and dishes with plenty of Szechuan pepper and chillies, pig's feet, tripe, and pig blood curb. I recommend the spicy fish stew and the old woman's tofu, but if you're not ready for something quite as heavy as that, get the gong bao chicken, and a portion of chilly cooked choy sum. Enjoy.
Well TimeOut, that's the last time I follow your advice. Went to this place as you had highly rated it, but it's very mediocre, and hits about below it. You pay a lot, and even for London, it's overpriced for very small portions. Tables are small compared to other chinese restruants where you may go with a group of family or friends to share meals on a large table with your own bowls of rice or whatnot (well here, just rice, as there is no egg fried rice somehow)
The flavours and spice promised are nothing compared to other Chinese restrauants, and the venue is small, with small seating and cramped rooms (especially downstairs). Do yourself a favour and take your money elsewhere!

By far the worst food I have had in London. I cannot understand why his restaurant is rated so highly. A complete waste of money
Really bad experience. The food was really poor. £60 was massively overrated.
Terrible. Is what I can say.
We went to this place becacuse of time out...
The service was poor. Rude. Also the sits are uncomfortable. Greasy food. Very bad. Do not go there .
Really wonderful food, definitely going back for more!
Absolutely delicious. The decor is delightfully random, the staff attentive, and the food was glorious. We had the duck (tender, falling of the bone and lip tingling spices) the twice cooked pork (excellent) and the cabbage with vinegar and chillies (who knew something so simple could taste to complex!). Go there before the foodies catch on and it's harder to get a table!
Snap up exclusive discounts in London
Time Out's handpicked deals — hurry, they won't be around for long...