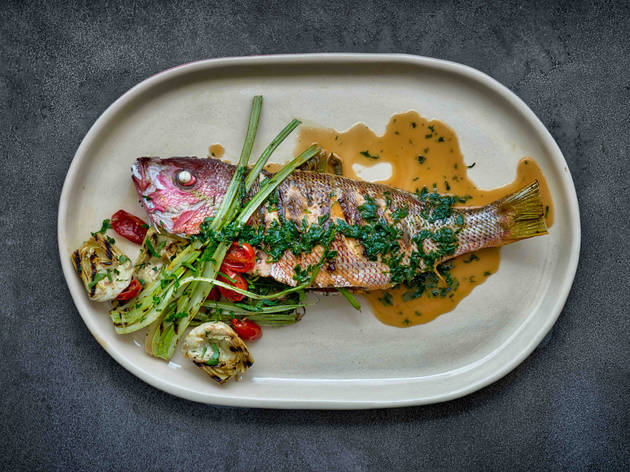 1/4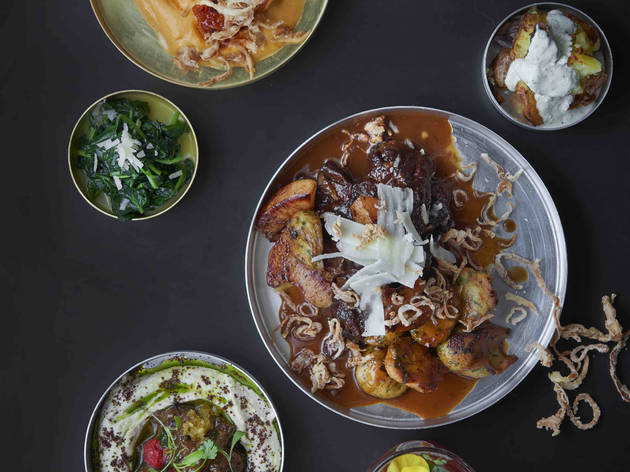 2/4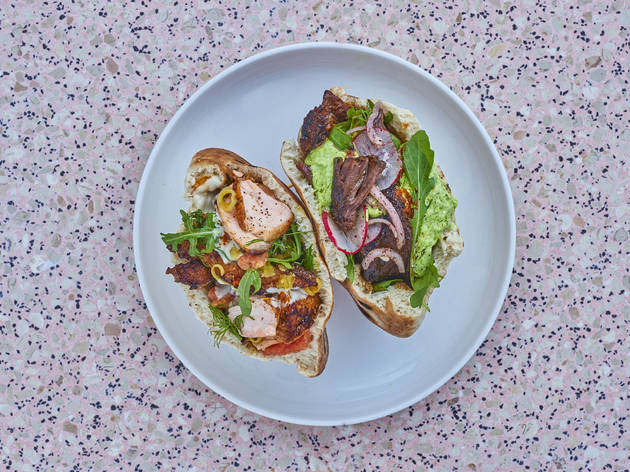 3/4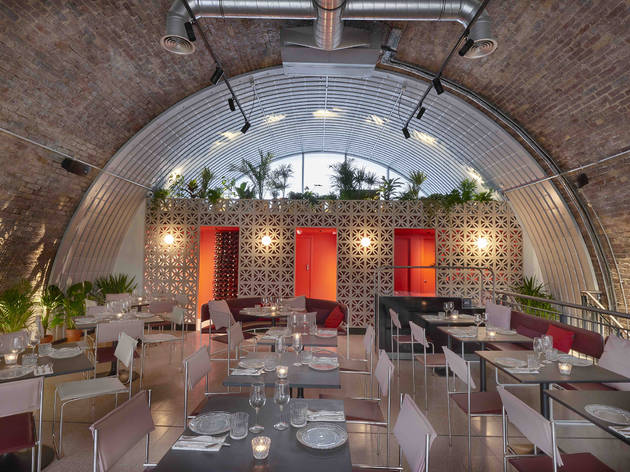 4/4
Time Out says
A clubby Tel Aviv-style restaurant in Southwark, from an ex-Ottolenghi chef.
There's disastrous potential in trying to create a restaurant that feels like a nightclub. Done right, it could be upbeat, exciting and vibrant. But done wrong, it could mean pounding noise, lots of shouting and the vague sense that someone who's tripping balls on weapons-grade MDMA is about to fall face first into your baba ganoush.
So full credit to Bala Baya: a Tel Aviv-style restaurant set in a Southwark railway arch with something of a clubby vibe. The volume's pitched loud enough that the constant mix of piano house and minimal techno is buzzy, but not so loud that conversation is difficult. It's lively, energetic and chic: the kind of place you'd go for dinner with mates when you're a bit tiddly. It also feels genuinely cool – and this is despite every man in the restaurant being a 40-something in an immaculately pressed shirt and suit trousers.
The food also manages to turn your expectations on their head. Little Middle Eastern-inspired sharing dishes include ingredients that sound like they've been picked blindfolded, but they've been turned into cooking that's clever and delicious. Crispy, Sticky, Crunchy turned out to be phenomenal: crusted Korean fried chicken topped with houmous, nuts and kimchi (I did warn you about the ingredients). Spring Salmon was like gravadlax on crack – a beautifully balanced plate combining oily fish with beetroot crisps, rhubarb and little jellies of dill and lemon sour enough to make your eyes water. Chickpea and Ox was an insanely creamy houmous, topped by melty oxtail and a layer of sweet tomatoes, then served with incredibly smoky, puffy pitta. Every dish was surprising and delicious.
Downsides: the kitchen forgot a couple of our dishes, but the free cocktail shooters more than made up for it while we waited. And the sweet, nutty crumb atop the tea-smoked, yoghurt-injected aubergine in a dish of 'aubergine tea' made it a bit desserty for my liking. But that, basically, is it. The food is astonishing, the atmosphere is great and it's a brilliant place to go with friends. It's a party, with food. Get down, and get down.
Details
Address:
Arch 25, Old Union Yard Arches
229 Union St
London
SE1 0LR

Transport:
Tube: Southwark
Price:
Dinner for two with drinks and service: around £115.
Contact:
Do you own this business?
Average User Rating
4.3 / 5
Rating Breakdown
5 star:

14

4 star:

4

3 star:

1

2 star:

2

1 star:

1
Really disappointing- bad service and the dishes we had were really average. The salad was really chunky unlike what it's supposed to be and humous was tiny. We asked for more bread and it took them ages. Never again...
Thank you Bala Baya - amazing evening. It felt like being back in Tel Aviv, delicious food and just a very relaxed, casual vibe. Love the music and what's you've done with the space
Great food! Great service! Love the atmosphere
Thank you
Love Bala Baya! Fave restaurant at the moment.. just read a review in Olive Magazine today which got it spot on... the food is delicious, the drinks are amazing but more than anything it is just to much FUN!
xx
Just got back from dinner here.. wow... so full.. so tasty... can't wait to go back
I never write reviews but reading a couple of the comments below means that I feel as if I HAVE to...
I have now eaten at Bala Baya four times, both for dinner and brunch. It is AMAZING! The food is so tasty, every dish has such a unique flavour, the cocktails are so unique, the staff are so lovely and friendly. The atmosphere is always buzzing (although I was once there early on a Saturday morning and it was a little quiet, but they had only just opened... I don't think any restaurant can buzz 24/7!)
I can't believe anyone would even say anything but incredible things about this place. I would love to actually meet the reviewer below who says the food is taste-less... WHAT?? ARE YOU CRAZY?? IT'S AMAZING!!!!
I love this place so much... I have never felt this way about a restaurant. Just booked to have my birthday there next week... Nicholas R - you're not invited :-)
Have unfortunately told all my mates not to go.
Overpriced for minuscule portions, a fair amount of the food is tasteless. Drinks were nice and staff lovely.
I love discovering hidden gems and Bala Baya ticks all the boxes for me. It's situated down an unassuming yet very quirky side road (Union street) which is lined with non-chain restaurants and cafes. The decor of the place is creative and unique even to the smallest detail; I loved the plants framing the top seating area, the intricately detailed glass plates as well as the balcony and elaborate lighting fixtures. It's a buzzing atmosphere due to the open kitchen set up (love to watch chefs at work) but also due to the historic arch of the building and trains occasionally running by at a low rumble, it all makes for a novel and charming dining experience. The food menu provides a selection of delicious starters and more filling main dishes which are very conducive to sharing; we had the salmon and aubergine mains which were fantastic and nothing like anything else I've had in London. I believe that during the day the venue runs as a pitta-themed lunch service, only transitioning to a restaurant at night, making it all the more quirky. With reasonable prices, delicious cocktails and it being nice escape from all the standard London dining haunts I hope to visit again soon.
Such creativity and love in everything. Amazing! Also, best looking waiters I've ever seen!
Wow. I don't know what to say. I have never been to Tel Aviv, but if it's anything like Bala Baya I'm going to book tomorrow.
So much life and energy in that restaurant tonight, and it's a Monday.
The food is so creative, some dishes are maybe a little too adventurous for me, but I ordered what I thought I would like and it was INCREDIBLE.
Love the decor and thank you to Tomer for the free shots and service
I'll be back!
I went tonight for dinner and I have to say that it was one of the best meals I've had for a long long time in london.
The Lamb was sensational, their hommous and oxtail was like nothing I've ever tasted before and the Burnt Babka desert was heaven.
And don't get me started on the cocktails ... and this on a Monday night!!!
Go go go ... it's stunning!
One of the best meals I have ever had. The food is just amazing, the atmosphere is buzzing and the service is so personal.
The staff obviously love working here and it shows. Everyone has so much life and energy!
FIsh and Fennel was the best dish I think I have ever eaten in my life.... so much flavour. I literally had no idea fish could be so tasty
Excellent place, buzzy, inventive and different. The service was personal and attentive without being overbearing, the food is on the right side of creative but really heart warming and filling, the desserts are the best. The design is superb and cocktails are delicious. Try the sour cocktail with the green tea aubergine and you in heaven! A must visit in London, I cannot wait to go back!

The atmosphere is lovely and the food tastes great. But it is FAR too expensive for what you get, so I won't be returning or recommending.
Snap up exclusive discounts in London
Time Out's handpicked deals — hurry, they won't be around for long...