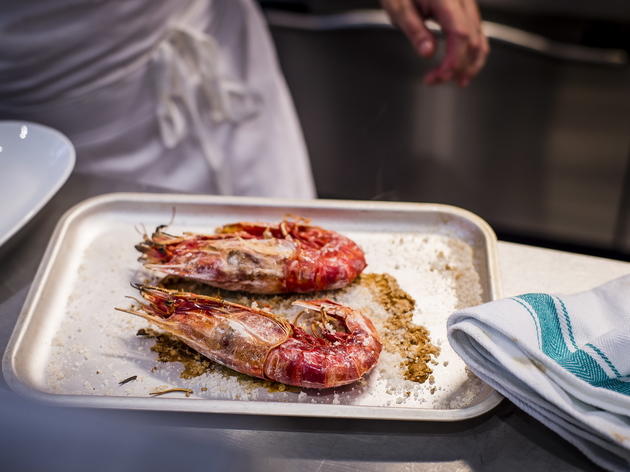 1/4
© Paul Winch-Furness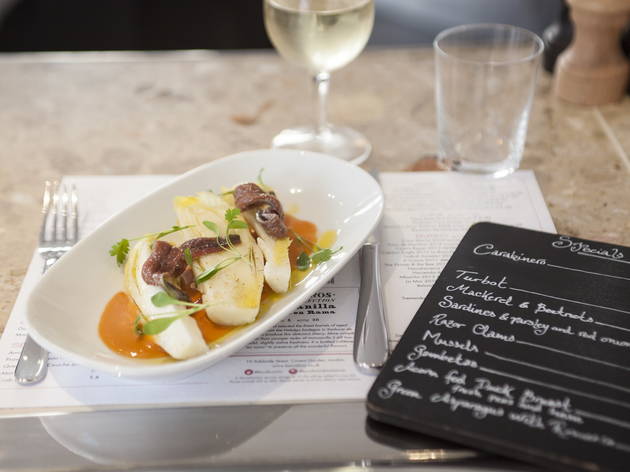 2/4
© Jael Marschner
Barrafina Adelaide St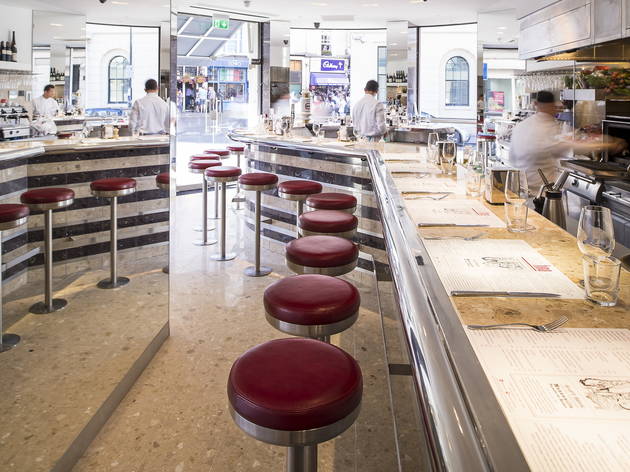 3/4
© Paul Winch-Furness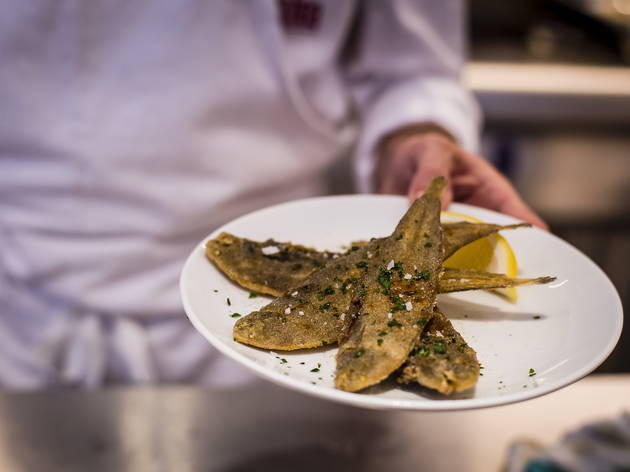 4/4
© Paul Winch-Furness
Time Out says
The Covent Garden branch of this Spanish tapas-paradise, fantastic food but with a no-reservations policy that makes queuing almost inevitable.
Who's to blame for the no-reservations trend, which leaves us queuing for an hour or more to get into a restaurant? Some might point the finger at places such as Polpo in Soho, or Meat Liquor in Marylebone. But the first restaurant that gave a mandatory wait with dinner was Barrafina in Soho, which opened in 2007. And that hour-long queue for proper Spanish tapas is still there. So is this second branch worth the seven-year wait?

Taking no chances, we arrived just before the 5pm opening time and were the first customers seated, allowing us to watch the other tables fill up over the next hour. Much like the original Barrafina, it's a simple room, but beautifully done: a long marble countertop, tall bar stools, plate glass windows letting in lots of light, and smiling Spanish staff in crisp white and maroon uniforms.

Barrafina's menu is studded with Mallorcan and Catalan tapas dishes. Ortiguillas are a type of sea anemone eaten around the Balearic Islands. There, they're marinated in vinegar, coated in a tempura-like batter and fried. Here they're served in a paper cone, a crunchy seaside snack with soft centres, like fried oysters.

Escalavida con pan de coca combines a firm Mallorcan bread base (the 'pan de coca' bit, like a flatter, chewy ciabatta) with a topping of chargrilled aubergine, peppers, onion and garlic, the smoke from the grill permeating the vegetables. The grill is still a core part of the Barrafina formula, for example in pintxos morunos, little pork kebabs which were tender and very moist.

These little snacks are tempting and delightful, but watch out if you're properly hungry, as the bill adds up fast. A solitary courgette flower, stuffed with soft white cheese and drizzled with honey, was a seasonal treat and winning combination of savoury and sweet, but is no bargain at £7.80. Dessert of flan (crème caramel) came in an eggcup-sized portion for £6.50, albeit served with a squirt of nut-flavoured whipped cream. But despite the fancy restaurant prices, you need to remember that Barrafina isn't a 'proper' restaurant; it's a modern Spanish tapas bar, with a list of sherries, cavas and other wines by the glass that are as much of a draw as the food, and perfect for experimenting with as you nibble.

As we left after a very light meal – it was only 6.15pm – the standing queue was already starting to form, the charming staff coping with the onslaught admirably. Just don't say we didn't warn you.
Details
Address:
10 Adelaide Street
London
WC2N 4HZ

Transport:
Tube: Leicester Square or Charing Cross; Rail: Charing Cross
Do you own this business?
Average User Rating
4.5 / 5
Rating Breakdown
5 star:

8

4 star:

6

3 star:

1

2 star:

0

1 star:

0
Amazing! went on Thursday and had the most amazing meal, the head chef was super nice and really enthusiastic about his amazing food! 10/10, could not recommend enough
We finally made it to the institution that is Barrafina one cold evening in January. After reading about the no reservations policy we arrived at 4:45PM and still faced a queue outside! We were seated swiftly at the bar soon after the doors opened and we were in awe with how the staff coped with the influx of customers, which we imagined would be full on until the end of service. Despite how busy they were, we were looked after extremely well, drinks were sorted quickly and the specials were explained to us. We ordered A LOT of different dishes and everything was fabulous... from memory, we tried padron peppers, crab croquettes, sliced pork belly, dates wrapped in prosciutto, anchovies, monkfish tempura, courgette flower (my fave dish of all time) and two delicious desserts - chocolate truffle tart and poached pear. If that list doesn't make your mouth water... I don't know what will!
It wasn't cheap... around £130 with a bottle of wine and coffees but wow it was worth it...
3 of us met up in Soho for food and drinks and decided to go to Barrafina. I had never been before and one of our friends we were with recommended it. When we turned up the queue was outside the door. A waitress met us up the door and informed us kindly that there would be an hour and a half wait. I was not too happy to wait but my friend guaranteed me that I would not be disappointed. So we entered the restaurant. There is a queue from the front door working its way to the bar. Everyone sits around the bar to eat. Atmosphere was really good. As we stood there we ordered finger foods and beers. So as we were told an hour and half later we were sitting at the bar ready to order. Excited and very hungry we ordered loads of tapas and off the special board as well. A few bottles of red and we were well on our way!!!
My friend was not wrong!!! I was so so impressed!! The squid was amazing, the suckling pig wow!! I can not recommend this place enough!! We drank loads and ate loads and the bill worked out £75 each of us and that was cheap!!

Great great great place! In the words of my friend you will not be disappointed
The aubergine drizzled in honey and tortilla are truly amazing! The staff were incredibly helpful also, we were on a lunch break with only one hour and did everything that they could to ensure that we were served in time with our food. I will most definitely return.
I visited Barrafina Covent Garden last week with my partner and we really enjoyed the experience. We waited for a seat for about 15 minutes, but this wasn't a problem as we were able to wait indoors and have drinks and nibbles while we waited. Bear in mind though that this was a Monday night at about 6.30pm, so this may not always be the case! The waitress suggested a bottle of Rioja which was delicious, and we were soon sat at the bar-style tables enjoying a good meal. The communal seating makes for a good atmosphere and the menu is varied and full of delicious options for anyone. We had a variety of dishes which were lovely, the only thing that wasn't to our taste was the rabbit, which was covered in something that resembled (and tasted like) moss. Other than that it was great and we will definitely go again!
We were amongst the first to book the private room for a family dinner for 13 . Eleanor, through whom we did the booking was very helpful with choosing the menu and wines.
On the evening the room looked glamorous and inviting, the welcome was very warm and friendly . We had some delicious nibbles standing with a glass or two of sherry . When we sat down the staff timed the arrival of the superb food to perfection and the evening was great fun . Do NOT miss the crab croquettas !