Bea's of Bloomsbury – Bloomsbury
1/9
2/9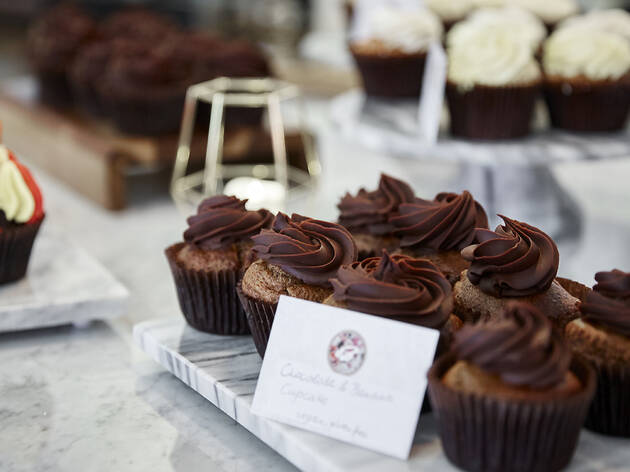 3/9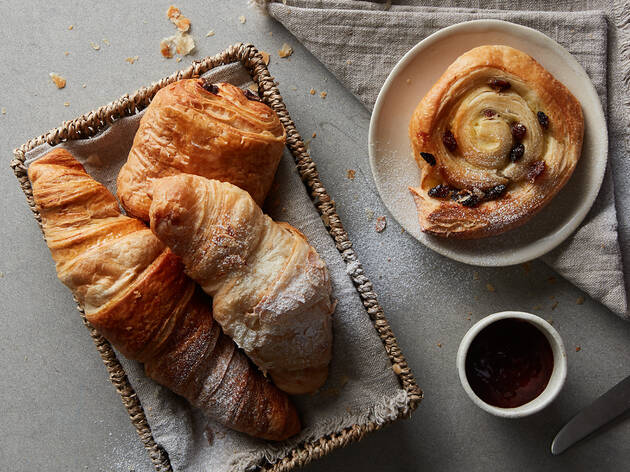 4/9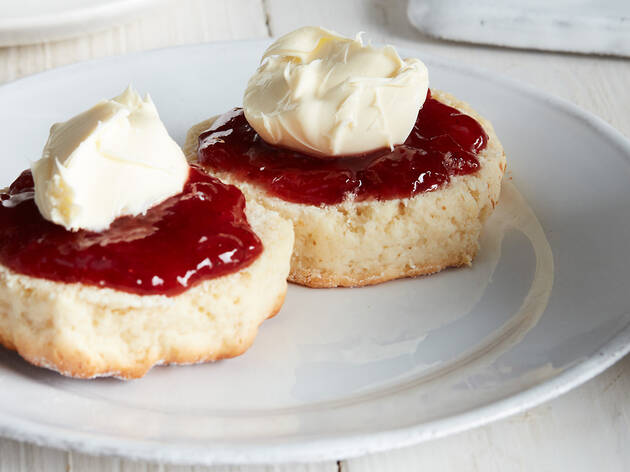 5/9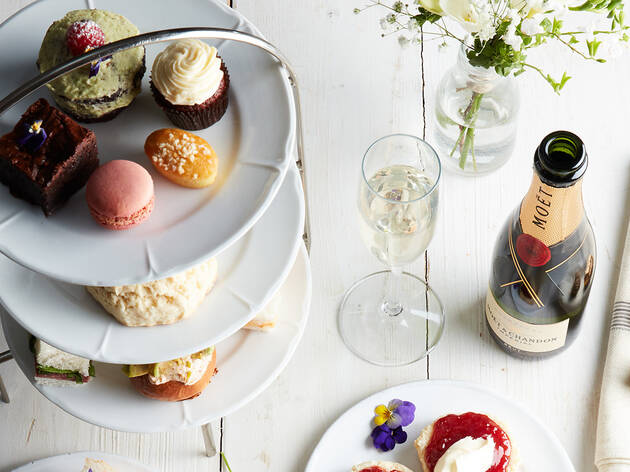 6/9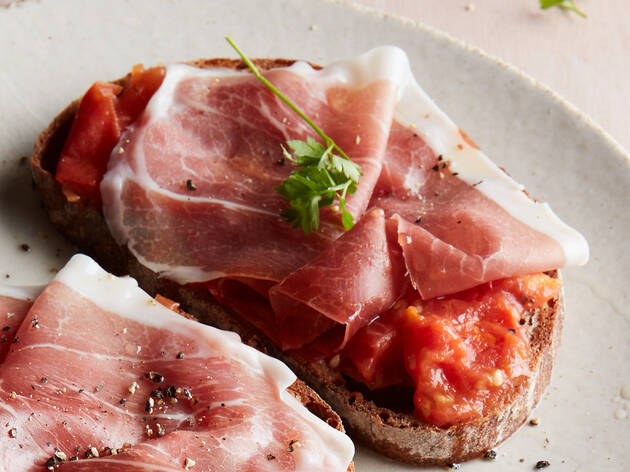 7/9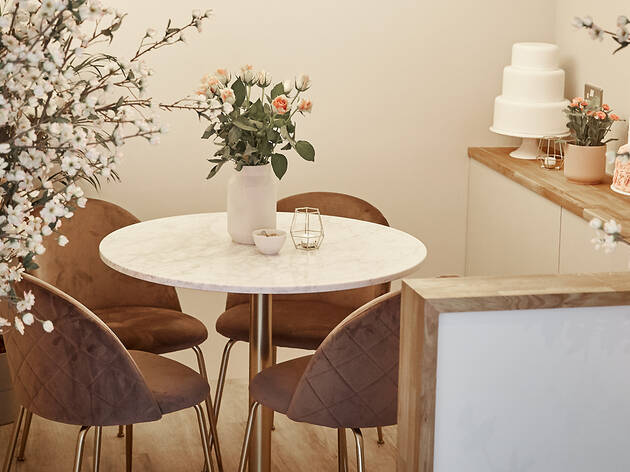 8/9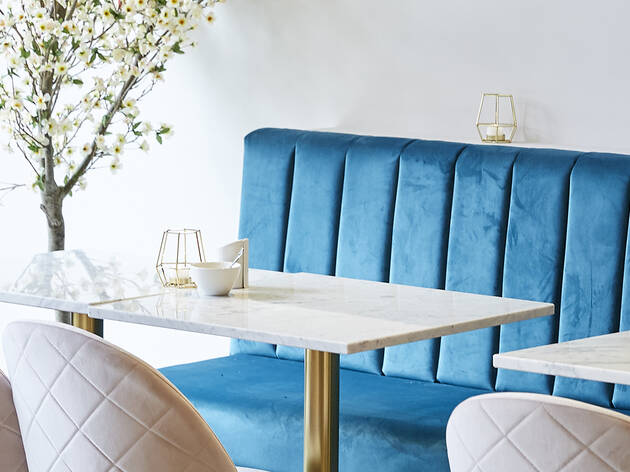 9/9
Time Out says
Bea's of Bloomsbury is a mini-chain of cafés, with branches in Watling Street near St Paul's and Cowcross Street in Farringdon. But this original in Bloomsbury is the best, not least because it's the source of all those spectacular gateaux and special occasion cakes – the busy, and sometimes noisy, kitchen and bakery occupies the rear half of the long and narrow space.
Choose your seat in the long corridor facing the counter carefully, as the tables nearest the front bear the brunt of the constant bustle of takeaway customers; further back the room's only slightly cosier.
But people don't come to Bea's for the ambience (the tables are wipe-clean bare, though not always spotless) or for the service (frosty on our most recent visit) – they come here for the cakes.
Our 'sweet tea' comprised a double-decker of plates; the lower deck a too-crumbly scone with clotted cream and strawberry jam, the upper deck a more impressive display of confections. Among them were a moist cupcake the colour of dried blood; a tiny square of peanut and jam brittle; tiny, jewel-bright meringues; a dice-sized brownie, and some wobbly, caramel-coloured marshmallow. All of these were impeccably made with top- quality ingredients.
The Jing tea selection also does the trick. Note: if you place a booking you must order the full afternoon tea (£19), which includes mini-baguettes as well as scones and sweet things. There is also a gluten-free version, available with 48 hours' notice.
Bea's of Bloomsbury – Bloomsbury says
In our cozy, shabby chic shop is where we bake all the cupcakes, loaf cakes, cookies, brownies, marshmallows, meringues for all of the shops. Pop in for a yummy breakfast, delicious lunch or our famous Afternoon Teas. Just fancy a coffee or tea or a fabulous cupcake, you are always welcome at Bea's. It all began here in February 2008, when a small team opened the doors selling cakes, pastries, and all sorts of sweet and savoury treats for the local area. In what was once a former bank branch back in 1860, our cozy, shabby chic shop is taken up by our active open plan pastry kitchen, we bake all the cupcakes, loaf cakes, cookies, brownies, marshmallows, meringues for all of the shops.
Details
Address:
72
Russell Square
London
WC1B 5BA

Transport:
Tube: Chancery Lane or Holborn tube
Do you own this business?
Average User Rating
2.6 / 5
Rating Breakdown
5 star:

2

4 star:

4

3 star:

3

2 star:

6

1 star:

5
I believe in reviews: positive and negative and this is why I'm writing this and posting it across several review sites, hoping the management will read it and improve their service. Let me start off by saying the good thing about this place (I usually go to St. Pauls or Bloomsbury): the baked goods. They're absolutely delicious and that's the only reason why I return. The bad things: (this applies especially to the Bloomsbury branch, not the St. Pauls one, at least according to my experience) this place has probably one of the most appalling customer services in London. Even tourist parisian cafes have more helpful and nicer staff. Starting off with the whole process of trying to book a table: it's impossible. Once I called to book a table and they said they were only taking reservations by e-mail, other time I e-mail trying to book a table for the next hour and I don't get a reply until well after the time I wanted the booking for. Then you try to book a table during the week and they'll tell you it's on walk-in basis, you then walk-in and because it's such a small place, guess what? Exactly, no table. Then you try to book for a weekend and you're not quite sure if you have to e-mail or call... The other day (a Saturday), I called them and asked if I could book a table for 10 minutes after I was calling (had some fiends over and thought they'd enjoy the cakes) and get the following reply from whoever answered the phone: "We have a table now but we can't book it because someone else may walk in" (disbelief on my side, but I carried on) "well, do you at least have scones?" "yes, we do!" "can I ask you to set aside 4 scones and I'll grab them in 10 minutes?" "no, because someone in the store may want to buy them". This was at 16h'ish, to which I think the following question is very legitimate: why not baking some more, then? One of the other times I was lucky enough to secure a table, this was at 5:30. Asked for scones: "we ran out of scones". At 5:30. On a Sunday. Why not baking 120 instead of 110? The in house staff also isn't the most helpful ever. They won't write down your orders, then you order a cake, an espresso and a glass with tap water and they bring you the espresso. You point out you also ordered a cake "oh yes, which cake was it?". They bring the cake, yet the tap water is forgotten. This wasn't a one-off experience, all of the above have happened separately or all at the same time every time I've been at Beas and I go there quite frequently because the cakes are so good. Until they actually improve their customer service, you're better off walking in, taking away and go and have it somewhere else.
Horrible customer service. I've been there twice and had the same experience with the waitresses - 2 different people, mind you. They acted as if they didn't understand my English just because I am Asian (English is my first language). The first time, I brushed it off because the girl wasn't local and I couldn't understand her well either, but my friend who accompanied me brought it up afterwards. The 2nd time I went alone to grab some cupcakes on the way home from work and the waiting staff were so rude, by any decent standards. When I asked what cake that was at the end of the counter, this girl (who was British) made out as if I had said 'chocolate' when I didn't even mention the word and then, when I thanked her for taking my order after the purchase, she looked away and smirked rather impudently without a smile or a word in return. There is no room for please or thank you here at Bea's apparently. Now if it weren't for their convenient location from where I live (15-minute walk) and for my cravings at the moment, I honestly wouldn't have bothered. For while their cupcakes/cakes are nice (they're not cheap either), I should think one might rather be better served elsewhere.
Agree with the frosty service comment. Lovely cakes and tea just a shame the service can't be better. Made to feel as if you are lucky to be there
I went with an open mind and willing to spend a decent amount but the cold, rude woman who ignored me while serving people to my left and right and actually rolled her eyes when I asked a question made me realise they couldn't give a fig about customers. The item I left with crumbled into dry, tasteless crumbs.
I write with reference to our recent experience today at Beas of Bloomsbury – St Pauls.
My friend and I had agreed to meet there at 11.30. Unfortunately my train from Kent was late so I did not arrive until 11.45. We went upstairs to take a seat but were told that it was fully booked although none of the tables were marked as reserved, and indeed some were not even laid up.
We were told we could go downstairs and sit anywhere other than a table downstairs which was marked as reserved. This we duly did.
We were saying hello to each other and had just taken our coats etc off when we were told we had to order at the counter, which we already knew, but hadn't got to that point yet.
It was now about 11.50, my friend had been there there since about 11.30.
We went to the counter and ordered. Our order was taken before anyone informed us that we would only be allowed to stay for 45 minutes. We were very surprised to hear this, especially as no mention of this had been made before, either on my friends arrival at 11.30, or my arrival at 11.45, or when when we went upstairs, or when we came back downstairs, or at the time of ordering.
We said we would not be constrained to the 45 minutes, and at that point would order another drink, but your staff said that was not okay. We then said there were no notices, we had been there since 11.30, and no one had mentioned this either upstairs or downstairs.
We then left and neither of us will be returning. If I could have selected no stars I would have done so.
I have just looked at the St Paul's website and there is no mention of a 45 minute restriction on how long customers may stay.
I think the behaviour of the staff here is appalling. If you want to enforce a 45 minute limit then you should put a sign on the door, signs on the tables, state the policy on your website and on Facebook and staff should inform everyone on arrival, not 20/25 minutes afterwards. It is simply not good enough.

I work nearby and pop in now and then because the cupcakes are very good. They're soft and tasty without being sickly sweet or cloying. That said, the staff are incomprehensibly bad. No smiles, no greetings, little in the way of help. They don't bother pricing half the food, so you have to ask, which seems to annoy them more.
No idea why working in a lovely cake shop makes them all so glum. I'd be happy as a lark.
Anyway, jolly good cupcakes.

Went to the Bloombury location for their sweet tea on a weekday awhile ago. Service was not especially warm and attentive, quite unprofessional actually. Food wise, I didn't enjoy anything other than the scone, and even that wasn't great. Their desserts may be made with "impeccable ingredients", but to me they were just really really sweet, and nothing else. I suppose it looked pretty, but that wasn't enough for me.
I went to the Bloomsbery store. The tea and scones are a 5 star but agree with everyone on the poor customer service. They made me feel very unwelcome and since it was a nice day I asked if i could sit outside. I got the worst look - luckily there was 1 nice waitress who said yes and took my order. the place is so lovely and looks like a warm, welcoming place, but they clearly are not freindly and very frustrated by the constant people (you would think that is a good thing in this economy). Anyway, once served, the food expereince is divine and was worth it.
LOVE beas - the cupcakes are tasty, not sugar over loads like lola or hummingbirds, very highly recommended!
ordered baileys cupcake but got carrot one instead..only realised it at home.. couldn't be bothered to go back and complain..shame I don't like carrot cake so I can't really comment on the cake BECAUSE I HAD NONE!! jeez..
Visited both the branch in St. Paul and the in Bloomsbury a couple weeks ago. Bea's in Bloomsbury was a disappointment. It was dusty, glass surfaces were dirty and it was crowded. In great need of a renovation. We had afternoon tea and it tasted very good but didn't really compensate for the lack of atmosphere. Bea's St. Paul's on the other hand was clean and fresh. Nice, bright settings. I had a beetroot and chevré pie for lunch and drank hot chocolate. Very good. A bit surprising was that many of the tables were booked, but despite that it was an hour left until the guests would arrive, no one else was allowed to sit there. The staff was not so friendly. A shame really, because the cakes and the food taste great!
visited St. Pauls branch and had high expectations but was underwelmed by the place. The food was average and the placed lacked any real atmosphere.