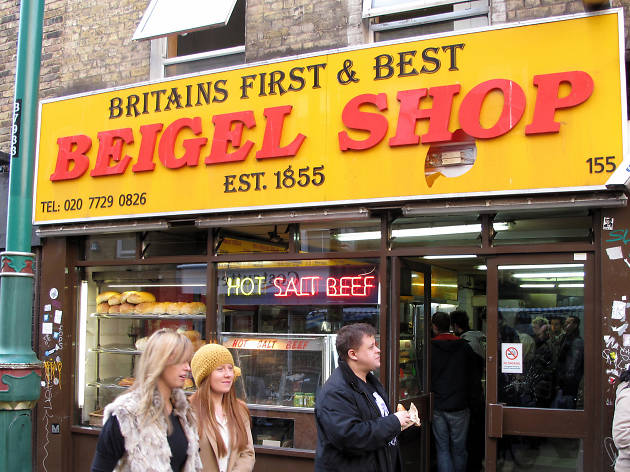 Time Out says
There's much debate over which of the Brick Lane bagel shops is better: The Yellow One (this one) or The White One (Beigel Bake). And you'll find patrons fiercely defending their choices with arguments including: The Yellow One has been here longer (over a century longer, in fact), but it sells bacon, which White One fans will dub un-Jewish and blasphemous on a bagel. The truth is, they're both as good as each other, especially when those hunger pangs surface in the early hours and can only be satiated by a salt beef bagel. We suggest simply joining the shorter queue.
Details
Address:
155 Brick Lane
London
E1 6SB

Transport:
Shoreditch High St Overground
Contact:
Do you own this business?
Average User Rating
3.8 / 5
Rating Breakdown
5 star:

8

4 star:

7

3 star:

6

2 star:

0

1 star:

2
Food hygiene standards in this Beigel shop are terrible, the staff handle money without washing their hands then they make your Beigel, money spreads germs. They definitely need food and hygiene training. Stay away from this place.
Rapid service!!! I've never seen anything like it! At 2am in the morning this place was packed with a queue which reached the streets!!! However, to my surprise the queue lasted seconds! They were producing the bagels at top speed it was incredible to watch!!! Haha
The only reason it doesnt get a five star from me is because they only take cash which one may not have at that time of the morning/night but they were very cheap so it won't dent your pockets at all.
Bagels aside... was there today. My bill was 15£ paid 25£ And didn't get any change. When challenged about the change the person who served me, said I paid 15.. clearly took my change and put it in her pocket. Suggestion just go to the bagels shop next to it. At least they don't STEAL your money
Hands down the best bagels in town! I'm a simple woman who just loves her smoked salmon and Philadelphia bagel, but there's plenty of choice to make belly groan. It's a get in get out kind of place, very authentic, street, and perfect for a little snack if you're passing by brick lane.
I have so much love for the Beigel Shop! The beigels here are wonderful - chewy and soft - and the staff are lovely. They're terribly generous with the salt beef and for around £4 it's one of the best bargains in London. The lox and cream cheese beigels are gorgeous as well. I've even gone off piste and tried their rainbow beigels (sweetish), rainbow croissants (yum), samosas (AMAZING), cheesecakes (what's not to like) and apple turnovers (so much spice!). The queue is long but the turnover is quick. Just go! Yellow wins over White for me.
If we weren't all in for the occasional gimmick then half of London's 'must-see' locations wouldn't exist. The Beigel Shop is no exception. From rainbow beigels to the new rainbow croissants along with it's traditional salt beef, this is a cheap and cheerful bakery worth stopping by whilst in Brick Lane. What the baked goods lack in flavour and nutrition, they make up for in low cost. Get in early or prepare to queue.
Usually the quieter of the two most well known bagel stores in Brick Lane (if not London), 'Beigel Shop' has practically the same offerings and prices as it's nearby counterpart, but it also does a fine line in 'rainbow' croissants (pic enclosed). After this and the previous rainbow bagels (as seen in 'The Apprentice'), where to next? If you visit at the weekend, expect to queue out the door (much quieter in the week).
As it is a takeaway shop so there wasn't much to the atmosphere and decor. Everything was kept simple, including the food on display. Everything on display was labelled and placed strategically. I liked that each slice or piece of patisserie was generous in size and they genuinely all looked delicious! There was quite a variety too; brownies, muffins, pastries, viennoiseries, etc. However, as the name of the shop would suggest, we went for the bagels. The rainbow bagel was only £0.50 per bagel and you could put any filling you wanted in it. We both went for a classic, smoked salmon and cream cheese. I enjoy this combination because the cream cheese provides a nice creamy base to the bagel, so that it's not so dry. The smoked salmon has such a strong and savoury flavour that not much else is needed and that's why it pairs well with cream cheese, which has a comparatively mild flavour.
Our bagels were still warm when we got them, which made them even more delicious but I would have liked them toasted as well. I actually prefer the North American styled bagels which are more crunchy from being toasted, compared to this bread-y version. Yet, these bagels tasted fresh and having it in a rainbow bagel made eating the sandwich more fun!
The service was actually really nice, our server was very friendly and lovely. She took orders quickly and had them made just as fast! It's a cash-only shop, so come prepared. There might be a queue when you arrive but it moves swiftly, given how efficient the servers are and how easy it is to make the different bagel combinations.
Tell me w better Bagel in London
Cheap, cheerful and great fresh bagels and fillings. Just wish they'd spruce it up a bit to include some half decent seating.
Super excited that I finally got my rainbow bagels!
I had to come to this legendary bagel shop to see what the fuss was about BUT I have to admit that there was one thing that I really wanted to try - the rainbow bagel
The shop itself is as any other bagel shop, there's absolutely nothing different or special about it but I guess that is part of the charm.
The (normal) bagels are actually really good and the rainbow ones are visually impressive (can't decide if impressive good or bad) and taste pretty much as the normal ones.
If I end up in the area I will probably visit it again. :)
Its cultural importance in the area makes it a long standing pillar that I hope will never be pushed out by the increased commodification of this vibrant area. It's also one of the last places with truly affordable prices, for decent food.
Everyone seems to have a favourite beigel shop on Brick Lane and for most people it's Brick Lane Beigel Bake (aka 'the white one'). Here's why those people are wrong. Britain's First & Best Beigel Shop (aka 'the yellow one') usually has shorter queues, the beigels are just as good and the lighting is way more flattering (this is very important at 3am). I've never shelled out for salt beef so I can't compare the Beigel Bake's signature dish, but I've been eating the Beigel Shop's own speciality – smoked salmon 'n' cream cheese (with lemon 'n' pepper) – for years and it's superb. But you just try telling that to the salt beef zealots steaming up the windows of the Bake every Friday night.