Special Offers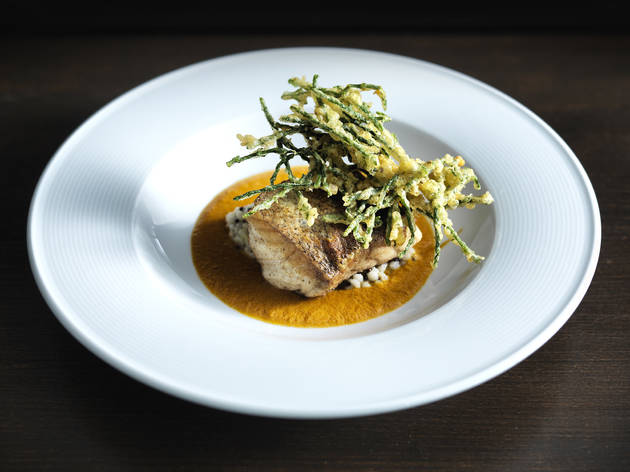 1/5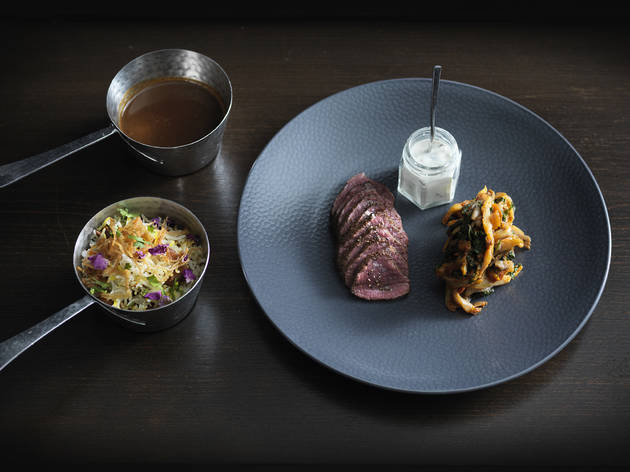 2/5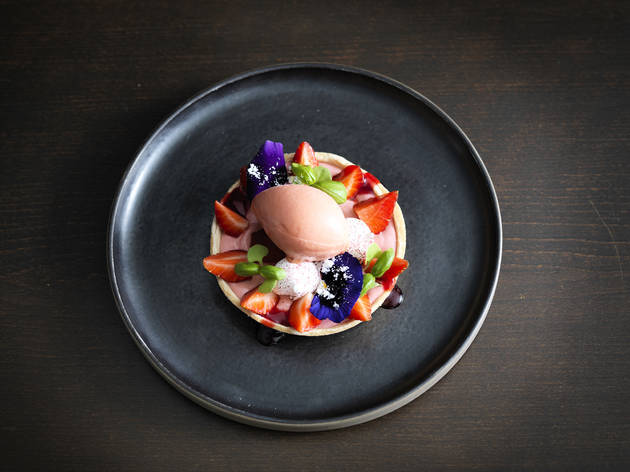 3/5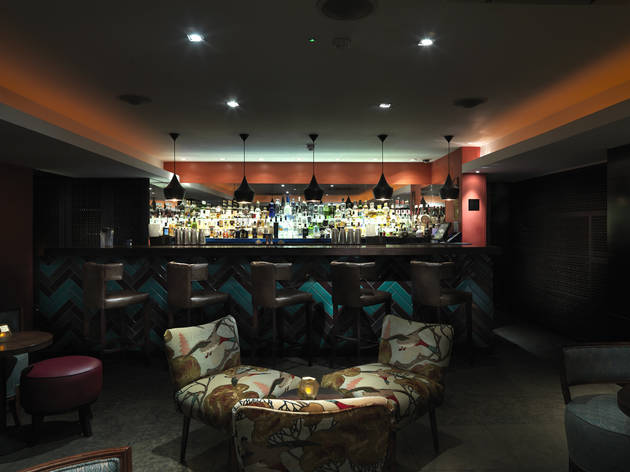 4/5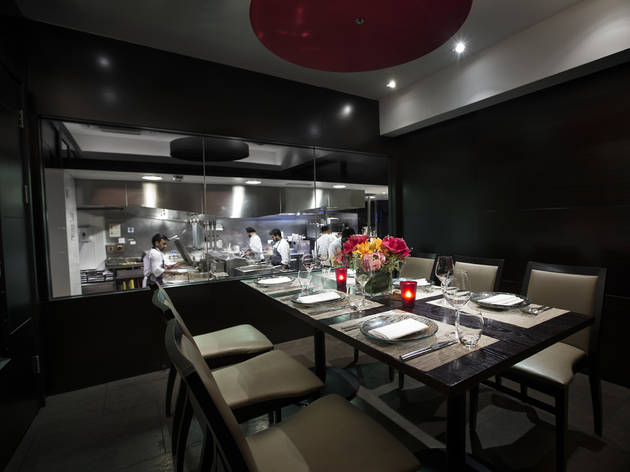 5/5
This glamorous first-floor cocktail bar and stylish restaurant blend modern furnishings with traditional Indian touches. Expect Mughal-style water tanks, flowers, occasional antiques and plenty of shiny black granite. The venue attracts big spenders – suits on expense accounts, romancing couples and curious tourists. Fronted by well-known chef Atul Kochhar, the kitchen produces modern cooking in the haute-cuisine league.

We've had variable meals in the past, but culinary standards seem to be moving in the right direction. A trio of juicy scallops won our approval for the toasted-sesame, crushed-coriander seed, and chilli-jam toppings – each one accompanied by plump sweet grapes and tangy, tamarind-like grape chutney. Less appealing, crisp soft-shell crab was let down by an oily batter swamping the delicate flesh.

Mains brought things back on track with tender pink duck breast, scattered with pomegranate kernels and served with fragrant basmati pilau and crunchy green beans. Tender roasted lamb rump, sauced with fried onion-ginger masala (a classic rogan josh pairing), was almost as memorable. Sadly, a bitter-tasting crushed potato accompaniment laced with raw mustardy notes detracted from the dish. Wines are well-chosen with a couple of less expensive selections. Service, however, remains infuriatingly slack.
Venue name:
Benares
Contact:
Address:
12A Berkeley Square House, Berkeley Square
London
W1J 6BS

Opening hours:
Lunch served noon-2.30pm, dinner served 5.30-10.30pm Mon-Sat.
Transport:
Tube: Green Park tube
Price:
Main courses £24-£54. Set meal (lunch, 5.30-6.30pm) £32 3 courses
Menu:
View Menu
Do you own this business?
You may be interested in:
Average User Rating
2.8 / 5
Rating Breakdown
5 star:

3

4 star:

2

3 star:

0

2 star:

2

1 star:

4
Best fine dining Indian in Uk
I hardly ever give reviews with less than 4 stars, but this time I am making an exception. Benares sets expectations very high with shouting about its Michelin star and its cookbook writing "celebrity" chef. Food was tasty, but not exceptional (potato dumpling amuse, fishcakes which were absolutely tiny, quail and a strawberry salad). The part of the meal which disappointed me the most was the service. You would not expect to have to persuade one of the waiters that the bottle of wine (cheapest on the menu) you ordered and is standing next to your table is actually yours. He actually asked us "are you sure?"
So definitely not worth its Michelin star and definitely not worth the price tag.
DISAPOINTING! Service was terrible! Food was terrible! I would have paid £30 for the entire meal which actually cost £135! Nibbles were small packet poppadums with the worst home made sauces. To start, greasy fried soft shell crab which you cut into and fat oozes out along with the balck insides of the crab. A spring roll that tastes only of lemongrass, Main, Chicken Biriyani that was actually a chicken breast, hard boiled egg and some tastesless sauce. Surely they couldnt have got our non acoholic cocktail wrong! The mixed tropical fruit mocktail turned out to be carton mango juice with a passionfruit cut on top. DO NOT GO HERE. Awful!
truly ridculus, went with my family, about 8 of us, service was good however the food was very very very poor, for the price we paid, and for the bill we got it was extremely poor, drinks were diluted with ice filled to the brink, food was in the smallest of portions, to be honest the portions we recieved i doubt theyd even fill a hamster. would i ever go there again? NO. ive been to many restaurants in and around london, but Banares truly took the..
We were there in December 2011, but I got onto this website because I am looking for a good Indian restaurant, again. It will NOT be Benares, never again. The Time Out review is spot on except for the too generous star rating. Surely real Indian food lovers cannot take Benares seriously! The plywood walls are cheap and hideous, the Christmas decorations were shoddy and dried out, but those types of things one only criticizes if all else goes wrong. Which it did. The waiter did not know what dry sherry is and brought me half a pint of sickly looking dark stuff which I never touched. Our starter came almost immediately and the wine did not - in fact it arrived after the main course was served. During the death throes of a really inedible starter (I had vegetarian, my husband some unidentifyable dry meat) two glasses of champagne were put on the table as apology for the elusive bottle of wine. Pity that we did not feel like champage, we had ordered a bottle of full bodied red. I remember the main course had some nice bits in it, but by then the wrong bottle of wine had been served and my husband was mad and the atmosphere beyond hope. We tried to ask for the cheque but it took so long that we, as did the couple next to us, got up to leave to catch the attention. We then went back to our hotel nearby and told the concierge that we'd forgive him on the condition he remove Benares from his book. And made for the hotel bar where we had delicious Cumberland sausages with bubble and squeak.
Our experience of the Benares left us very disappointed. The food was bland, the service ok and the atmosphere stiff. And those toilets still need attention. I was also rather irked to find a charity donation had been put on the bill attracting 12.5% service charge and 20% VAT.
Warmly welcomed when we arrived and we went up to the bar for cocktails, friendly staff took us to our table and we had a fantastic meal, with paired wines chosen by a very pleasant and helpful sommelier. Lovely setting, in the restaurant. The food is not typical indian food, but there are so many reviews of this fantastic place that anyone booking MUST be aware that they are not booking a bog standard meal. The food is subtely flavoured , if you want heat, go to a local take away!!!!!
Heard alot about this restaurant so decided to book a table. On arriving, we were told by the lady at the receiption that our table had been cancelled "by someone in our party" - which was totally not the case. After sorting this out she asked us to follow her, and led us up stairs. She then left and walked off and didn't ask if we wanted to wait in the bar area - so we patiently stood at the top of the stairs...for 15mins! Awful service. Eventually we were taken to our table. The setting was ok but nothing special. We ordered the food and was completely disappointed. I've eaten at many indian restaurants and this has got to be the worst (this is no exaggeration!). There was simply no taste or flavour to the food - far from being called "indian". How this restaurant has a Michelin star is a real mystery. This may have been a good restaurant in the past, but certainly not now. Avoid this place if you want good indian food.
Special Offers
2 courses & champagne cocktail: £29
From a set menu. Terms and Conditions: Maximum of 8 diners. Includes VAT, excludes service. Valid For: 1 - 8 People Mon-Thu 12:00PM-2:30PM 5:30PM-6:30PM,Fri-Sat 12:00PM-2:30PM 5:30PM-5:30PM
Offer valid until
Apr 30 2018
3 Courses & champagne cocktail: £35
From a set menu. Complimentary cookbook for lunchtime bookings. Terms and Conditions: Maximum of 8 diners. Includes VAT, excludes service. Valid For: 1 - 8 People Mon-Thu 12:00PM-2:30PM 5:30PM-6:30PM,Fri-Sat 12:00PM-2:30PM 5:30PM-5:30PM
Offer valid until
Apr 30 2018
6 course tasting menu, & Pestle and Mortar Atul's book £98
From a set menu of 10 dishes with a copy of Atul's Curries of the World book and a signature pestle and mortar. Terms and Conditions: Maximum of 8 diners. Includes VAT, excludes service. Valid For: 1 - 8 People Sun 12:00PM-2:00PM 6:00PM-9:00PM,Mon-Sat 12:00PM-2:00PM 5:30PM-9:00PM
Offer valid until
Apr 30 2018