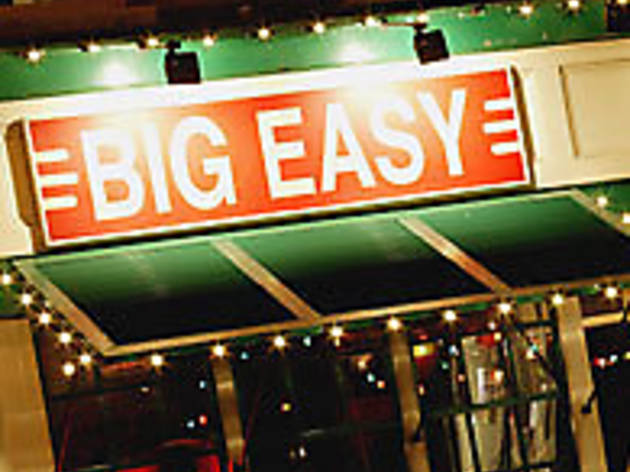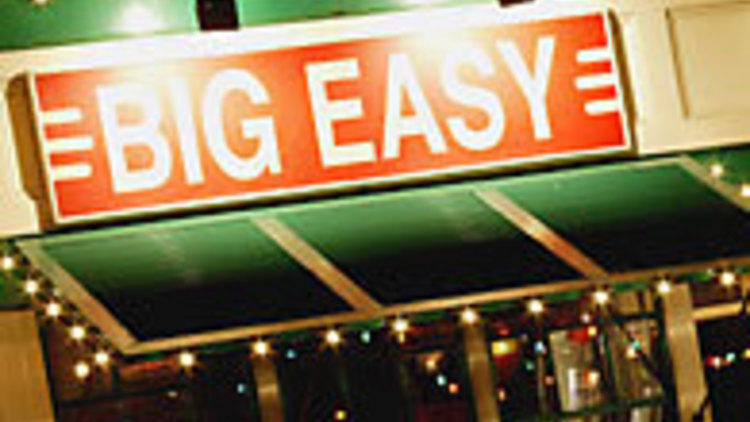 BBQ joint and lobster shack.
Venue name:
Big Easy - Kings Road
Contact:
Address:
332-334 Kings Rd
London
SW3 5UR

Transport:
Tube: Sloane Sq
Price:
£26 to £40
Menu:
View Menu
Do you own this business?
You may be interested in:
Average User Rating
4.1 / 5
Rating Breakdown
5 star:

10

4 star:

8

3 star:

3

2 star:

1

1 star:

1
Great food, worth the squeezed seating!
Lots of fun in a no frills, stuff your face and eat with your fingers diner. Great with kids or a friends.
Delicious food and great value for money! Although the table set up is a little cramped at times, the general vibe during the evening more than makes up for it.
Rich flavours and top quality food ensure you will leave Big Easy feeling full and happy. When it comes to the all-you-can-eat days, make sure you go hungry because they are not shy with the amount of food being given out... and if you go with a group larger than 8, make sure you haven't eaten for a week!
With the larger groups you pay per head and don't get the all you can eat option, instead you get a selection of plates to choose from to share. We were a group of 12 and had enough food to feed 500. From veggie to fish to meat - you seriously can't go wrong (and the freezing cold margaritas don't hurt either).
I wouldn't suggest The Big Easy for a date, but I would highly recommend it for a group of friends looking for decent food and a great night out.
If your'e looking for a ridiculous amount of food for a relatively good-value-for-money price then look no further
Big Easy is quite honestly the most American-style place to eat that you'll find in Chelsea area. It's a crazily noisy, jam-packed, deliciously-meaty (or fishy), massive portioned style place! From arriving you'll be offered drinks, cocktails and cocktail of the week - which is usually a good choice, then the menu choices begin... I would say if you're a first timer here then don't bother with a starter as the mains will be more than enough - however, if like me, you have eyes bigger than your belly then it's definitely worth sharing a starter as a warm-up to the scrumptious mains.
Mains are simply amazing - whether it be chicken, ribs, fish, lobster or steaks - there are simply too many to run through (as you can tell, I have been several times to here). The staff are more than happy to help with providing fun bibs to make sure you don't end up wearing your dinner - always a winner if you are heading out for drinks afterwards and don't feel the need to head home and lie down (believe me, you might!)
Plus, you can always take home with you anything that you do not eat! Everyone loves a good doggy bag....
There's special events throughout the week - such as unlimited ribs and things (these don't have the takeaway bags though so you need to eat in situ for these!)
If you're looking for a taste of the US, an overload of delicious flavours or guaranteed food-induced coma then this is the place to head to
Love this place. Great value for lobster!
Seriously good value for this part of town, meals for people with an appetite! None of this fancy "Instagram plating", just really tasty food to get stuck into you with your hands, there's no point even trying to go about this in a lady-like way, just enjoy getting messy! Don't even think about wearing anything white either. Something for the guys with plenty of meat options, the ribs are some of the best in london but also plenty of seafood options, imagine if Burger and Lobster had a real menu with loads of other options around that theme. They also have deals of differen days (e.g. All you can eat "x" depending on the day) and live music on weekends. Their adult slushy machine churns out ice cold margaritas in a wide variety of flavours and they are lethal. The best thing though is the horrified look on the faces of girls who have been taken here on a date, visibly stressed about ruining their hair/make-up/white outfit/diet - priceless!
Always a great vibe in here, food is terrific, been going here for years and never had a bad one!
The Big Easy succeeds at both quality AND quantity, which is pretty rare for a restaurant, though it is pricey. We at a super meaty meal (barbecue-wise, they have some serious equipment in the kitchen!), but there's lots of lobster dishes too. Huge choice of drinks (the bar is huge) - I especially liked the Old Fashioned cocktails on tap - they still tasted great! Loud and fun place, with a cool Americana interior. Comfort food, for about £80 (starters and mains only, no drinks, including service).

I'm confused about the 5 star rating - ahh, it's not a Time Out review. I really wanted to enjoy our meal at the Big Easy - we used to go here relatively often about 5 years ago. I have never written a bad review but after spending £102 for 2 on a disappointing meal I think the following needs to be said. Atmosphere: Great, loud, 'All American'. The tables are crammed in with centimetres between them - you really do intrude on your neighbours' conversation in order to talk over the loud music. Not the best setting for a date night. Drinks: We both wanted a margarita - after spying the small size of the cocktail glasses, we opted for a pitcher. A classic margarita at Big Easy is fluorescent green, plonked on your table with no straws and does not pour. Hmm... After asking for some help, we were equipped with two plastic straws to either share the pitcher or to scoop the drink out of the pitcher into our glasses. I felt as if I was back at a student bar.... Yay. Except that I had paid £30 for the pitcher. After a half pitcher of slush puppy each, we were both still sober. £30 for a drink with no alcochol - really?! Food: The descriptions are fabulous. Despite the noise and the close proximity of your fellow diners, you could enjoy the experience if the food lived up to the hype. Our double baked potato skins were shells filled with cheese. That's it. The Jalapenos were great, but only 4 in a portion - the bottom of the bowl is filled with nachos. The calamari was a bland disappintment. That said, our main meal of ribs/chicken and fries was decent enough. Good meat on the ribs, however there was a bitter aftertaste with the BBQ sauce. Loved the french fries. Such a shame!
I found this place about a month ago and now I can't stop coming back and sending all my friends there. If you are a fan, and like me, have been struggling for so long to find an amazing U.S. BBQ & Seafood restaurant, this is a place for you. Very reasonably priced despite it's prominent location and worth every penny. As fat as I know, it's the best value Maine Lobster in London, amazing steaks and ribs smooth like butter! Every day is a different deal, I would especially recommend the Surf & Turf night and 'The big pig gig' (All you can eat BBQ). Downstairs is a bit more crowded and lower ceilings might make you feel like there is not much space. They host live music there, so it's great to get a table for a louder company or celebration. However if you are looking to bring a date, or your mother, a reservation upstairs will allow you to have a bit more of a 'normal talking volume' experience.
Yes yes yes! Finally a place in London which has both amazing seafood and BBQ. The deals are great especially through out the summer with the Lobster festival. Can't get any better/cheaper Maine lobster in London (to my knowledge). I highly recommend this place! The only negative would be the margaritas-- out of a slushy machine, which is not what you want, but I can look over this fact since the food is so darn tasty!
More venues
Sponsored listings