Bike Shed Motorcycle Club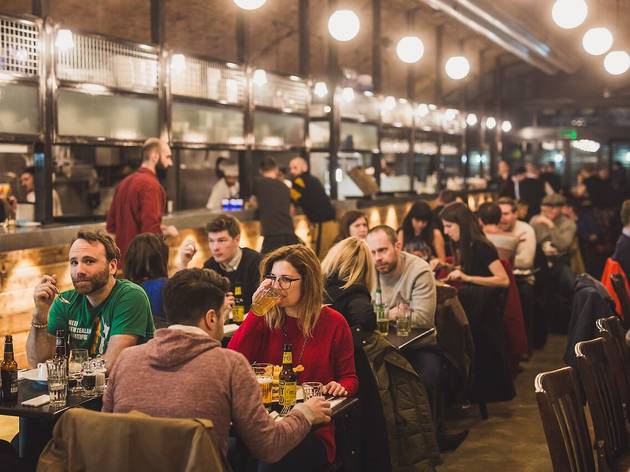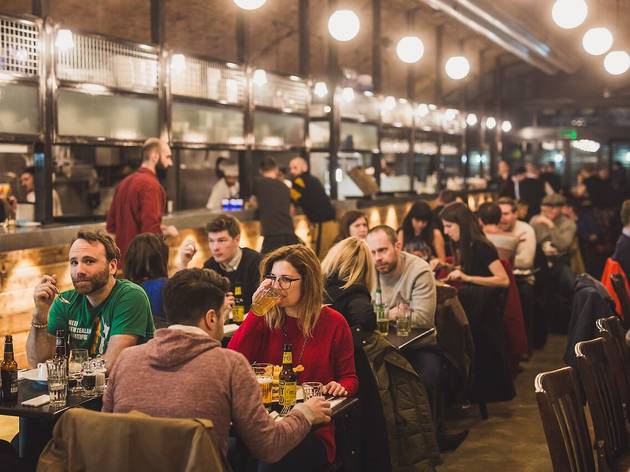 1/14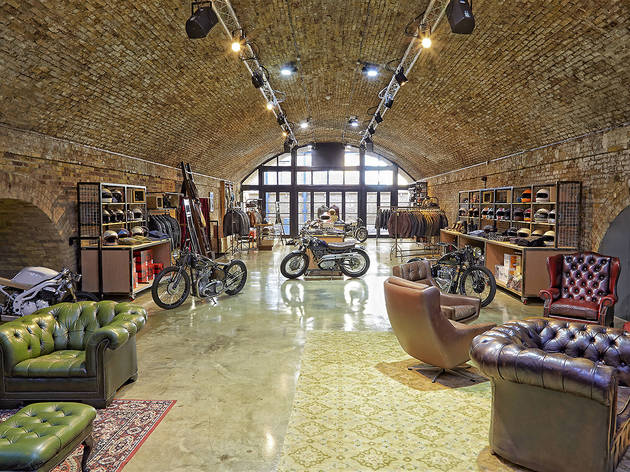 2/14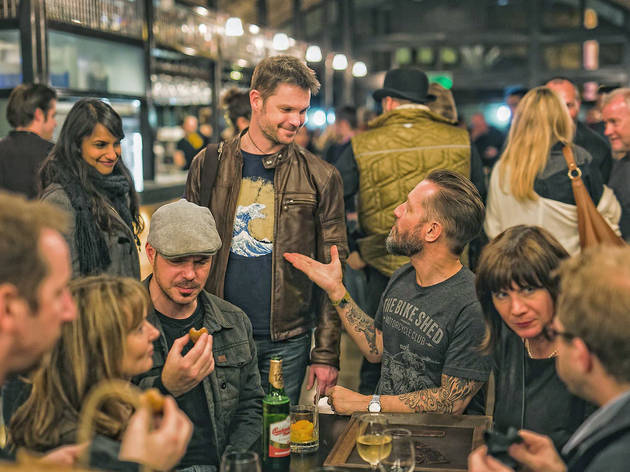 3/14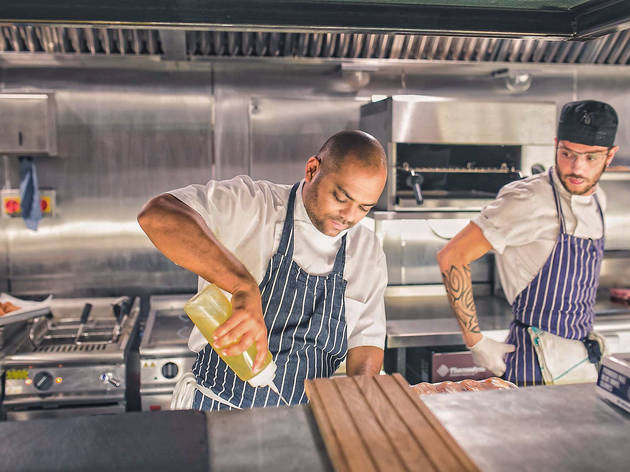 4/14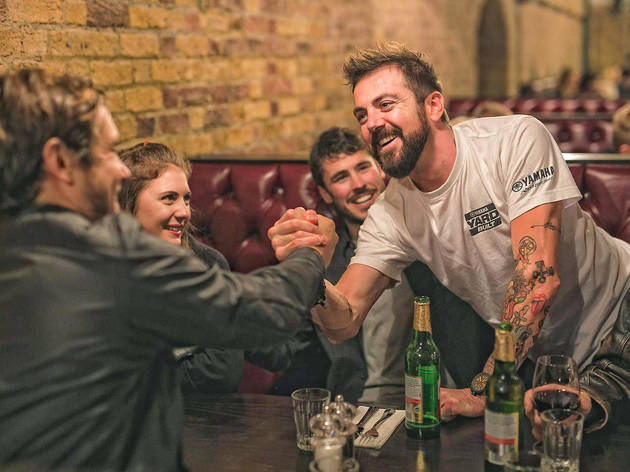 5/14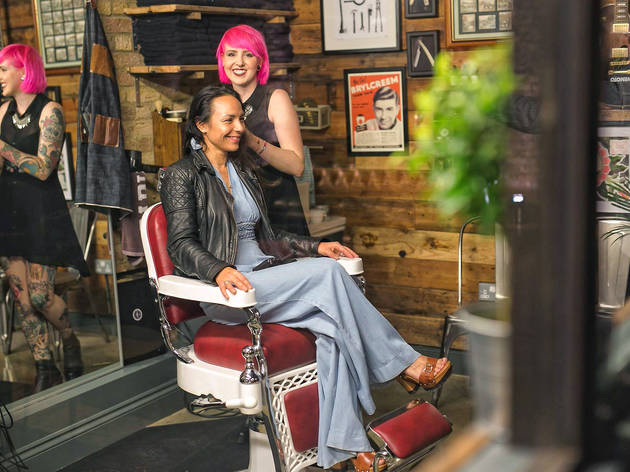 6/14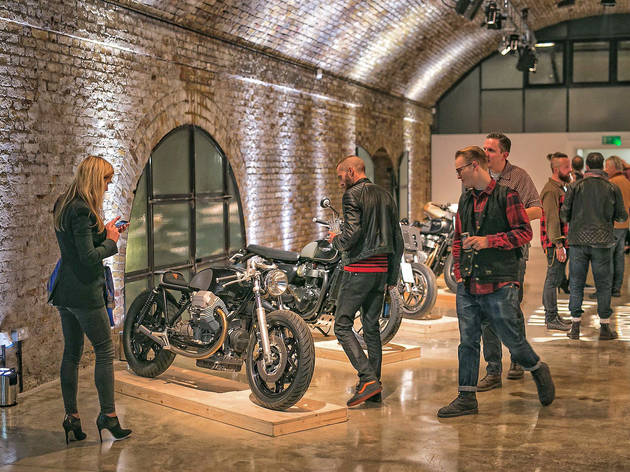 7/14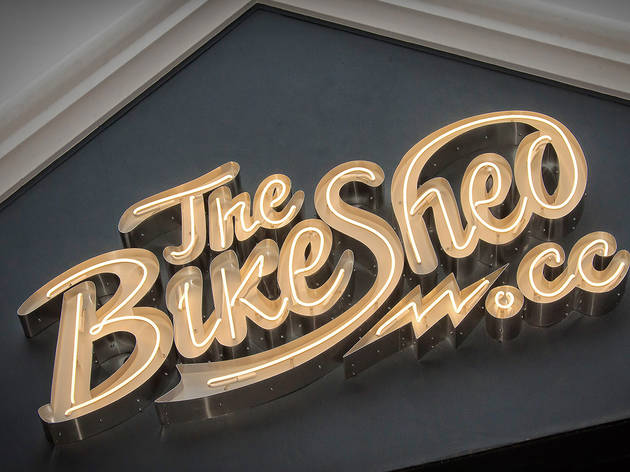 8/14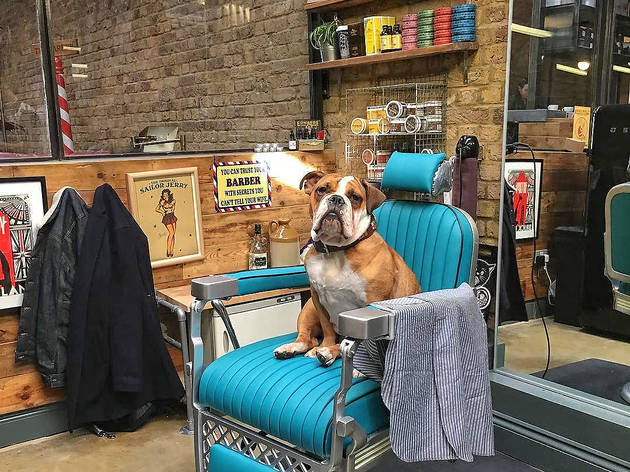 9/14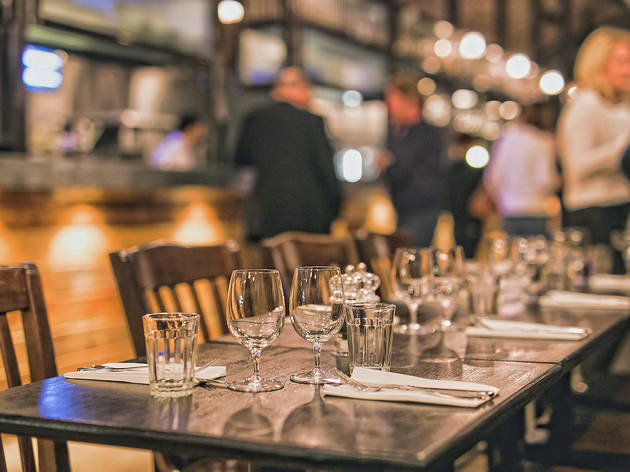 10/14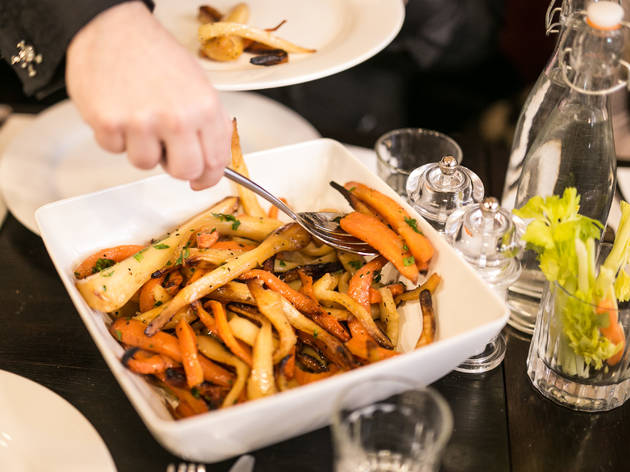 11/14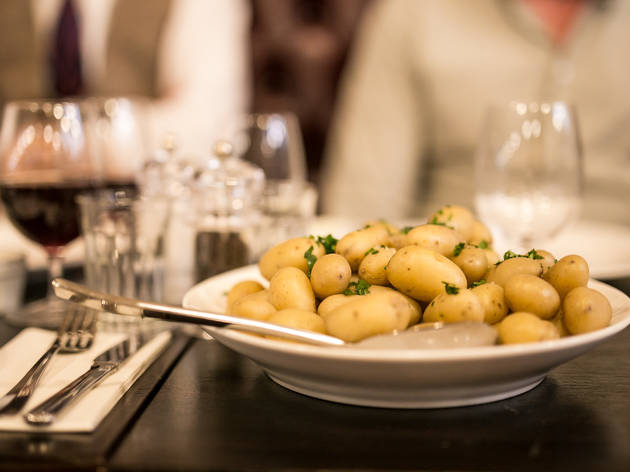 12/14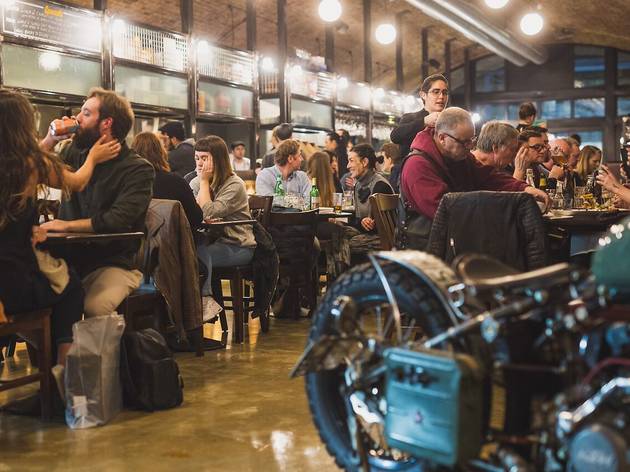 13/14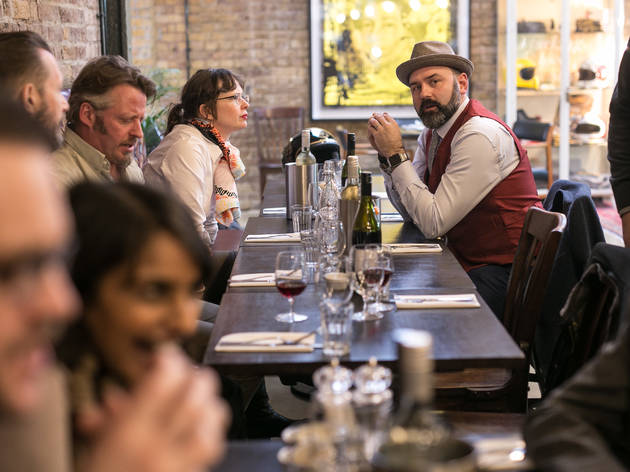 14/14
Time Out says
A biker café with bells on at the eastern end of Old Street
Just off the North Circular in Brent, the Ace Café is in its seventh decade serving up coffee, rolls and rock 'n' roll to the leather-clad faithful. It's the oldest biker bar in London. And the newest? Welcome to The Bike Shed: originally a blog and forum for custom bike nerds, now IRL and occupying two big railway arches right next to Shoreditch Town Hall.
Alongside a shop selling biker bits and bobs (and a rockabilly barbershop) this Shed contains an upmarket cafe/bar/restaurant for bougie bikers and dedicated pedestrians alike.
In fact, it's only the faint smell of engine oil and the choppers parked up outside that give the game away. With a wooden bar up one side and red leather booths down the other, The Bike Shed looks like any other trendy arch-based London eatery. Burgers, bangers and other biker caff staples share a menu with superfood salads and detox juices. There's an extensive breakfast/brunch selection, a long list of cocktails, and beers that range from Peroni to Beavertown, including non-alcoholic options for anyone actually on wheels. To drink after 8pm you need to either order food or become a member, which should keep the bikers safe from rowdy City boys.
Both our burgers – one meat, one veggie – were accomplished and generous, piled high with onion rings and served in brioche buns with homemade gherkins and coleslaw. Crispy mushroom and polenta fritters made a great starter. Prices are decent for Shoreditch, and the portions are hefty enough to refuel even the biggest and beardiest of bikers. There's good coffee, free wifi and Chuck Berry on the stereo. Flat-white cool welded to petrolhead geekery: it's an odd combo, but it turns out it can really motor.
Bike Shed Motorcycle Club says
The Bike Shed Motorcycle Club in the heart of Shoreditch has a club vibe, but to enjoy it you don't have to join. You also don't have to ride a motorcycle.

With more than 10,000-square feet of restaurant, lounge, shop and event space, the Bike Shed is hidden in plain sight under the railway bridge at the end of Old Street, where it joins Shoreditch High Street. There's a walk-in entrance at one end and a private road at the other, for summertime al-fresco dining, coffee and motorcycle and bicycle parking. There's also a proper barbers.

The menu focuses on all-day brunch with barista coffee and home-baked cakes. Lunchtime adds a range of honest British food to the brunch offer. From 6pm new dishes are added to ensure it's a space where you could eat every day. The bar menu is also delicious, complementing a superb range of beers, wines and cocktails. Everything from the kitchen is prepared and cooked in-house using fresh ingredients with genuine provenance. You can also enjoy live music on Thursday nights.

After 10pm the Bike Shed will only serve alcohol to seated diners, club members and signed-in guests. Not only is this a bit nicer than crowding at the bar, it makes the Bike Shed an oasis away from the chaos of Shoreditch on a Thursday, Friday and Saturday night, so you can enjoy your meal or drinks without sharing the space with large groups of heavy drinkers on a bar crawl through east London.

Kids, families and dogs are welcome.
Details
Address:
384 Old St
London
EC1V 9LT

Contact:
Opening hours:
Mon 10am-5pm; Tues-Fri 10am-11pm; Sat 9am-midnight; Sun 9am-11pm
Do you own this business?
Average User Rating
4.7 / 5
Rating Breakdown
5 star:

14

4 star:

3

3 star:

1

2 star:

0

1 star:

0
Thanks for letting us know about this place Time Out! What a cool spot. I'm not a biker but I didn't feel out of place here - there were many non-bikers tucking into the food and drinking coffees. It's a classy joint.
I have now been here a few times with friends and they have all loved the atmosphere, the welcome feeling of the place and the food. I'm not a Biker but certainly hope to be one with the inspiration of bikes and clothing on display in the shop.
I had breakfast brunch with my bf on Valentine's Day and it was so nice to be somewhere with no "forced" endorsements of time keeping, roses, or loved up nonsense imposed on couples on V Day. There is much choice on the menu and Biker's breakfast was a hit. The Nutella and Peanut butter shakes is to die for and I love my cappucinos. I've also had lunch and dinner, the baked eggs with bacon, kale and sourdough toast was delicious, with the Retox. For supper, I had some light bites, of the polenta fritters which was tasty and the goats cheese salad. Keeping with the health regime, I finished with pisco pear sours.
Overall, great atmosphere, good customer care and warm and welcoming Dutch and Dutchess.
Come for the bikes. Stay for the steak and pudding!
I love bikes. I loved the BSMC shows, so obviously when they opened a restaurant I was going to go. Main reason to go was to ogle bikes ( I do that a lot). First glance at the menu I thought it was a bit pretentious for a bike bar, but - get over yourself (or my self in this case). Have the finer things in life. Excellent cocktails. Perfectly done steak, and here's the best bit - the desserts! the pear crumble (layer of sponge under the fruit, chocolate or cocoa in the crumble, served with a little jug of chantily cream) is amazing!
Back to bikes. You can park yours there (how many other places can you do that with a venue on the edge of the city). They do rotate. You will see new ones, old ones and for sale ones.
Even if you don't ride, go there for a night out after work (every bus heading north from Liverpool st will get you there in 3 stops, or it's a ten minute walk, probably 6 quid for a cab). Better atmosphere than any city bar and food to rival the best.

Firstly the venue looks amazing whether you like motorbikes or not. The food far exceeded my expectations. There were aome wonderful craft beers and a great winelist. The staff were all very friendly and well trained. One of the best new places in London at the moment
In its rawest format what is Bikeshed MCC? It's a collection of 4 brick built arches under the mainline railway in Old Street, Shoreditch London. These have been stripped back to their former glory, and treated to a brand new lease of life.
That's the framework. What fits into it is the most modern, fresh and stylish concept that is set to be the "way forward" for our sport, hobby and lifestyle.
Bikeshed has been the brainchild of "Dutch" and Vikki van Someren. Team "Dutch" have been toiling away tirelessly, progressively building the BSMCC brand from a few folks that have that burning passion we all share, to a membership "must have" that the world is clamouring for.
The decor of the club is bare brick, exposed trunking, leather and natural wood. Lighting has been particularly well thought out with pendant over head fittings and discreetly down lit counters and bar. It's all about the ambiance enhanced with beautiful leather tuck and rolled couches and seats. The venue feels special and exclusive.
However, Dutch and Vikki have created a "bikey" feel too. The rider is instantly comfortable within the space and attention is drawn to the custom builds, exquisite concept machines and the retail area that is filled with carefully selected "modern retro" designs and riding gear.
The food is robust, well thought out and features fresh ingredients skilfully sourced and prepared. Bikeshed have created a "tight" menu offering an uncluttered choice.
I can heartily recommend the Burger! Do have the bacon as well. It's not bacon as we know it but salted and cured in house pork belly. You could eat a plate of the stuff! Delicious!
All this accompanied by a drinks menu that is exceptional on quality with locally inspired guest ales and porters. The "Old Engine Oil" looked impressively like a glass of old engine oil but had it's consumer suitably licking his chops after taking a swig.
Not just a great venue serving great food by great staff, but great bikes always on display, with a shop selling high quality motorcycle merchandise, and a barbers too. well worth a visit, parking for motorcycles. go on try it you wont be disappointed . Pip Davidson
I have been a few times now and the menu has just been moved up a couple of notches to a level that would not taste out of place at a restaurant in West End at twice the price, with still great atmosphere. Highly recommended
A superb space dedicated to motorcycle culture that makes it very unique - well worth a visit as the team are very friendly, the food is delicious as well as stunning motorcycles, art and apparel, what's not to like!
I did the classroom session for the Met police bikesafe training here, later rode in with my partner for a meal one Sunday afternoon, however they were not happy about us inspecting some of the goods on sale.....
Fascinating place to sit and soak up the unique atmosphere while enjoying tasty dishes. Service good but some of the portions are minute. I had to order several dishes to feel satisfied.