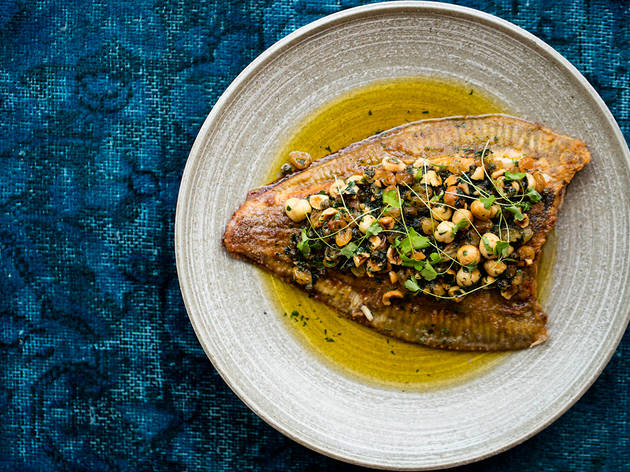 1/8
Thomas Alexander
2/8
3/8
4/8
Thomas Alexander
5/8
6/8
Thomas Alexander
7/8
Thomas Alexander
8/8
Thomas Alexander
Venue says
Nestled on the first floor, Blueprint Café has magnificent views overlooking Tower Bridge and the City to the west.
A long-time favourite, the Blueprint Café would be destination for the setting alone: wall-to-ceiling windows look on to a stunning view of the Thames and Tower Bridge, and a retractable canopy gives a great inside/outside feeling. Head chef Mark Jarvis's seasonal menus are short and to the point – dishes are beautiful but in no way twee. Begin, perhaps, with just-seared yellowfin tuna with kalamata olives and a delicate salad niçoise, or a tender artichoke salad with a molten warm duck egg and mint. Line-caught cod beneath a zingy green herb crust, with yellow-tinged crushed potato with rapeseed oil and a flower and herb salad, was stunning – summer on a plate. Meat-lovers will be wowed by well-hung Hereford onglet with bone marrow and forest mushrooms. Even a tomato and onion side salad was a treat – jewel-bright, full-flavoured plum, cherry and green tomato heaven. There's a first-rate wine list too, helpfully arranged. Service was a touch haphazard, but always friendly and, after all – with that view (plus mini-binoculars on every table) where's the rush?
More
Less
Blueprint Café says
Nestled on the first floor, Blueprint Café has magnificent views overlooking Tower Bridge and the City to the west as well as Canary Wharf to the east .

With floor-to-ceiling windows and neutral wooden floors, Blueprint Café is the perfect setting to experience the simple yet innovative cooking of our head chef Joseph Albina in the company of knowledgeable and friendly staff.
More
Less
Venue name:
Blueprint Café
Contact:
Address:
28 Shad Thames
London
SE1 2YD

Opening hours:
Closed Mon. Lunch served noon-2.45pm Tues-Sat; noon-3.45pm Sun. Dinner served 6-10.30pm Tues-Sat
Transport:
Tube: Tower Hill tube or Tower Gateway DLR or London Bridge tube/rail or bus 47, 78
Price:
Main courses £12.50-£21. Set lunch £15 2 courses, £20 3 courses. Set dinner £18 2 courses, £23 3 courses
Menu:
View Menu
Do you own this business?
You may be interested in:
Average User Rating
2.4 / 5
Rating Breakdown
5 star:

1

4 star:

0

3 star:

4

2 star:

1

1 star:

3
Don't know, called me out of the blue and canceled my reservation (birthday meal, just me and the wife) "sorry we have a private booking" how about one of our sister restaurants, how about honouring commitments? Well guess what? We won't be coming back so you better pray you get plenty of private bookings - disgusting way to treat customers
Little bit disappointing! Great location and great view of Tower Bridge (where we sat in the corner at least). But the food wasn't hot enough, or tasty enough to deserve its price tag. One of our party had her meal delivered 20 minutes late (a simple goats cheese and polenta salad...), and while we were offered free desserts, we did have to push for them, and keep asking when her dinner was going to arrive. Waiting staff were unwilling / unable to advise on the size of the side orders, and so we ordered too little, and the extra we ordered arrived at the end of our meal half an hour later. Luckily, the company and the ambience made it a very pleasant evening, but there are definately better places to eat in this area.
Lovely for a date night. Relaxed but attentive service and good attention to detail from the waiting staff. Food was lovely, very nicely cooked fish and chips.
We had a pleasant time me, I'm eleven and it was my birthday and my mummy and daddy. The food was nice except for the mushrooms and there was no rush. It was a bit to adult food for me but I liked the starter of mackerel and the pudding but the onglet was to much for me. Not really a place for children to go and we could not understand the waitress very well nor she us but she tried hard. We thought we were going for a beer and burger but this did not happen not that I would have been allowed the beer. Mummy and Daddy liked it a lot especially the cod. It is good .
Awful. Should have listened to the user ratings rather than the official review. Avoid. When we arrived we were told that "the kitchen is busy, you may have to wait some time to eat" this despite it being a Friday evening and the restaurant only being half full. It's a restaurant, the kitchen is supposed to be busy. We were then taken to our table and asked if we'd like to order drinks while we waited. 20 minutes later someone came back to take our drink order (a Manhattan, a martini and one of their own creations. 20 minutes later, the Manhattan and their house cocktail arrived along with a tumbler of vermouth with ice. This was sent back with the explanation of what a Martini was. 10 minutes later a martini glass with vermouth arrived, no garnish & most importantly, no gin. When the Maitre d' was called over and had the problem explained he said "if we're having trouble making your drink the way you like it perhaps you should order something else". I pointed out that people were drinking them on other tables and that a dry gin martini really shouldn't be that tough to make. 15 minutes later a martini glass with slightly more gin but mostly vermouth and some shredded lemon peel arrived. I gave up. It was around this point, one hour into our time at the Blueprint that somebody thought to ask for our order and to offer us a piece each of bread. The starters came about half an hour later and then main courses about a further half hour after we finished the starters. This is altogether too long to wait for food in a restaurant with plenty of empty tables (too long to wait at a restaurant with full tables....). For what it's worth the food was pleasant (crab & avocado /chicken liver parfait for starters, salmon with potatoes/ barley risotto for main) but fairly uninspired and certainly *not* worth waiting two hours for a main course. The risotto had clearly been finished well ahead of the salmon as the sauce had a skin from sitting under a heater at the pass for too long. We skipped pudding. When the bill arrived we'd been overcharged by 40% with dishes that we hadn't ordered on the bill. It didn't seem to cross the mind of any of the staff to apologise for any of the flawed aspects of the evening. You couldn't pay me to go back.