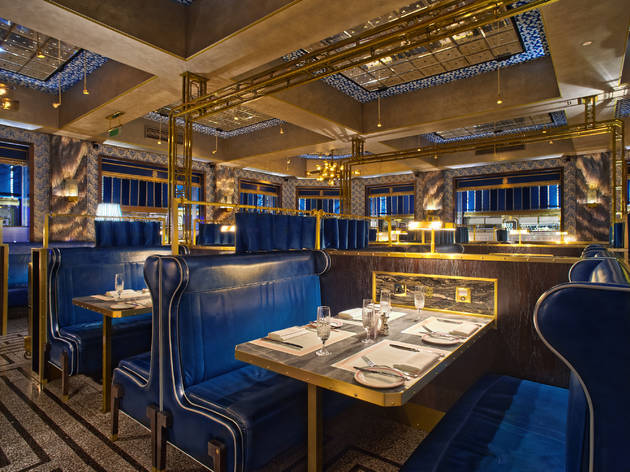 1/2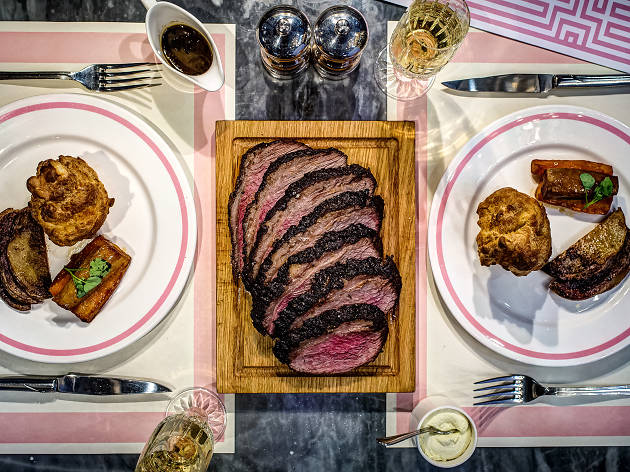 2/2
The only way is Excess at this one-of-a-kind restaurant that's perfect for off-duty fun. On the menu: British and Russian comfort food, plus lots of Champagne.
This enthusiastically outlandish spot has managed to achieve what many London restaurants earnestly desire but rarely deliver – it is out-and-out good fun. There's a joy evident in every element of the place, from the Roaring '20s decor to little touches like the 'press for champagne' buzzers at each booth.
The menu skips between Russia and Europe, cherry-picking treats: starters include platinum vodka shots chilled to -18°C, and venison tartare, while mains feature 'humble pie', three-birds burger and chicken kiev. BBR is the sort of venue you can imagine Bertie Wooster taking his pals after a day at the Drones. At lunchtimes, it has been adopted by business types, with deals sealed over excellent food and ostentatiously shaken cocktails, as well as vintage bubbly and by-the-glass Château d'Yquem.
We can recommend the classic prawn cocktail with piquant pink sauce, and the immensely gratifying borscht made with Orkney beef. The mariner's fish pie is another favourite, crammed with salmon and haddock in a thumpingly rich cream. Desserts are as playful as the rest of the operation; try a strawberries and cream soufflé or freshly flambéed crêpes suzette. A meal here isn't cheap, but if you're looking to intrigue and impress, this place is hard to better.
Venue name:
Bob Bob Ricard
Contact:
Address:
1 Upper James Street
London
W1F 9DF

Opening hours:
Lunch served 12.30-3pm Mon-Sun. Dinner served 6pm-midnight Sun-Wed; 5.30pm-1am, Thu-Sat.
Transport:
Tube: Piccadilly Circus tube
Price:
Main courses £14.50-£38.75. Set lunch (Mon-Fri) £31.75 & £33.75 incl glass of wine
Menu:
View Menu
Do you own this business?
Average User Rating
4.3 / 5
Rating Breakdown
5 star:

17

4 star:

7

3 star:

3

2 star:

1

1 star:

1
Terrible. No class. We had a reservation which we were late for. I called to say I was running late and they told me it was fine. When I arrived they sat me and my friend at the bar right away, which felt forced. Then half hour later they told us that they don't actually have a table for us because we were late. So they basically wanted us to spend money at the bar without being up front about it. Very cheap tactic. Instead of wasting our time they should've told us right away that we were late and they are no longer able to accommodate us. Or told us the truth "we are trying to get a table for you" so we had a choice to go elsewhere.
This place is totally unqiue. There's no other restaurant quite like it in London. Great for breakfast, lunch or dinner. It's been a stalwart on the restaurant London scene since it launched in 2008. It never fails to disappoint.
Another of my favourite places in London. The ambiance and the decor are unique in London. Russian opulence for sure. Whenever I eat here I feel like I'm in a 1920's train travelling first class on the trans-Siberian railway. Also there's a champagne button what more do you need.
The first time I came here the downstairs are provided much entertainment for our group whilst we tried to gather what the scary russian looking bouncer could possibly be guarding.
Bob Bob Ricard is one of my favourite places to eat in London. The setting is beautiful (think 1920's speakeasy meets the luxury of the Titanic) and the booths and table are intimate without taking away the atmosphere of the restaurant. The beef wellington is, simply put, the most delicious thing I have ever eaten, the only downside is that you need two people to eat it! The 'press for champagne' button is the best thing ever invented. I love it so much
Pretty perfect in every way - food, service, interior, ambience. Expensive, yes, but very very good.
Firstly 5 stars for their fitout. The place looks amazing. Secondly you can press a button for more champagne. Genius! I went at lunchtime so it was perhaps missing a bit of atmosphere that a dinner trade would have. The menu to be honest wasn't stand out. My food was nice but not to die for. Great place for a date or celebration.
It was the worse customer service and the hospitality I have ever seen in London. Although the food was ok and the ambiance was good, the management was very unprofessional towards the guests
Great fun, great food, amazing cocktails. There is no other place like it in London.
Loved it here. Been 4 times now.
I never normally write reviews but had to for Bob Bob Ricard...had been there several times for cocktails in the basement bar which is excellent. Ate there for the first time a few weeks ago and had a fantastic evening in fun, classy yet unpretentious surroundings. Chicken pie was so so good, as were the starters (truffley potato dumplings..yum), and we had a melting golden ball of chocolate for dessert which was as fun as it sounds! What really stood out was the service which was outstanding. Now my favourite place to eat in London!!
Very enjoyable place with fantastic atmosphere and attentive service. The strawberry souffle and the rhubarb gin and tonic are highly recommended! Well worth putting your sunday best on for.
Great lunch on Saturday. Stunning decor and great food, a real treat for all the family coming in from outside London.
Enjoyed it thoroughly, nice food and were well looked after. Perfect for celebrations.