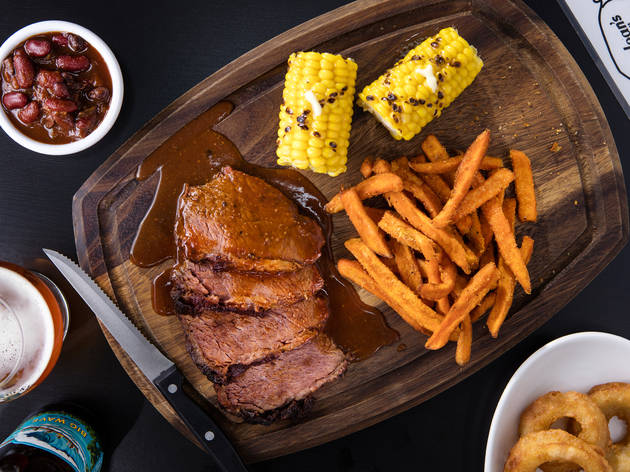 1/5
Media Wisdom Photography Ltd - Giles Christopher
2/5
Media Wisdom Photography Ltd - Giles Christopher
3/5
Media Wisdom Photography Ltd - Giles Christopher
4/5
Media Wisdom Photography Ltd - Giles Christopher
5/5
This branch of a five-strong chain revels in its Americana, with American football on the tv, US rock music, and an authentically US-style barbecue and grills.
This Tooting Bec branch of a five-strong chain revels in its Americana, with American football on the TV's, US rock music from the 1970s, and an authentically US-style menu which includes baby back ribs (£9.95 for a smallish portion) and beef ribs (£19.95 for more than most people can eat). Of the two, the beef ribs were by far the better dish: succulent, and beautifully smoked. The chips were heavily seasoned, and the coleslaw was remarkably good, not cloying like inferior versions. The little tub of chipotle mayonnaise was a nice touch, though you'll not be short of added flavour with Bodean's two own-brand sauces on every table. There's a busy cocktail bar in the centre of this sprawling series of rooms, a brief wine selection and beers that cross the spectrum from the bland to the sublime. This branch has a useful outdoor dining area, inevitably used by smokers most of the time, but also handy in good weather. This branch of Bodean's is friendly and popular, with the only catch being that no bookings are taken.
More
Less
Bodean's says
Time was when Balham was Peter Sellers' 'gateway to the south'. But today Balham has the last laugh as south London's chuckle central is a mecca for laughter-lovers and music fans, and hipsters and regular folks who can enjoy the finest barbecue and craft ales, luxury bourbons and rare sipping whiskies to be found this side of the Atlantic.

Plus expertly mixed cocktails to zing any gathering, all served from our elegant U-bar where a welcoming bar stool awaits the connoisseur of good things.
More
Less
Venue name:
Bodean's
Contact:
Address:
225 Balham High Rd
London
SW17 7BQ

Transport:
Tube: Tooting Bec
Menu:
View Menu
Do you own this business?
Average User Rating
3.8 / 5
Rating Breakdown
5 star:

2

4 star:

1

3 star:

1

2 star:

1

1 star:

0
OK but lacks the atmosphere of the Soho original. Aircon is brutally cold
Soo much meat - sooo much goodness - this is a great bodeans to go to as you can usually get in unlike the soho branch - the pulled pork meal is delicious in particular the creamed corn - also recently discovered the poutain - chips with gravy and cheese but not the horrible stuff you get from crappy take aways up north

Hello, I hope you reading this.....
I was there in the week Bodeans opened, and decided to have a try at day time.
I got seated and service was fine although i found the female staff to chatty with
each other.
I ordered Pork Ribs with a fizzy and a side.
The ribs were soft, strangely too soft, nearly soggy, was my observation after
receiving my Order after only 10 mins. I was wondering if i landed in a fast food chain
that was too fast to cook good food.
DISASTER
Flavor, flavor, flavor MISSING what did they do to that poor poor Pork , who ribs I am
regurgitating in my mouth.
I could not taste the pork, seriously it could have been any read meat animal on my plate.
BBQ flavor. BBQ Flavor? what flavour?
The whole point going to a BBQ Diner is to experience what special magic they can do
when Combining Meat + BBQ.
They asked me 3-4 times if the food is ok, i say yeah ok. I mean they either don't know what BBQed meat supposed to taste like or or have no clue about what their doing FULL STOP.
You still see evry evening couples coming in as their Ambiance and seating Decoration
is impressive.
I guess Bodeans is just a Place where you bring your misses to a fine place.
Bodeans not a place you go for a finger liking experience deluxe .
Food 4 out of 10
Ambiounce 9 out of 10
Service (charge £4) 7 out of 10
Opened a few months back, and it's really brightened up the eating and night out options round here in South London's comedy zone. Every time I go in there's something new to try on the menu and the drinks list, and I haven't been let down yet. Very friendly staff too, plus football, gridiron, baseball, hoops, ice hockey on screen, and free live music every week — I caught a great band this week called The Duplicates, like Booker T & The MGs; how cool is that? My kind of place!
I would have given it a 5* but the outside area needs some parasols, we went on a very sunny day and it wasn't nice to sit there without option of shade. The waiting staff couldn't be more helpful. The only thing I didn't like was my credit card being taken and held without them saying to me it would be locked away safely. Would definitely come back again though as it's a big location, plenty of space to be seated