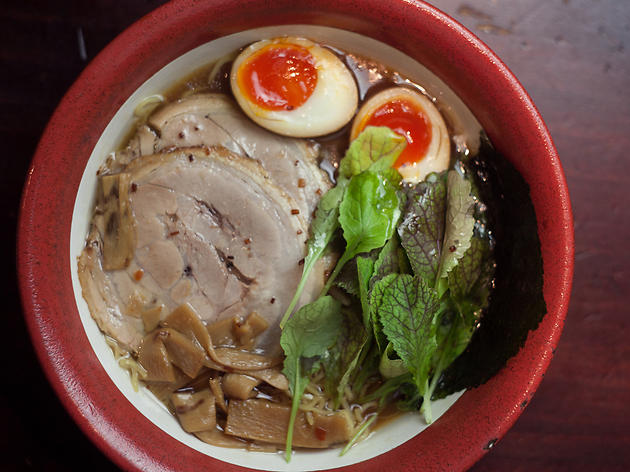 Time Out says
The second branch of Soho ramen bar, Bone Daddies
You'll find this branch of the popular Soho ramen bar in the Whole Foods Market on Kensington High Street. It's the second Bone Daddies joint, though Flesh & Buns and Old Compton Street's Shakfuyu are from the same stable.
It's mostly about the ramen here, with pork bone broth tonkotsus alongside chicken bone broth tantanmens, spicy miso ramens, kimchee ramens, curry ramens, mushroom ramens and the T22 - a chicken bone broth ramen with soy, onion, chicken and cock scratchings. They're bits of crunchy chicken skin, by the way.
Outside of the noodles there are croquettes of chashu pork, jalapeno and cheese, various sashimi, soft shell crab with a green chilli ginger sauce, a couple of gyoza and fried chicken steamed buns. Drinks include a few wines, sake, shochu, Japanese whiskies, cocktails and Asahi on draught.
Bone Daddies says
Bone Daddies Kensington is an honest homage to the casual dining options found in Japan. Inspired by the authentic flavours and feel of ramen bars, it offers a wide range of ramen and a selection of bun dishes from sister restaurant Flesh & Buns, as well as great cocktails and Japanese whiskies.
Details
Address:
The Barkers Building
63-97 Kensington High Street
London
W8 5SE

Transport:
Tube: High Street Kensington
Contact:
Opening hours:
Mon-Sat 11am-9.30pm; Sun noon-5.30pm
Do you own this business?
Average User Rating
3.9 / 5
Rating Breakdown
5 star:

5

4 star:

7

3 star:

1

2 star:

0

1 star:

2
Really dissapointed...
We purchased a black card to use at restaurants like Bone Daddies, we travelled over to high Street Ken specifically to go to bone daddies and they said they do not accept time put black card on a Friday. After showing the staff that it states on the website she asked her manager (staff polite). Her manager was clearly not happy, looked annoyed that she was being challenged and we felt as if we were being totally unreasonable to ask to use the card... Which we paid for!
Won't be back to bone daddies after this and to be honest don't feel like it's worth becoming a member of timeout black if you are to be made to feel like that...
Loved my ramen. Hated the customer service. I had to get up several times to do the job of the staff members ( we were not given any cutlery to eat our ramen with, so had to search the restaurant myself for cutlery).
Signalled politely several times to a staff member. Was completely ignored (even though the restaurant was not busy). Kitchen staff saw me signalling for over 15 minutes, yet did not attempt to alert the waiting staff once (but they were ok to chat with them so unprofessionally in front of customers). So, so rude.
Also, ordered a lot of starters (some of which came to our table almost cold) which came altogether with the large mains. When I asked the waitress why it had all come together and that no one had informed us upon making our order that starters and mains came together at this restaurant (most restaurants across the UK inform their customers when making an order that all orders come together - if that is the restaurants policy), rudely didn't think she had to address the situation, mumbled something and then walked off. I signalled for the waitress to come back to the table to address the situation, after 10 minutes she finally came back. Neither myself or anyone else on the table wanted the starters anymore after such rude behaviour, not to mention that most of the starters which were meant to be hot, came to us cold.
How are customers meant to enjoy their large hot mains if they're meant to also tackle, what was meant to be hot starters, if they're already cold?
Such shocking behaviour! Being a fan of 'Bone Daddies' having visited the other branch in central London, the service received at the Kensington branch was extremely below average to say the least. I would suggest training your staff on how to deal with a variety of different customers issues. Also, when you see that a customer is extremely unwell, you don't just stand around the (empty) restaurant watching them as they try to search for cutlery, after they've signalled to you for over 10 minutes because you didn't offer any cutlery when delivering the food to the table.
As much as I adore WholeFoods, we most certainly will not be re-visiting this branch of 'Bone Daddies'.
I'm a long time Bone Daddies fan already, but when you factor in the discount with your Time Out Black membership it's impossible to say no. The menu is already great value, but £5 or so for a bowl of ramen this quality is ridiculous. A great lunch stop off when you're in the area, and discount can be applied for up to three others if you're in a small group. Highly recommended, as always!
Ramen is a common comfort food, re-kindling memories of student hall kitchens, oblongs of dried noodles and sachets of MSG. London has come a long way from that kind of ramen thankfully.
So ramen specialists, Bone Daddies, have been highly successful and are almost a mini-chain in London. Can their standards be maintained? LFM is glad to report that the ramen served in the High St Kensington branch is spot on. The 20 hour pork broth was rich and luscious. The cherry on the top, or in this case, a deep fried soft shell crab, perfected the dish. LFM also sampled the Korean deep fried chicken wings starter which was satisfying and tasty although we've had better elsewhere with a less 'industrial' taste.
The restaurant is based in the top floor food court of Whole Foods which gives it a rather casual vibe. This is perfect for bringing the little ones with high chairs available and plenty of room for buggies. Nice (and slightly odd) touches were the additions on the table of bibs, hair ties and garlic crushers.
Extremely happy with this opening in SW London and hurrah, no need to trek into central London with the bulky buggy for that ramen fix. https://londonfoodiemama.wordpress.com/
This was my first time to Bone Daddies and everything I've heard about this spot is true: it does some seriously fab ramen. A gorgeous bowl of soy ramen was tasty, and had I clocked it was going to be so generous, I might have passed on the bowl of fried chicken I also ordered, as wonderful as it was (I just wasn't that hungry). It was a touch pricey for everything, including service, too, but it's worth it for the quality alone.
I would queue for hours for this place, and sometimes that's required (ok... maybe hours is an exaggeration but this is Soho after all). But I would, because I love it. I wasn't fussed on ramen before I visited here but now I find myself slightly obsessed and looking for any opportunity to visit. Just go. Or wait and go to the new one in Old Street when it opens ( I wanna say end of 2015?).
Snap up exclusive discounts in London
Time Out's handpicked deals — hurry, they won't be around for long...