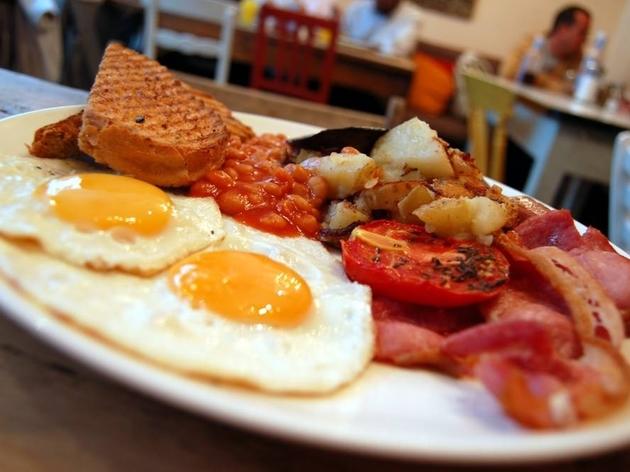 Time Out says
Wallow in an ersatz homage to an 1980s youth at this mini-chain of all-day diners dedicated to the most important meal of the day.
Hey, kids! With the aura of a chipper kids' TV presenter, the Breakfast Club invites punters to wallow in an ersatz homage to an 1980s youth, with Roland Rat posters and the soundtrack of a '90s adolescence. Given that many of these now thirty-somethings have children of their own in tow, it seems odd to make them struggle by not providing a single high chair to cater to what must be a good chunk of the venue's target demographic. Whatever, folks are willing to queue for the comfort food at weekends. A long list of brunch options runs from sweet – a moreish stack of french toast with cinnamon apples – to savoury, with a chorizo hash that makes you mop up every drop of paprika-inflected lard with your home fries. Burgers, burritos and baked potatoes round out the menu. It's hearty and at times heart-stopping, though smoothies with waggish names such as the 'Pommy Granny' (pomegranate and berries) add a healthful note. The shabby chic crosses the line into needing some plasterwork in corners, and service was merely functional, but it's a hit formula nonetheless for this mini-chain.
Details
Address:
12-16 Artillery Lane
London
E1 7LS

Transport:
Tube: Liverpool Street tube/rail or Shoreditch High Street rail
Contact:
Do you own this business?
Average User Rating
3.3 / 5
Rating Breakdown
5 star:

4

4 star:

11

3 star:

7

2 star:

0

1 star:

5
Amaaaaaaaaazing atmosphere, quite busy but the food and service are awesome., Best pulled pork + poached eggs on English muffin! How about the pancakes?? Take a friend to share, its big! Fair price for the food.
Nice atmosphere for a good price and very tasty chips! We only went for drinks and nibbles but would love to go back to try the full menu!
Perfect place to go for an all American diner brunch, especially if you want all things bacon! Not many of the options appealed to my veggie needs, but I am painfully fussy. If you're the type to be embarrassed by taking photos of your food, do not fear, everyone else is taking pictures too. Don't be put off by the 'overhyped' image curse, the food is still good and you can feel comfy in the knowledge that no one can judge you because they have all been at least once! Basic it may be, but still a great place to take visiting friends.
I have been a few times with and without my young son. The first time was on a Sunday and we had to queue for a table but everyone was in good spirits as they waited. The staff kept us informed of waiting times and passed out complimentary mini cups of hot chocolate to those queuing. The queue was long but it moved pretty quickly and after seeing the plates of food being brought out to those dining outside, no one was going anywhere else! The Halloween kids party last year was a nice way to spend a few hours and the staff were great with the kids and adults alike. The food can be a bit hit and miss however- the pancake stacks are always a winner for me but the Eggs Benedict and cobbler I had at their branch near Liverpool Street were both a bit stodgy. It's a fun place to go for some comfort food though and il defo be back again soon!
I had booked a table for a Xmas lunch for 4 people at 1pm. I called to confirm our booking this morning, and although we arrived on time, we still had to wait to be seated - even though the restaurant was only about 1/3 full. We ordered fairly quickly, but waited about 35-40 mins for our meals.. Which would have been OK, if all our meals were actually served. When the 3 of the meals arrived, our waiter said that my 'Number 3 Wrap' was still on the way... 10 mins later, still nothing. The waiter came over again to tell me it was on the way... Another 5 mins - nothing. My friends had finished with their meals (or in the case of the mex mac - she had eaten as much as possible - as it was basically an entire bowl of cheese with a VERY few pieces of macaroni), and were just waiting around for my mythical wrap, I went up to the counter to cancel it (time to go back to work - late!). Even after saying that we had ordered almost a hour beforehand, and that the other meals had come out except mine - no apology was offered by any of the staff.. Even the waiter that took our order in the first place didn't seem to care. And then when we were FINALLY attended to to be able to pay (another 5/10mins), they still had the audacity to charge for my diet Coke!? I was really looking forward to a meal here, especially as I've heard all about it since moving to London - but after this experience, I'm extremely disappointed. What should have been a nice Xmas lunch with friends, left me hungry - and all of us annoyed.
it took over 30 minutes for the £9 cocktails to arrive, made worse by the fact the air con was far too cold and blowing a gail through the whole place. Finally tried to pay and the Waitress said her 'AMEX' wasnt working and that if I didnt pay she would call the bar staff. This was appaling as I was paying for two guests, I would have kicked up a fuss but didnt want to cause further upset. £100 for 9 average cocktails, wouldnt go there again, far better places in liverpool street.
It took 30 minutes for the average £9 cockails to arrive, we were sat under the air conditioning which was terribly cold, and when we came to pay the waitress said her 'amex' wasnt working and i'd have to find some other way of paying otherwise she would call the door staff! I thought the last comment was appaling as I was paying on a business card and had two guests, I would have really taken them to town but I didnt want to cause further upset, how absolutely rude when your entertaining guests and have a £100 bill for 9 cocktails.
After beating the queue, the service was fast and efficient and the food very yummy! The place has a great atmosphere the only downside is that it´s a bit noisy!
After half a dozen failed attempts over several weeks to beat the queues and get a table (we're local - it isn't far to walk) we finally arrived to a less than half-full restaurant and were looking forward to seeing if this place was worth the hype. Had to find a waiter to see if it were ok if we grabbed a table. 10 minutes later we had to ask for menus - which arrived, but no drinks menus. Waiting staff were serving others, eating their meals (!) and filling sauce bottles. But after quite some time when they finally turned up to take our order we'd kind of lost our appetite, said we'd decided to go elsewhere and left. The food might be fantastic (I couldn't comment - we didn't try it) but the service was decidedly lacklustre. Disappointed.
This place is delicious. A "must-see" in Hoxton. Everything on the menu is to die for. Prices are also good.
Every time I have been to this restaurant I have received excellent service and amazing food. I love going out to eat and I have explored many restaurants in London. This one is one I will keep returning to. The ambiance is wonderful; it is warm and colourful and quirky. The service is great; waiters are friendly and we didn't have to wait too long; they brought us water, etc. The food is reasonably priced but also creative and delicious. The pastrami sandwich was a perfect mixture of flavours, and just the right amount of food. The burrito was huge, and delicious and customizable. The burgers are fresh and cooked the way you want them. The fries are seasoned and delicious. Oh! And pitchers of smoothies are great, and affordable. They have many different flavours to try. Ironically I haven't yet tried the breakfast food yet, but my boyfriend had the Eggs Benedict and said it was one of the best he's had. It looked amazing, anyway.
Was so annoyed with the way we were treated - we arrived at the breakfast club at 8:30 and was told it would be about 40mins to "see the mayor". 90mins and £82 pound later we complained and was told we would be next. Another 30mins later we were told we could go down and we were left for 10 mins at the door for someone to take us down. When we finally got down stairs at 10:40ish we found loads of people who arrived after us down there enjoying their cocktails. Was not impressed so we left. The Breakfast Club was good but as we only went in there to see the mayor I am rating 1 star!!
Snap up exclusive discounts in London
Time Out's handpicked deals — hurry, they won't be around for long...