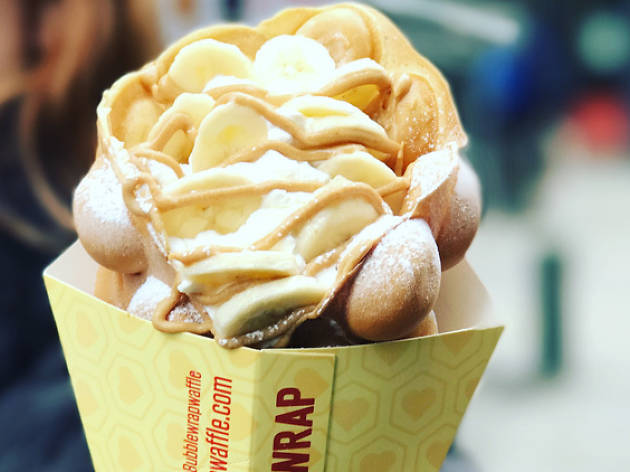 Time Out says
The first permanent venue from this egg waffle trader.
What is it about London and bubbles? First there was tapioca-filled Taiwanese bubble tea and now we're losing our minds over another bubbly Asian super-treat: the egg waffle. For those of you who haven't seen the (hypnotising) viral videos, a bubblewrap – that's the name of the place and its signature treat – is a thick, bulbous egg waffle, curled up into a cone, cooled, then filled with cream, fruit, chocolate and other photogenic delights. Everyone wants a selfie with one of these babies, so the queues are insane. But do they taste as good as they look? Not quite.
You can 'create your own' or pick from a menu of house standards. The best of the lot is the House Matcha. Its bitterness offsets the sweetness of the waffle and the whole thing really works. Do not get the avocado and baked egg option: the egg is cooked until hard, the batter too sweet a backdrop. Everything else was perfectly decent, but not worth the 90-minute wait or the relatively high prices. Plus there's no seating inside, or anywhere nearby, so when you do finally get your hands on your waffle, you have to eat it standing in the street. But for your Insta-feed? Yup, it's gold.
Details
Address:
24 Wardour Street
London
WID 6QJ

Transport:
Tube: Leicester Square
Price:
Bubblewraps: from £5.49.
Contact:
Do you own this business?
Average User Rating
3.3 / 5
Rating Breakdown
5 star:

1

4 star:

3

3 star:

6

2 star:

2

1 star:

0
What is their sorcery? I would love to know. The continuous long queues will surely catch your attention. Even when it's raining, people are standing outside munching away on freshly made spherical bubble type waffles filled with Icecream and various toppings. Originating from Hong Kong, this popular street snack known as Egglettes is the new fad in China Town. The space is very cramped once inside and making these desserts is a little labour intensive but the waiting time is definitely worth it. I had the Fudge Lover (£6.99). The crunchy pecans and chewy fudge bits had me swooning after the first bite. I will certainly be back to try other flavours like their House Matcha , Caramel Banana and Oreo Crunch.
A real gem of a place where a new marketing concept of Ice Cream is being married with a waffle cone. Brilliant, delicious, fresh and innovative!
I'd heard good things about Bubblewrap so made sure to visit after a meal out in Chinatown.Although it was near to closing time, 10pm on a Saturday night, there was still a long queue outside and I got the feeling its like that most days!
Bubblewrap is essentially just waffles and ice cream, but the structure of these waffles allows you to tear off the waffle 'bubbles' which have absorbed the various fillings and toppings. In a nutshell….yes is was tasty and a nice post-dinner treat. Yes, it looked great on Instagram! But for £7? Way overpriced. And I thought I was being quite conservative with my additional toppings (the lady in front of me managed to add enough extras so that her bill was £11 just for one!
I have had eaten tens of bubble waffles (or Gei Dan Jai in Cantonese) and I find their bubble waffles fairly disappointing. First of all, the batter has to be improved. It tastes bland while I expected it to taste eggy. Second, the texture isn't quite right. The waffles are supposed to be cooled for one of two minutes to achieve a crispy texture outside, but they just put all the wet toppings on it soon after it's done, which, destroyed the crunch on its surface. And last but not least, the whipped cream they use is tasteless. Please change for a better one...or whip them from fresh cream, please. It will taste much better.
To me, it's quite overpriced. And I don't bother visiting again.