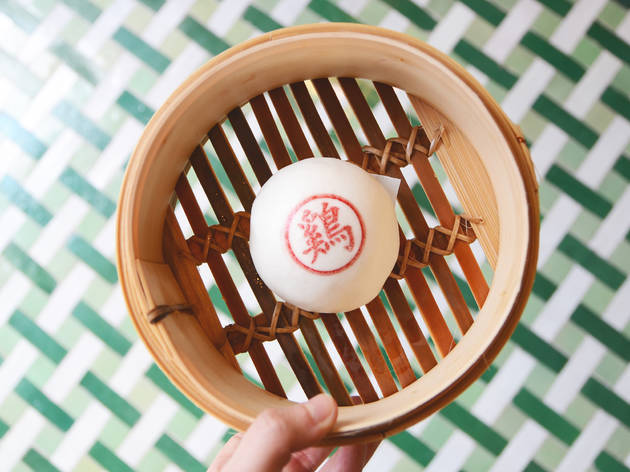 1/4
2/4
3/4
4/4
A stylish spot specialising in Canton-style steamed buns and small plates.
Let's start at the end. Because the best bun at Bun House is one of two dessert buns, which comes filled with dark chocolate and pig blood. Now before you go all eeeww! on me, you don't actually taste the blood. It's really there as a form of natural thickening agent, although it does add an umami-like depth, too. It's sort of like having a warm cup of coagulated cocoa. In a bun. With a 'just-up-to-the-middle-please' coat of crunchy, golden coconut flakes. Which, of course, have been deep-fried. It's the stuff of pudding pilgrimages. Even allowing for the too-faint hit of promised chilli (I mentioned this; they pledged, sweetly and sincerely, to fix it).
But what is this Bun House? Well, it's not a restaurant. Not really. It's an incongruously beautiful room with a busy takeaway counter and a sprinkling of first-come-first-served tables. There are a few alfresco numbers, too, for top dollar people-watching: this being the junction of Old Compton Street and Greek Street. Downstairs, a 'speakeasy-style' tea room is a-brewing.
To the buns. Not more bao, I hear you groan. No, not more bao. These buns are the Cantonese kind. Being steamed to order, they have the same pillowy, yielding texture as their Taiwanese cousins, but crucially come served 'closed'. The downside of this is that the fillings are limited by what you can sensibly put inside, with textures coming in as 'smooth', 'paste' or 'small chunks'. The upside of course is that each bun's contents are a complete surprise – you match the hand-stamped Chinese characters with the board on the wall. It's fun.
One came with syrupy chunks of pork and a gentle heat; another, billed as 'cod and prawn', had a nicely spiced filling – reminiscent of those fish pastes you put in retro sandwiches – and tiny, deliciously chewy shrimp. My favourite, though, was the northern Chinese-style lamb, which tasted – in a good way – like they'd put a chilli and cumin spiced skewer from Silk Road in a blender, then popped it into a bun.
But don't get too blinkered by the buns. Two more star dishes are the 'fries' (which are actually deep-fried duck tongues, complete with crunchy cartilage) and the peanut-studded glass noodle salad, with its gentle Sichuan notes, if that isn't too horrible an oxymoron. Oh, and don't forget a portion of the tangy, crunchy daikon pickles – made with black and red vinegar, plus a dash of fish sauce – while you're at it.
Final note: that other dessert. A disturbingly starchy, oozy, salted duck egg custard bun. Start at the end, end at the end.
More
Less
Bun House says
We speak Chinese. We serve Chinese. Hot buns- fast or slow. Green Tea, Hong Kong Beer, Soya milk! Imported drinks, imported music. Westerners welcome!

A throwback to 1960's Hong Kong serving up gourmet takeaway Cantonese bao, with pickled treats, dai pai dong favourites, a-go-go records, fried duck tongues, glass noodles and ceramic seats, famous squirty runny custard bun with 100% squirty guarantee. Also pigs blood in chocolate! All day every day, come soon!
More
Less
Venue name:
Bun House
Contact:
Address:
23-24 Greek St
London
W1D 4DZ

Transport:
Tube: Leicester Square
Price:
Meal for two with soft drinks (no service): around £30.
Menu:
View Menu
Do you own this business?
Average User Rating
3.5 / 5
Rating Breakdown
5 star:

9

4 star:

7

3 star:

3

2 star:

3

1 star:

4
We had a really bad experience at this place. When our bill arrived there was a a service charge of £6.50 on it, which we paid without grumble, but the waitress told us that the bill was wrong and that the service charge was actually meant to be just over £12.00. This was quite bizarre because we paid exactly what the bill said, but she was insistent that the bill was incorrect, and wouldn't let us leave until we handed over an additional £6.00, which we did despite realising this was some sort of bizarre extortion racket. We had the bill and pointed out to her that it showed £6.50 but she insisted it was a mistake and demanded more money.
It's a first for me to be told that the restaurant's own bill is wrong and that the service charge, which should be optional anyway, was understated. To be forced to hand over an additional service charge before we could leave the restaurant made us feel like we had been conned.
Service was very slow, with nobody coming to take our order for about fifteen minutes, despite the relative paucity of other customers. Cocktails were fine but absolutely not worth the hassle and expense of being held to ransom for a double service charge.
Really pleased we found this place by absolute fluke -- our destination was fully booked with wait list of 2 hours, we just wanted a quick bite and saw buns -- and so happy we did. We don't judge a place by how it looks, and to be honest anyone calling this 'hipster' obviously have not seen any HK films.... Now onto the food. We were expecting usual Chinatown ready made frozen buns with usual charsiu five spice flavour, and completely wowed by the porkiness and cured flavour of their pork bun. After one we decided to try the fish - also very familiar flavour yet new! The top flavour for us is the choc/pork blood custard umami bun -- amazing as it reminded me of home and how my dad used to cook his really popular dish. I guess everyone's tastes are different -- please do try if you have been to HK and Asian countries, you will completely understand what this place is trying to achieve. Cannot wait to bring friends and family here.
Do not believe the Instagram hype - looks better than it tastes and far too expensive for what is essentially yumcha with a limited menu! Don't bother with the side dishes, costs even more than the buns! The buns were good, not great.
Hell to the no. Buns not worth the price - sorry.
Great concept and amazing food. The buns are filled with a variety of exciting flavours, complimented by a great selection of sides and pickles. The lamb bun, duck tongue fries and prickly cucumber were all winners for me. The design is awesome too, a really cool space.
Could not recommend this place enough! If your looking for something quick and tasty this is the place to go. Also a really lovely place to chill in the centre of Soho. The interior is great and feels very top quality. The Bun's are really delicious and value for money with a great range of fillings. I personally recommend the custard buns if you have a sweet tooth, so delicious! You would need about 3 to fill you up therefore £7.50 is a good deal for a meals worth.
This is a great place! I love to custard buns. Highly recommended
I absolutely love this place! I'm originally from Hong Kong, that's why I felt right at home. The steamy bamboo baskets, smell of steaming buns and I especially love the open set up with the big windows wide open overlooking the buzzling soho - good spot for people watching! Last of all, nothing beats their custard buns and did I mention it's made from salted egg? I'm definitely go back for more of that!
Lovely Restaurant!!! It brings my memories about old guangzhou. Lamb bun is great, and the fish bun is something that i haven't ever tried before and it's good~ custard bun seems great, I will try that next time~
I love a good bun, and these definitely put a bit of a twist on the usual bao you'd find elsewhere.
I got 3 bao, one pickle and a side and was fuller than I imagined.
The standout one for me was the fish one, something I'd never tried before but was glad I did!
Yummy and good value.
Couldn't recommend this place enough!! Such a lovely place to relax and eat delicious food in the centre of Soho. The interior is to a high standard and the buns are really delicious. Staff are incredibly friendly and helpful. You need about 3 buns to fill you up, which at £7.50 for a meal is good value for money. I personally recommend the custard bun's if you have a sweet tooth, so tasty!