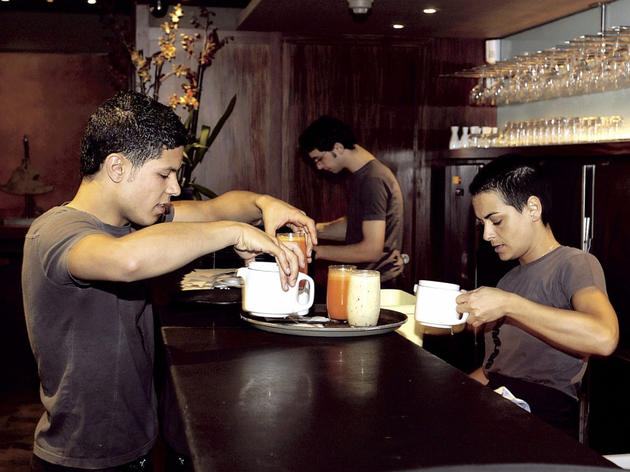 A Bond Street branch of the Thai restaurant.
Venue name:
Busaba Eathai
Contact:
Address:
8-13 Bird Street
London
W1U 1BU

Transport:
Tube: Bond Street tube
Menu:
View Menu
Do you own this business?
You may be interested in:
Rating Breakdown
5 star:

1

4 star:

1

3 star:

1

2 star:

2

1 star:

6
Well...new menu new concept!! luckily calamari are still in the menu otherwise i could not survive without : ) I love the new grilled dishes presented as kind of turkish kebab style...
The restaurant in Oxford Circus looks amazing and very innovative. The atmosphere is friendly and the food taste amazingly. i would come back again...of course to eat my favourite calamari!!!!! :)
Time out listed this restaurant as being a restaurant where you get discounts however the staff refused to accept it. The service was very slow, the food was all cold and it took us about 30 minutes to get a bill. Awful all round from Timeout and the restaurant.
If this were actually Thai food it would be the worst Thai food that I have ever tasted. I have not been to Thailand but have eaten in very many Thai family run restaurants in the San Francisco Bay Area. Someone is playing a little trick on London with this chain
Nice atmosphere for friends to gather. However, I don't think it's authentic thai but more like a fusion food affair. You should also know that you will get Tapas style portions and will end up ordering several small dishes and share, It's a bit ridiculous that the chicken stir fry with cashews and chilli is almost the same price as the plate of broccoli side(£6 +). You don't get rice with the main, you have to buy a side order. The price has gone up significantly in this place since a few years ago, unfortunately quality didn't go up with it. Note: the chicken is always thighs meat never breast, which can be annoying given the prices charged.
Thai people do use chopsticks. I've no idea where you've got the idea that they don't-when I visited, the Thai people I met couldn't get their head around using a knife and fork! You're getting one star just for this blatantly wrong statement!
Well I am a lover of oriental/asian food so im gonna be honest! Hospitality/Presentation: 4.5 stars. Well mannered staff and lovely incense smell upon entering the restaurant so no problem here. Food: Green Thai Curry which I had tried was ok but not great. I mean the sauce was nice but the chicken pieces was somehow not that great, it felt like ripped up pieces just chucked into a lovely Green thai (I cannot be bothered style) sauce so would only give this dish 2 stars out of 5 and portion size lacked as well. It felt like I was having soup! Jungle Curry: Again another dish in which the sauce was nice but the quality of the actual chicken was quite poor, not enough and for £7.90 if you are pretty hungry you would be bit disappointed. Value for Money: As most of these restuarants are based in the city the prices are certainly not cheap but as this one is concerned, do not look to forward to it as there are better Thai restaurant out there otherwise for your 1st time its nothing special! Overall 2 out of 5 stars room for improvement
You have to be kidding me! I have spent a lot of time in Bangkok and I would never ever take a Thai friend to this restaurant chain. I think they would just be embarrassed. The food is lacking in flavor and cannot be called Thai - it contravenes the Trade Descriptions Act. Save your money for a trip to Thailand. The chopsticks are not the only travesty in this restaurant - NOT ALOI
Not cheap, food barely average and small overpriced portions, tables crowded and uncomfortable (there were 6 of us and we had to share our table with strangers), plus we were overcharged, but still there was a queue outside the door for the whole of the two hours we were there. Nowt so queer as folk, hey? We wont be returning.
More venues
Sponsored listings