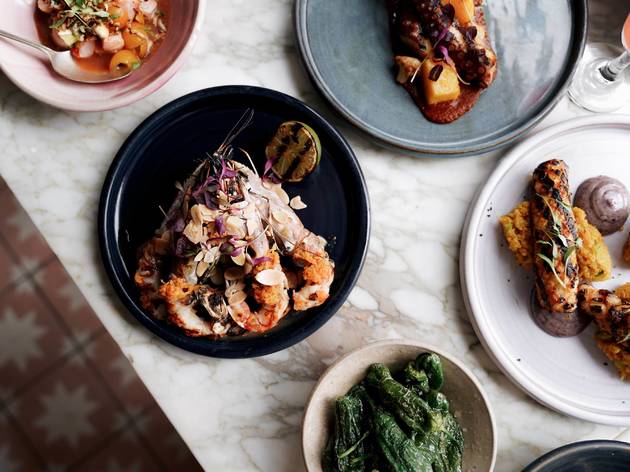 Time Out says
The Chelsea offshoot of Peruvian hotspot Pachamama.
The name of this Chelsea newbie is not (thankfully), a twee riff on the word 'chic'. Chicama is actually just a coastal town in Peru.
Which is fitting, when you consider that this is the newer, more seafoody sibling of Marylebone's Pachamama (a party restaurant, also Peruvian, popular with young moneyed sorts). The people here are no less beautiful, just a shade more mature. This is the southern, 'resi' enclave of SW10, after all.
So the fiesta has been toned down, but, hey, this is still a lively place where you can have a good time. Deep Latin beats ripple through the L-shaped room – a space once home to neighbourhood trattoria Osteria dell'Arancio – while the large open kitchen adds to the hubbub. Flirty young staff, as impeccably groomed as the diners, squeeze between swish marble tables dishing out plates that are modish, mini and – on the whole – marvellous.
From the selection of small plates (the most exciting part of the menu) came a knockout seabass ceviche, its citrus-cured flesh layered not just with fragrant heritage tomatoes, but with toasted sweetcorn kernels and pickled red onion. There's a wide selection of chargrilled fish, like delicate fillet of sea bream. These all come with intriguing sauces (smoked ají panca and horseradish, say), but absolutely no carbs: just the thing if you've got a size six dress to squeeze into. But for sheer brilliance and creativity, the prize has to go to a simple 'snack' plate, of 'tapioca marshmallows'. Imagine a chewy, gluey piece of cooked-down tapioca, with the size, shape and springiness of a marshmallow, but also with a delicious cheesiness (it's parmesan), crispy edges (they deep-fry the cubes before serving) and a mellow chilli sauce (made with the mild, fruity-with-a-hit amarillo peppers), for dipping. Order at least one portion per person, before anyone gets any ideas about, um, 'sharing'.
So, a pretty perfect run. Before the desserts turned up. Although just as ambitious and creative as the savouries, these were much better on paper than on the spoon. I love that a guava sorbet came scattered with black salt (thus lifting the flavour of this subtle fruit), but both this and its platemate – a grilled flat white peach – were overwhelmed by the sugar in an accompanying brown sludge (which turned out to be more peach, cooked and puréed). As for pairing delicate yuzu ice cream with undercooked meringue and raw banana? No. Just no.
Still, don't let that put you off. Chicama is a stylish, fun place that'll do very nicely in spite of the not-so-grand-finale. Because, let's face it, no self-respecting Chelseaite ever actually eats pudding.
Chicama says
Chicama serves British seafood, inspired by the coasts of Peru. Our focus on seasonal ingredients will delight with fresh, bold flavours. The bar and terrace offer a beautiful space for guests wanting to join us for a concise, specially-crafted spirit and sake list along with innovative cocktails.
Details
Address:
383 King's Road
London
SW10 0LP

Transport:
Tube: South Kensington
Price:
Dinner for two with drinks and service: around £100
Contact:
Opening hours:
Mon-Fri 6pm-11pm; Sat midday-4pm, 6pm-11pm; Sun midday-4pm, 6pm-10pm
Do you own this business?
Rating Breakdown
5 star:

0

4 star:

3

3 star:

0

2 star:

0

1 star:

0
Inspired by the coastal Peruvian town of the same name,Chicama– little sister to Panchamama, is already creating waves with its strikingly beautiful looking food. I can happily report that it's delicious too! The menu is Peruvian inspired with little Japanese twists. Fish and seafood dishes (no meat) feature heavily on the menu though there were some gorgeous vegetarian dishes on offer as well.
The interiors are spacious and contemporary (designed by Micaela Philipo), accessories inspired by coastal themes , crockery in soft aqua-pastels, marble table tops and rose gold upholstery.
We were visiting during Chicama's soft launch, and apart from a few hiccups with their till (that resulted in slightly spooked staff running amok), the evening was generally pretty flawless.
Food was stunning! First up was the Tuna Poke that came with Aji Panca (Peruvian red pepper), Tiger's Milk (Citrus based Peruvian sauce), Smoked Egg and Crispy Potato. The poke was refreshingly sharp and the acidity of the dish balanced out well with the creaminess of the runny egg yolks. The crispy, fried potato noodles added the all important texture and bite.
The sea bass ceviche was a lively dish, accompanied by coconut yuzu, cucumber, samphire and thin radish slices. The fish was absolutely fresh, and the sour notes matched well with the creamy coconut. The vibrant colours on the dish instantly transported me to a tropical paradise!

For starters, I chose the Confit Sea Bass Rolls with Brown Crab Mayo. Words fail to describe the brilliant execution of this dish. Everything ingredient on the plate was fresh and beautifully stylised. As you take your first bite, the crispy thin potato nest explodes onto the fragrant fish, while the sauce envelops it all into one tasty morsel.
My partner chose the Mushroom Gyoza with fermented Yuca Ponzu (a kind of a cassava sauce) for his starter. The sauce was sweet and sticky, perfectly complimenting the deep, woody, earthy notes of the mushroom filling – definitely a winning dish!
Next to arrive were the mains. I had the Blackened Octopus with Confit Potato, Smoked Cheese and Cauliflower.

Octopus can be dangerously rubbery if overcooked, but this was cooked to perfection and the sauce, oh my god! The smoky flavours coming from the cheese and charred cauliflower elevated the dish to a whole new level. The other main was the Monkfish Tail. Monkfish is quite a meaty fish, and is not the prettiest of fishes to look at. But this one came pint-sized and sat cutely on a plate, dressed in a luxurious lobster oil chimichurri. Again, a class act!

A side of the milk-fed Aubergine with Plantain Miso and Pecan completed our gastronomic journey. It was one of the best aubergine dishes I have had in a while!

Finally the dessert – Banana and Yuzu Ice Cream served with Torched Meringue and Coconut! I would have preferred my meringue slightly more baked, as I am a fan of texture and it was all too soft and squidgy for me (the little coconut bites were not enough). Nevertheless it was a delicious finale to a glorious meal and my partner was practically licking his plate (and mine too).

All the dishes we tried that evening at Chicama were stunning in terms of taste and beautifully presented! The service was prompt (at times, too prompt) but overall it was a successful effort by the team so hats off to them!
The dishes in Chicama are refined and inspired, and it won our hearts. We know for sure it will soon become every London foodie's destination and we wish them all the best!