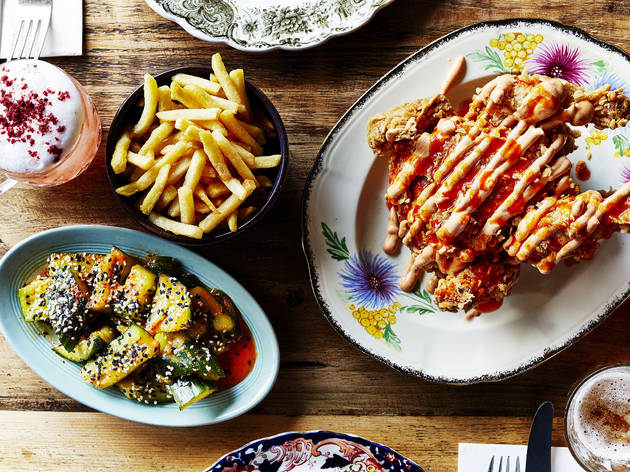 1/6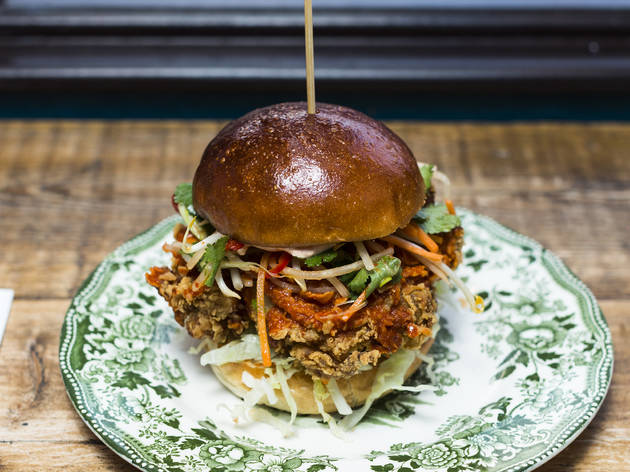 2/6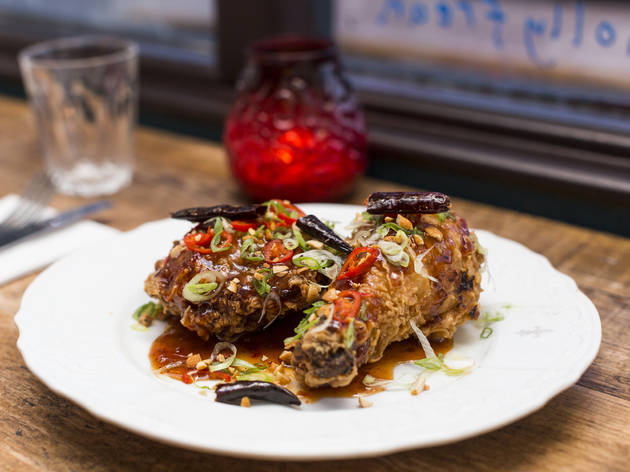 3/6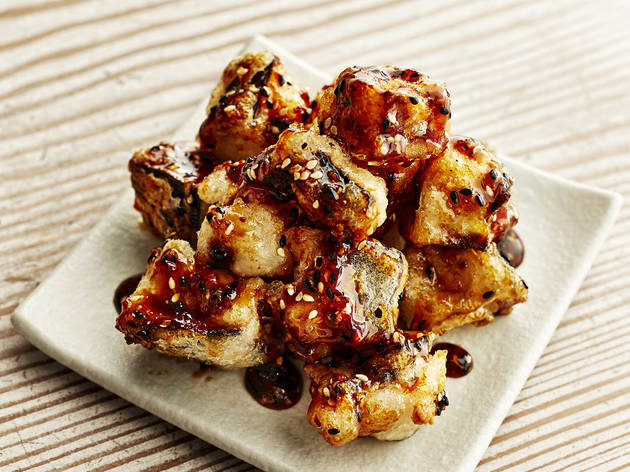 4/6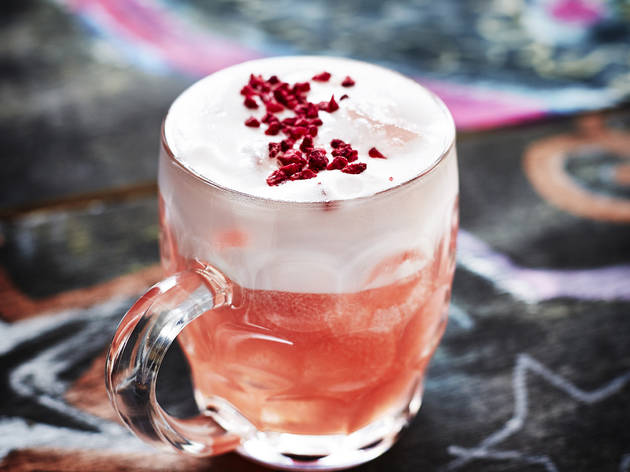 5/6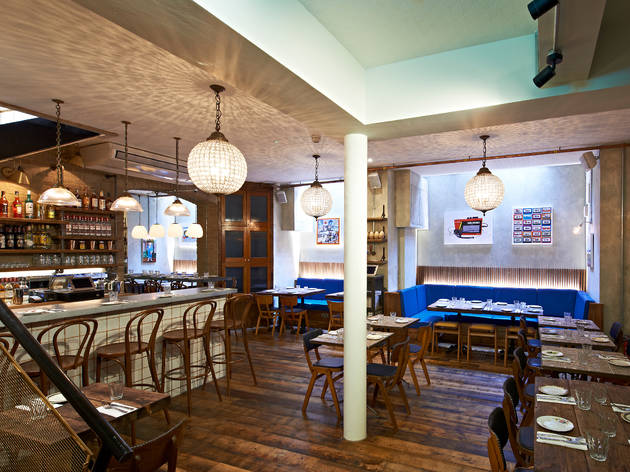 6/6
Time Out says
A fried chicken joint with a Korean twist.
If there's a god of fried chicken, Chick 'n' Sours is His greatest gift. Born into a city awash with chicken shops in 2015, the first, Dalston-based branch of this restaurant ruffled all the right feathers with their cocktails and game-changing KFC (that's Korean Fried Chicken, but you knew that). Now, just over a year and a half later and we've been blessed with the Second Coming: a new branch of Chick 'n' Sours has landed near Covent Garden. And trust me, this one's every bit as barnstorming as the first.
Set in a basement off Seven Dials, the vibe is somewhere between house party and Prohibition speakeasy. It works. There's a liquor bar in the middle, a playlist of absolute bangers (when has jamming to The Human League at lunchtime ever felt this right?), and the chicken comes served on granny's best china plates. By the time I'd tasted my first sour – fruity, sharp and packing a powerful tequila punch – I was pretty much ready to go out. That was until the speciality K-Pop burger arrived, at which point I realised that no amount of Friday Feeling was tempting me away from this table.
Impossibly juicy and over four inches tall, the K-Pop is a burger worth getting your hands dirty for. That batter, for starters. Chef and owner Carl Clarke double-fries his birds in rapeseed oil like the Koreans do, to achieve a properly luxurious crunch without any of the oiliness of a late-night Chicken Cottage binge. What really made this bird sing, though, was its acidity: the bun is dressed with gochujang (an umami-tastic red chilli paste) mayo on the one side, fiery sriracha on the other, and cut through with kimchi, chilli vinegar and sour Asian slaw. The sweet-sticky disco wings that followed were almost as good: that balance – between meaty fry and zingy sauce – is tricky to get right, but they've absolutely nailed it.
It's this mastery of creativity without compromise that makes Chick 'n' Sours so special. Every dish comes fresh with a little surprise – from the peanut in the pickled watermelon salad to the chives in the sriracha sour cream (take note of this dip, people: it's basically condiment crack) – but somehow, nothing ever feels OTT. Chick 'n' Sours's tagline is #nextlevel – the kind of bunkum that would usually make me run a mile – but it actually is. Let us all give thanks to the chicken god.
Details
Address:
1 Earlham St
London
WC2H 9LL

Transport:
Tube: Leicester Square
Price:
Dinner for two with drinks and service: around £50.
Contact:
Opening hours:
Mon-Wed midday-3pm, 5.30pm-10pm; Thu-Fri midday-3pm, 5.30pm-10.30pm; Sat midday-10.30pm; Sun midday-8.30pm
Do you own this business?
Average User Rating
4.3 / 5
Rating Breakdown
5 star:

17

4 star:

7

3 star:

4

2 star:

1

1 star:

1
Best fried chicken in London!
Pre-booked for a quick lunchtime bite. Demolished (Somehow) the Colonel Burger, felt like falling asleep in the afternoon (Mental note: Don't be eating food so good and wholesome at lunchtime). Beef Dripping chips were a cut above the standard to boot as well. Colleague had the Chicken Tenders with a hot sauce which had his nose running (But he is a bit of a lightweight where chillies are concerned, HA!)
Happy days, well worth a visit. Despite being busy the service was fast and friendly.
Would defo recommend to anyone curious or passing by.
If you say 'Chick 'n' Sours is a fried chicken restaurant', you might as well be announcing 'London is quite a big town' - you've just got it wrong! Chick 'n' Sours is so much more - a crazy Asian-inspired, with American (the Colonel burger) and British (dripping chips) thrown in for very good measure. Everything we ordered was unexpected, but brilliant. The Nachos were proper tangy, sticky and unlike and I have tried before, in the very best of ways; my cocktail had vinegar in it, but it was the ideal accompaniment to the hot, sticky, chicken wings; the K-pop burger, with Asian coleslaw was a revelation and will be again this lunchtime (I couldn't bear to leave leftovers). On-top of this the portions were huge, the prices reasonable and the atmosphere cheerful. Winner winner chicken dinner.
Wow!!! The aubergine starter is a must! Great food, atmosphere and staff, a huge thank you to Wade and Can behind the bar for looking after us so well, the whole experience an absolute pleasure. xx
Ace birds. Watermelon ace, too. Sours also ace. All ace.
Amazing chicken, but the Asian flavours smattered through the menu are what really makes it stand out. These give everything the kick that helps it rise above your everyday chicken place. Sides in particular stood out, with aubergine and cucumber my personal favourites. Cocktails are great too, and all at the sort of price that makes it easy to order far too much. Very likely to become a regular.
OM-C!!!! WOW, a truly stunning chicken burger with beef dripping chips from heaven, all other chicken restaurants pale into insignificance, all hail the new king of chicken, I expected to hate it and ended up loving it, must be
sampled to be understood.
When it comes to fried chicken, this is a winner. Quite possibly the biggest, crispy chicken burger you will ever have that actually tastes fantastic. Knife and fork job as too much to pick up. Great sauce in the bun and some interesting pickled veg. Dipped in the hot sauce. Amazing. Fries were excellent as well. Very busy at lunchtimes so plan ahead on this one, don't see it getting quiet any time soon when serving food that good.

Crispy chicken doesn't get crispier than this. As the name suggests, you should like eating chicken if you're going in. Start with the wings and then try the K-Pop burger with the Asian slaw. Not a personal fan of their dripping fries but the pickled watermelon and the green slaw cut through all the chicken-y goodness and tasted ace.
All very nice in theory but we got here on a Friday night before 8pm and they'd run out of buns! Staff was hugely unsympathetic about the fact that the Korean bun was our dish of destiny and we left after just a starter!