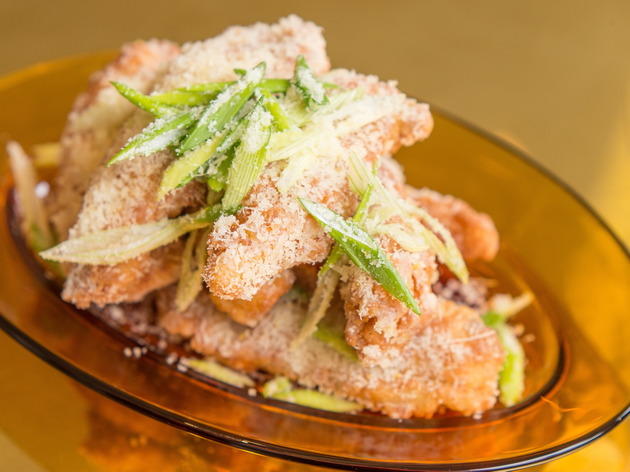 1/8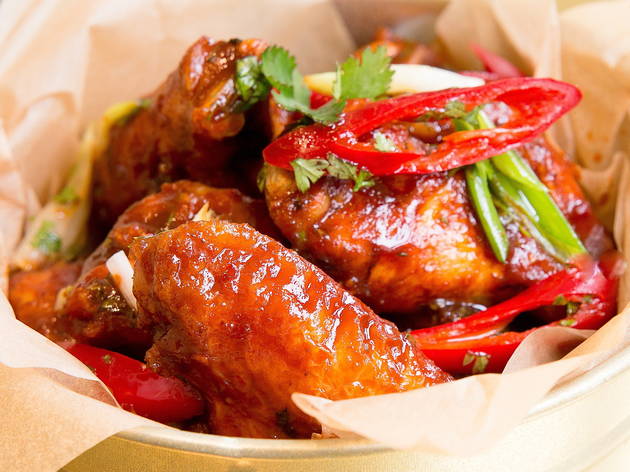 2/8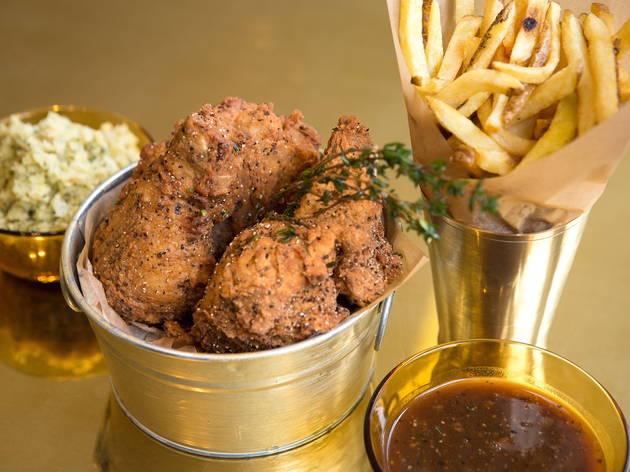 3/8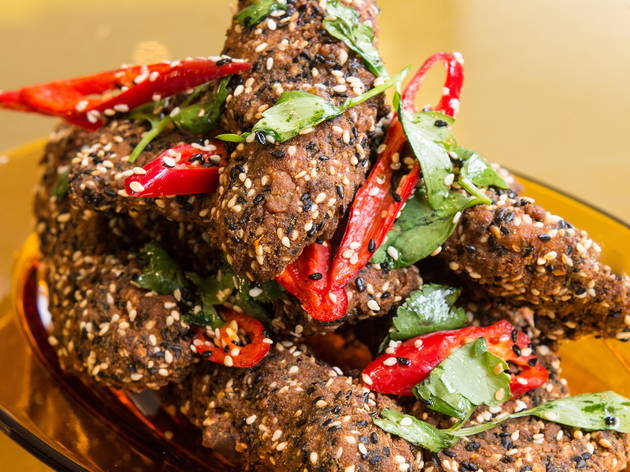 4/8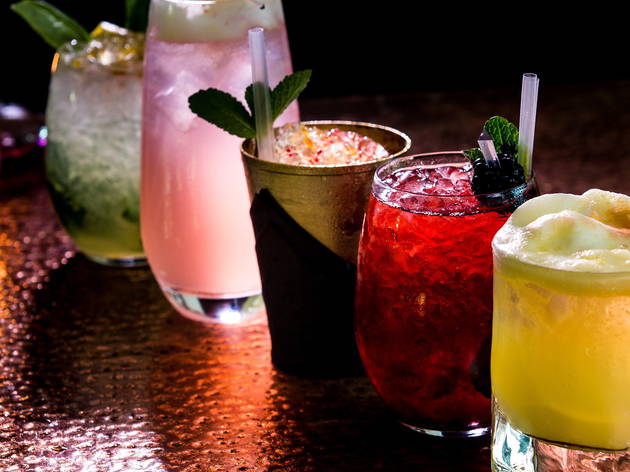 5/8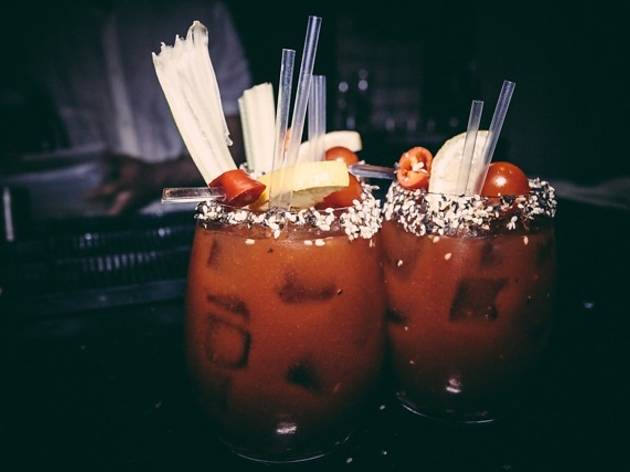 6/8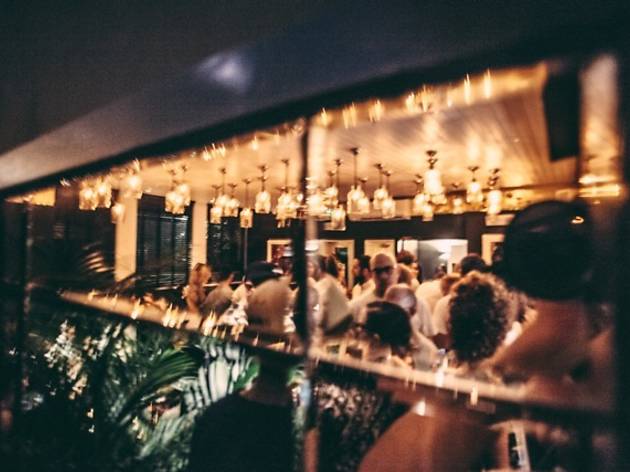 7/8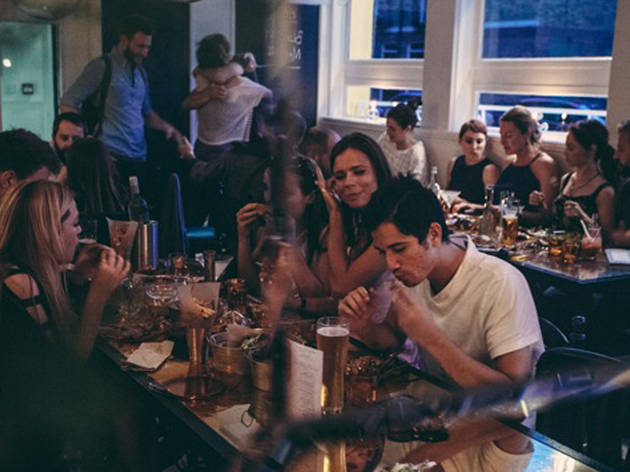 8/8
Haggerston hipsters head to this on-trend fried chicken joint for their fill of free-range fowl.
Collective nouns are great, aren't they? A mischief of mice, a murder of crows and, my personal favourite, a spaghetti of worms. A clutch can refer to many things, but it's often a group of female chickens (not to be confused with a hen party). And it's a fitting name for this hip East End newbie, given that – to paraphrase Henry Ford – you can have any dish, as long as it's chicken.
Not that this is any ordinary fowl, oh no: every piece comes slathered in one of six full-on marinades. Our 'half bucket' (thigh, drumstick and breast) arrived in a sticky slick of garlic and sweet soy; a dozen wings came in a sour and spicy sauce suspiciously similar to sriracha (a Thai chilli sauce found in Asian supermarkets). And because Clutch uses free-range poultry, each limb is firm and succulent (no bingo wings here). Portions are enormous; there are sides, such as double-cooked fries and a few salads, but you won't need 'em.
This is not refined or subtle cooking, it's the kind that goes brilliantly with a beverage or three – there's drinking until 1am at weekends. Tricked out in monochrome, it's a highly stylised space, all diagonal floor stripes, stark walls and ultra-low lighting – even the communal tables are mirrored. If the decor sounds a little austere, don't worry: on our visit, the lively Irish owners (two thirtysomething cousins plus a few siblings) were jigging along to loud, retro tunes. There isn't a collective noun for dancing Dubliners, but there should be.
Venue name:
Clutch
Contact:
Address:
4 Ravenscroft St
London
E2 7QG

Opening hours:
Meals served 6-10pm Tue-Thur; noon-3pm, 6-10.30pm Fri; 10am-8pm Sun
Transport:
Hoxton Overground
Menu:
View Menu
Do you own this business?
You may be interested in:
Average User Rating
4.2 / 5
Rating Breakdown
5 star:

6

4 star:

7

3 star:

1

2 star:

1

1 star:

0
Favourite wings in London. Have been on a date and the service was amazing. Not as good when with a big group, but the music, food & atmosphere made up for it!
Walking around after visiting the flower market on a sunday. Didn't expect to head into this establishment. but it looked so nice and quirky on the outside. and its something i couldn't ignore. With a name like clutch, i was sold.
Greeted at the door by ruby, i knew it was going to be a good experience at this place.
Tried their fried chicken. both the honey&sesame and the sweet and spicy, i always loved my wings to be smothered in the sauces and they certainly didn't disappoint. Cripsy on the outside, and the sauces accompanied the dish politely, it was a great dish and couldnt ask for more.
Ended the meal with their signature french toasted banana bread. Full of flavour and baked on the spot. it was such a perfect ending to a sunday lunch.
I would certainly recommend this place, though a bit out of the way, its a place you can come with your friends and enjoy a great time with good food and excellent service. Do make reservations, as they are usually packed, and they chicken do get sold out. try it today!
Not the cheapest of cheap eats! My local Kennedy's is certainly cheaper but doesn't compare to the incredible fare offered by Clutch. The R&B inspired Cocktails put me in the mood to for some great food and I certainly wasn't disappointed!
Had an amazing evening at Clutch tonight! They get everything right from the vibrant atmosphere to the refined fresh cocktails and the perfectly cooked, flavoursome chicken. It should be top of anyones list from birthday gatherings to afterwork drinks.
They serve drinks the right way with 35ml standard house measure, and a list of cocktails expertly made; the Missy Elliot was a particular favourite.
Don't let the surroundings fool you on approach, The Clutch oozes with class whilst being proud where it comes from.
The food is undoubtably worth the trip alone with a no nonsense menu where the sesame and honey wings, double fried chips and homemade coleslaw will jump out at you and satisfy without fail.
It's a must eat in London!!
M.D.
not a good addition to the area by any means and surprised it's lasted this long the decor is very strange (feels like a bar in notting hill mixed with my grandma's living room in the 70s) and it's very expensive for what it is. I had the sweet and spicy chicken wings and the time out review is correct - it's just the thai sauce from a supermaket and eating them ended up being a bit of a chore. the fried chicken is ok, if a little dry. the Sebright Arms, Marksman or Royal Oak do much better fare in a better atmosphere. won't go again!
Great place for Sunday brunch before / after the flower markets. Good food, service, and easy to get a table!
Delicious! Favourite place to hang out! Clutchtails are to die for.
Ambience, music, food and service. A cool hangout with delicious chicken dishes.
Brilliant service and amazingly tasty chicken. Portions are huge but still managed to lick the plate clean. Nice touches with pomegranate in the coleslaw. The barbecue sauce is one of the tastiest I've had this side of the pond. And the sunday roasts are legendary.
More venues
Sponsored listings