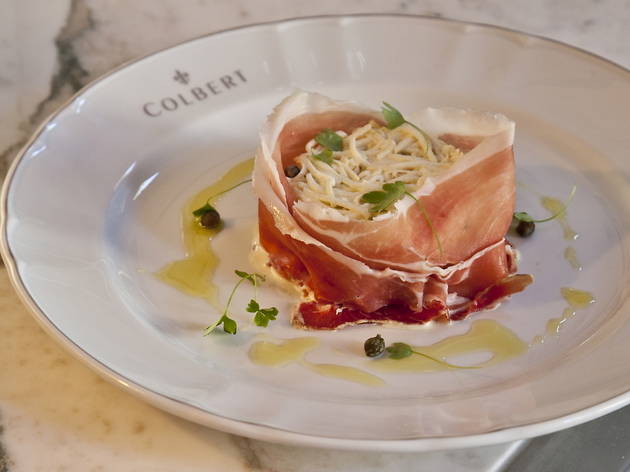 1/2
2/2
This Sloane Square brasserie, the latest offering from the group behind the Wolseley, the Delaunay and Brasserie Zédel, pays homage to grand Continental tradition with marble, linen napkins and mirrors aplenty, plus a classic French and middle European menu. Colbert feels more casual and local than its siblings, and the posters in the booth-lined bar area advertising performances by Olivier and Vivien Leigh next door at the Royal Court Theatre lend a sense of history to the new arrival. It also trumps the others with pavement tables, providing a front-row seat from which to admire the beautiful people of SW3. Mains such as wiener schnitzel are well executed, but you need to order side dishes to compose a rounded meal, and this is where they make their money: £3.50 for a side salad consisting of five leaves of Boston lettuce and a few slices of spring onion is a bit cheeky. Still, for the most part, the food is very tasty: a salty smoked haddock florentine – served on a bed of spinach, under a perfectly poached egg, all in a buttery cream sauce – was deliciously decadent. The menu is strong on breakfast and snack dishes too – croque grand'mère is a perfectly fried brioche filled with melted comté cheese, bayonne ham and béchamel sauce, topped with a fried egg. For our money, Colbert serves the best lunch in the area.
More
Less
Colbert says
Inspired by the great French pavement cafés, Colbert is an informal, neighbourhood rendezvous at the heart of Sloane Square. It opens early for breakfast and continues to serve food and drinks throughout the day until post-theatre.
More
Less
Venue name:
Colbert
Contact:
Address:
51 Sloane Square
London
SW1W 8AX

Opening hours:
Meals served 8am-11pm Mon-Thur; 8am-11.30pm Fri, Sat; 8am-10.30pm Sun
Transport:
Tube: Sloane Square tube
Price:
Main courses £6.95-£30
Menu:
View Menu
Do you own this business?
You may be interested in:
Average User Rating
1.7 / 5
Rating Breakdown
5 star:

0

4 star:

1

3 star:

1

2 star:

3

1 star:

6
Terrible staff, specially those in suits congregating at the entrance doing nothing but purposely preventing you from walking in. Not one smile from anyone, not even eye contact. Service was ridiculously slow and chaotic (at least Oriel's service was somehow fast). When we got a waitress to get our order, she was panting and disheveled, and barely took the time to repeat our order. We never saw her again the whole time we were there and had to jump and clap to get the attention of another staff member. One maitre d rudely ordered us an hour later to move to another table because ours was booked.
As for the food, it was bland and average and definitely not worth what we paid. We left no tip because of the disastrous experience from start to finish. Never setting foot there again.
Took clients to Colbert, starting outside with drinks and later dining in the restaurant. I don't often review but felt compelled to this time due to my having experienced the worst service I can ever recall. We were asked to move 3 times by very rude, different maitre d. The 3rd time I refused point blank. The food experience was only average at best. I appreciate this is Chelsea but both eating and dining is v overpriced. If they charge what they do they have to raise their standards. Our vegetables were overcooked - the new potatoes were grey! That aside, and with only one exception, it was the rude, aloof staff that sticks in the claw. The one staff member that showed empathy suggested she felt sorry for the way we were being treated and commented that she saw it all the time. My party spend there was £267 (almost £30 of which was an automatically applied service charge!) and so I felt entitled to much, much better. They have been sent a letter of complaint.
Although the staff waiting at the entrance to Colbert are somewhat off-putting, if one powers through and gets to the bar (and manages to find a seat), it is a very pleasant place to have a drink and some snacks. The waiters at the bar are always charming (so it's a shame that they are counteracted with such unpleasant door staff). If you are able to withstand the frenzy of trying to find a seat or somewhere to perch, I recommend this place for a few drinks at the bar.

A superb outing and a lovely evening were both ruined by a very ignorant arrogant impolite indecent offensive maitre d' . Had dinner on Friday 13 December 2013, had a booking for 3 at 7:30 pm, 1- I arrived round 7:05 pm, found the table ready, that was nice 2- Second guest arrived on time. 3- Third guest was 40 minutes late. That I do admitt 4- The food arrived late. After about 15 minutes, a maitre came to our table to apologize for the delay, and that food will be served in about 4 minutes. The food arrived another 15 minutes later. 5- Another maitre d' came at 9:30 pm, asking us to leave. He said that there was another booking made for the same table at 9:30 pm, and that the customers were waiting. I told @ so you're asking us to leave?@ He said: "yes". I found that very rude and improper. I paid the bill, asked to speak to the manager. That same maitre d' came again ( I don't think he was the manager), claimed that it was mentioned that the table had to be returned by 9:30 pm, and that by making the booking means that we accept the terms and conditions. I reviewed the booking confirmation and found no mention that we had to return the table by 9:30 pm. (I think he was lying). Eventhough if there was another reservation at 9:30 pm, or even if there weren't and that we had only 2 hours, I believe we should had been aware from the beginning or at least an hour before, but not on the spot, and that we should leave immediately. I find this very rude, very improper, very impolite, and not professional at all.
Looked great, menu inspired, but the service was a major let down. Clumps of staff walking aimlessly, not seeking eye contact or even hand-waves. Three times I had to get up to approach one of these idle staffers in order to remind them of what had been ordered and was now more than a little late in coming. Steak was good but the chips accompanying it would have warranted money back at McDonalds.
Went there for a family dinner last night. The food was good, not exceptional, the veal was twice the size it needed to be. The service was good but the reception from the 'suits' hanging around the enterance was dreadfull. It put me off the whole evening but luckerley the service is optional, so I declined to leave any. I hope the wating staff complain about them letting the team down.
Terrible. One of the most over priced and underwhelming lunches i have experienced in London to date. Went with great expectations and was appallingly let down.
The place is dreadful value dreadful service. Really disappointing
The Colbert, just a re-vamped Oriel's ? The staff are charming, thoughtful, we just came in for tea and cakes - The service was appropriate but the bill took ten minutes to arrive, and i had to get it....The suits cloggin up the entrance corridor made me think of Emperor penguins waiting for the big bonanza.! the trouble is there are too many chiefs, who do nothing, and a dysfunctional staff. No, Oriels was far superior and the service was short, snappy and excellent, true professionals.
Terrible terrible food! I cannot understand what they achieved by closing Oriel. Oriel had terrible food and Colbert has terrible food as well. Had dinner there on Monday, the opening day. Had a steak. Really awful. Will never eat there again!