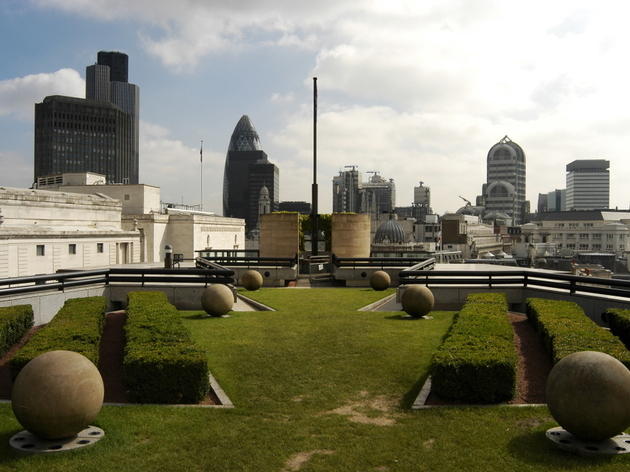 Time Out says
Coq d'Argent is accessed via a private lift, which speedily delivers City suits to a verdant rooftop garden, complete with its own lawn, trailing vines and ringed walkway. In summer, it's a great choice for alfresco dining, and the location offers striking skyline views across London. Indoor attractions include a circular bar, brasserie and corporate-styled restaurant. Expect regional French cooking, occasionally inspired by forays further afield.
A first course of flavoursome beef carpaccio, topped with lightly pickled wild mushrooms and crunchy garden vegetables, benefited from an umami boost of dried pounded black olives. Crisp-skinned sea bass fillet, jauntily perched over softened, sliced fennel and courgettes, and sauced with a rich saffron-tomato velouté, also worked well as a main. Sadly, though, braised chicken cooked with mushrooms and baby onions was not a success.
Pale, flaccid-skinned chicken, dense mash and an unforgivably oily bread croûte delivered nothing of note. Desserts – tiramisu and roast plums – were OK, but no more. Well-meaning service wasn't as on-the-ball as expected, but despite misgivings, it's a buzzy destination of choice for bankers and their clients. And the cooking is decent enough – in parts.
Details
Average User Rating
3.8 / 5
Rating Breakdown
5 star:

5

4 star:

8

3 star:

3

2 star:

1

1 star:

1
I went there once for a drink in the Summer : loveley place, friendly staff, just a bit too posh for me. I was curious to come back for dinner for the French food, but being more used to pubs I did not know what to expect. I went with three friends, it was really easy to book a table on a Friday night, January is a good opportunity for that. Staff was nice and helpful.
I had a mocktail with cucumber, very refreshing. I would not recommend the salmon for starter, it was dry and came with a piece of crunchy toasted bread (the bread and butter on the table were much better), but my friends ordered the cauliflower with poached egg and cream, it is very tasty and the presentation is lovely.
All mains came out with great portions. They have an extensive selection for meat, fish or vegetables lovers. Once again, the presentation was key, but it doesn't take away the taste.
Desserts were also a very generous size (almost too much!), buy we finished everything. The Creme Brulee might have needed a second more under the flame, but the chocolate fondant did not disappoint.
I would recommend this place if you want to treat yourself with friends or family, and don't order bottled water!
In the heart of the city, tucked away just off busy Poultry and the usual high street labels, you should look out for a small quiet plaza. Following a quick scan, you'll spot a lift with a subtle name tag above it providing reassurance that you are on track to Coq D'Argent. You're now an elevator ride away from a rooftop garden with cozy tables for either two or small groups and a buzzing atmosphere. Were it not for the Shard and the Gherkin peeking through the hedge surrounding the roof terrace, you might forget for a moment that you are about to enjoy a drink in one of the world's busiest cities.
Coq d'Argent offers a great selection of gin concoctions with an equally alluring presentation. In the mood for a fresh twist on the classic G&T? Try the Gin Mare with basil leaves, pink grapefruit and Mediterranean Tonic. More in the mood for something sweet? Maybe the Portobello gin with a dry orange slice, cinnamon and Indian tonic will hit the spot.
Worried you'll feel chilly after sitting on the terrace? If the gin selection has not warmed you up by now, fear not, the radiators spread around the garden will help out. Still thinking that al fresco dining is best reserved for the warmer months? You can always relocate to the indoor restaurant.
One of my favourite places to dine and drink, the rooftop is beautiful the staff are great. My last visit I had snails for the first time and I really enjoyed them, the food is perfect I highly recommend to everyone!!!! :)
Fantastic setting, meal, atmosphere and service despite being in the heart of the city this is one place where you can have a very civilised meal in pleasant company.
I had reserved a table for 10 for Sunday lunch one month before the date since it was to be a very special occasion. The whole party arrived at 2 pm and all orders were taken by 2. 30 pm. Unfortunately the experience was not a good one, poor service and food. Be careful going as a large group!
There were 5 main problems with our experience:
1. The food arrived 1.5hours after our orders were taken! At 4pm!
2. Only NINE of us actually received our meals at 4pm...the other one waited an extra 15 minutes, only to be told his order had run out and then was given an overcooked small piece of lamb which seemed to be re-used from beforehand. We then saw this same dish being offered to another lady on a different table, who also refused to accept it.
3. From the nine who received their meals, 7 ordered meat dishes with according to the menu should be served with Yorkshire puddings. 3 of the plates were missing ingredients! Only 4 the plates arrived with Yorkshire puddings! When we asked, we were told that there were no more left so they decided to give the Yorkshire puddings to only half of us and leave the other half of the plates empty with just the meat and some vegetables!
4. The sauce did not arrive with the food, we waited more for this and the meat was not of the expected quality not the full rib eye steak expected, very small pieces.
5. On complaining, the manager response was not very hospitable at all, not understanding and not willing to accept the errors made!
Of course we received some discount off our meal but this does not make up for ruining a special family occasion for which we had higher expectations from such a good reviewed and expensive restaurant. We will not be going there again which is a shame because the location and atmosphere is otherwise very nice.
We wanted something special for our Christmas lunch get together, and affordable. This place was a good choice for that. Really, really lovely, very relaxing and friendly, great buzzy atmosphere. Spacious tables, no banging elbows. The three courses set menu for £29 was very good value - for sublime masterchef food - had a lot of choices, which also included the dish of the day. We all had a different dish, and it was all delicious, all really nicely presented. I had the 63 degree free range British egg, smoked haddock and spinach for the starter, and it was perfection, followed by the almond and cacao nib venison, parsnip puree and amaretto sauce, which was also very tasty. All rounded off with some sublime desserts which included a Christmassy Yule Log. The wines were affordable, we chose the Chenin Blanc at £26 to accompany our meal. They even had gluten free bread when requested. Service was friendly, welcoming and unobtrusive, We had a table near the window, so saw some beautiful views. Would definitely recommend and need to go back when the weather is warmer to dine alfresco on the rooftop terrace. Great place for a special occasion.
This is a great place to hire for company parties or large private functions like weddings. My steel drum band covered a couple of events here and the acoustics are fantastic, the views are stunning, the service is fluent; it ticks most boxes.
I booked this restaurant for a romantic meal with my partner knowing nothing about it. I had seen an offer on toptable for a spring/summer set price menu. When we arrived we were worried there would be too many City types there, there were a few but we were pleasantly surprised as it was very busy with a mixed crowd (possibly because of the offer). The staff were really attentive and the sommelier was very helpful (even when there was a mix-up over the wine we ordered). The spring set menu we had was lovely, although the portions were small, and so was our wine. The wine was very pricey but this is to be expected from this type of restaurant. There was a great terrace which we weren't able to use as the weather was bad but this would offer great views in the summer I'd imagine. All in all we had a great evening so I would recommend it!
Coq d'argent, good for a drink on the terace when the weather is nice, but I wouldn't recommend the restaurant to anyone! My friends ordered foie gras for starters and steak for main, foie gras was nice, but the steak was very dry and cold, the chips were undercooked. I had tuna for starter and coq au vin for main, tasteless, very disappointing! Value for money is an absolute rip off! PS: Really avoid to go if you have any food allergy or are a vegetarian!