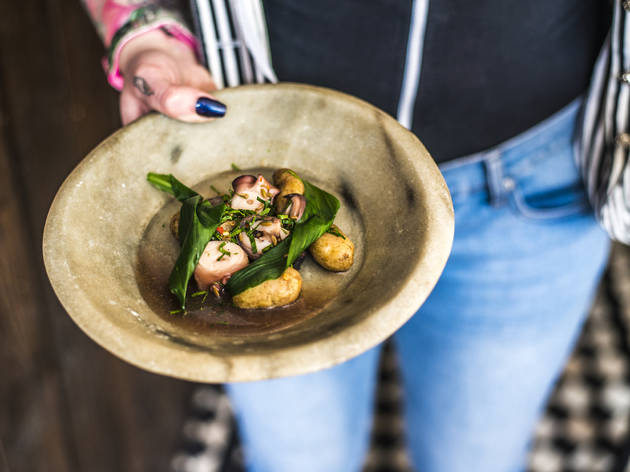 1/10
© Jamie Lau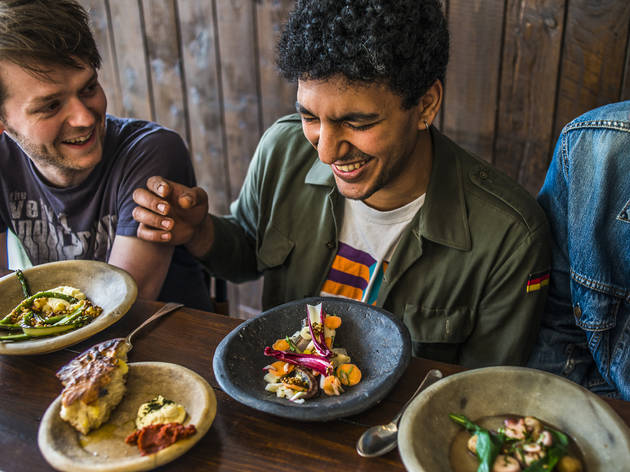 2/10
© Jamie Lau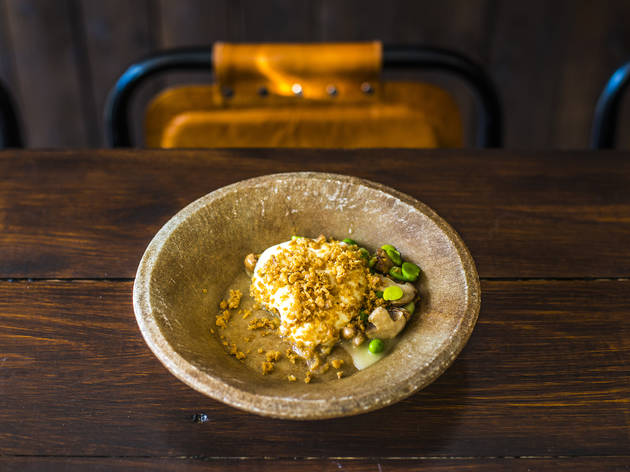 3/10
© Jamie Lau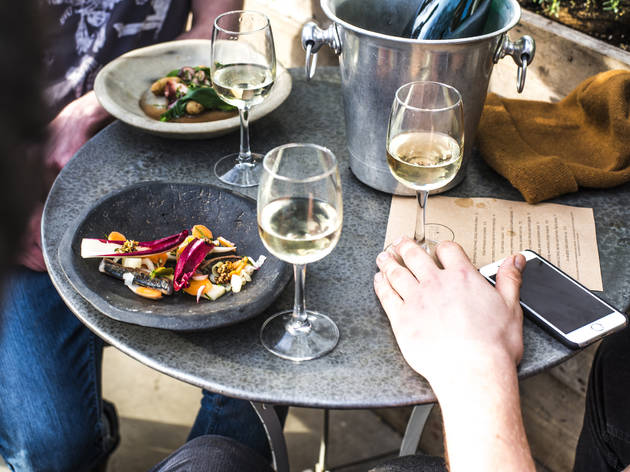 4/10
© Jamie Lau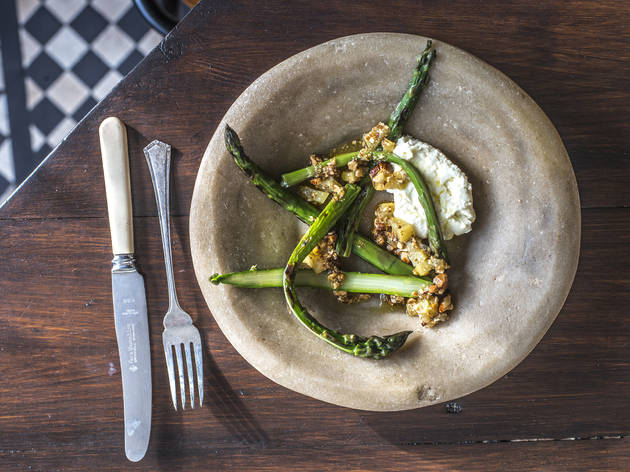 5/10
© Jamie Lau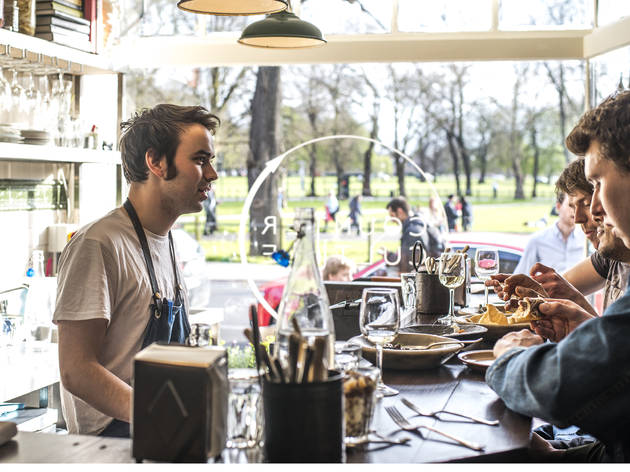 6/10
© Jamie Lau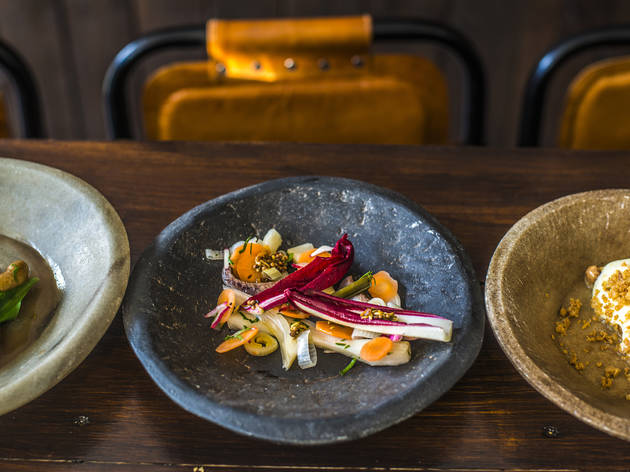 7/10
© Jamie Lau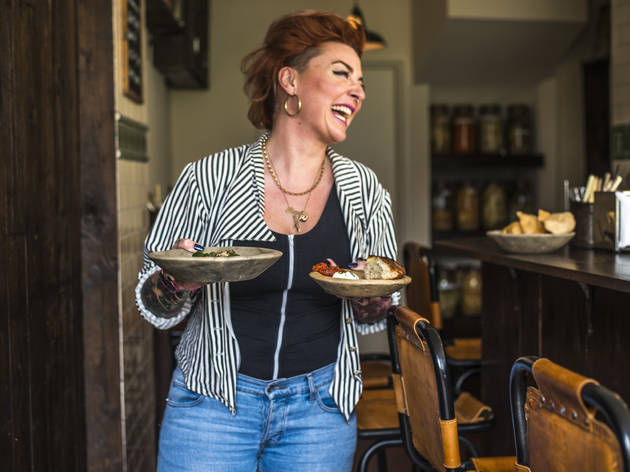 8/10
© Jamie Lau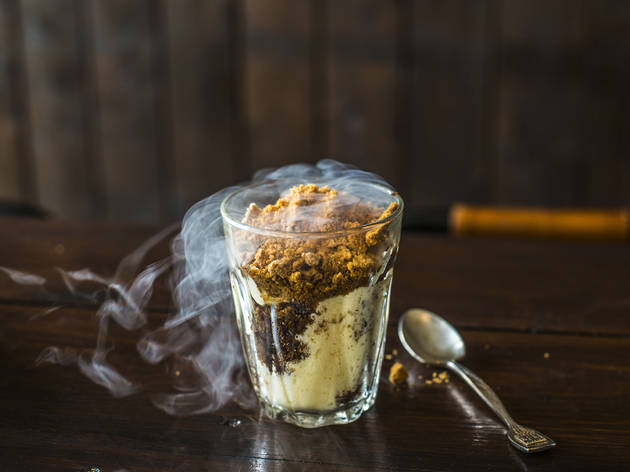 9/10
© Jamie Lau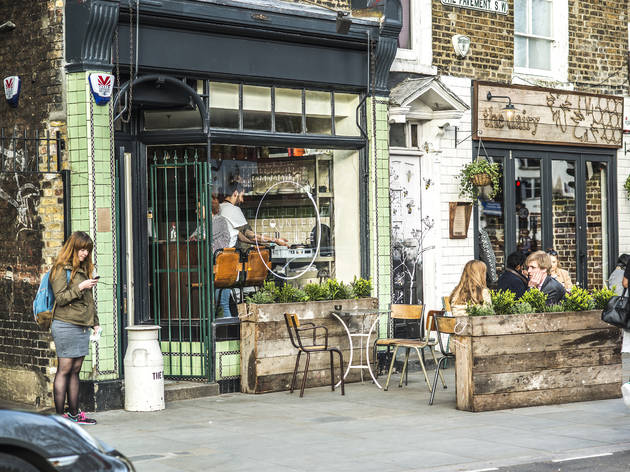 10/10
© Jamie Lau
Time Out says
A counter restaurant spin-off to The Dairy, right next door.
Every so often a restaurant comes along that has me reaching for a sixth star. Counter Culture is brilliant in the way that 'The Simpsons' is brilliant. I'll explain. Taken at face value, 'The Simpsons' is just a cartoon about a lovable bunch of small-town stereotypes in various shades of banana. But dig deeper and you'll find the care and thought that go into it, with classic literature, political history and cult cinema wryly woven into the action. That's the charm of this seemingly casual counter restaurant from the crew behind The Dairy (next door), The Manor (up the road) and Paradise Garage (in Bethnal Green). You could easily rock up, order a few of the small plates and think: Hey, this is all pretty nom-nom, isn't it? Which is fine. But for anyone who's 'into food' (which is the only way for me to say 'foodie' without wanting to stab myself in the eye), this is a great place for a game of Guess How Much Work Went Into This.
Example: a dish of potato bread and nduja (salami paste), with a cultured cream dip. Smeared on the edge of the plate, the moreish, intensely flavoured sausage meat had both sweetness and heat. To make it, they buy slabs of pork belly, strip the skin, salt-cure it, mince it, add a paprika marinade, put it into sausage skin (purely so it can be hung and smoked), let the flavour develop in the fridge for three days (using a meat culture), hang it, smoke it, split it open, bring it up to room temperature, hand-whip it then serve it. Phew. All for a bit of spreadable sausage. I'm not even going to get started on the cultured cream, or the bread – apart from to say that it's studded with pieces of potato and the sour note comes from the addition of kefir, a fermented milk. The damage? A mere £4.
There were terrific home-made crab crackers (like posh prawn crackers, £4) with tangy pickled seaweed and a silky brown crab dip; smoked octopus (£8) came with wild garlic, pickled calcot onions and the fragrant crunch of coriander seeds. The accompanying 'potato emulsion' was made with the octopus juice and oil from the earlier nduja. Of course it was.
If this makes Counter Culture sound pretentious, it's really not. Staff are all tats and charisma; coats hang on a rack by the door; the music is old-school (Snoop Dogg, Gorillaz), the room buzzy. There's no booze (BYO corkage is £4) and to go to the loo, you have to walk outside and into The Dairy. These are the sort of minor inconveniences that Michelin would frown upon. Fuck Michelin.
In fact, the only issue is that there are just 15 seats (although you can now book, via email, plus there are alfresco tables for sunny days). So plan ahead and try to sit at the main counter, where you can order direct from the chefs and lean in to ask the question, 'How do you make this?' Then buckle up for the answer.
Details
Address:
15 The Pavement
London
SW4 0HY

Transport:
Tube: Clapham Common
Contact:
Opening hours:
Tue-Fri 6pm-11pm; Sat 3pm-11pm
Do you own this business?
Average User Rating
4.8 / 5
Rating Breakdown
5 star:

8

4 star:

2

3 star:

0

2 star:

0

1 star:

0
Astonishingly good, but best for two people rather than four if sitting along the bar - talking to a large group will be tricky. For innovative small plates in a cosy environment, couldn't be better though!
A "must book" tiny hole in the wall place with no proper tables but counters only, that has exemplary service (with much hillarity and humour, with Hariette the Dubliner a particular treat), and fabulous, innovative clever food that is a joy to taste and share. All plates were good, some absolute stand outs, such as squash with crab, but all equally enjoyable. I am delightfully deliriously happy that this place is such easy commute to area I frequent. I went recently again and sat outside with a friend visiting from the US as the sun was setting, perfection. Heartily recommended!
The whole experience is very unique. The kitchen could easily be mistaken for the bar/entrance counter and consists of two hotplate stoves, (on one of which was sat a steamer) and a water bath. The simple setup could easily lead to underestimating the quality of what is about to come. I feel however it also talks to the mantra of Counter Culture: To do so much with so little - the space, tools, menu, and ingredients, yet produce plates of such depth of flavour and fine balance is a testament to the care and effort that clearly has gone into this little restaurant.
The small plate approach is fantastic as you can go through the entire menu between two (we also ordered seconds for two plates as they were so good). The particular highlights from our visit was the Cappelletti with pumkin puree and whey cream. It. Was. Fantastic. Quite possibly the best pasta dish i have ever had. The Ox Cheek and the Venison were also both so delicate and tender i could have eaten them all day. The most surprising dish was in fact the desert - a citrus custard with liquorice jelly and almond tuile. I am not usually a desert person but this one blew us both away. The jelly came frozen and added a very delicate flavour to balance out the citrus and the salt of the tuile.
This is the first time i have left a review for any restaurant for one simple reason; it deserves it. Not least because of the food but also the atmosphere and the music was on point and to top it all off it's BYOB with £4 corkage!
Go. Go on a date. Go on your own. Go with a friend. Go with a whole bunch of friends. It only fits 15 but of you could get a group to book the whole place out it would be a riot. In-fact I'm going to try and organise that right now.
This restaurant is an example of the greatness that can be achieved when you give young, passionate chefs the freedom to do their own thing. This is the best restaurant in London in my opinioname.
Very small restaurant, tasty tapas size plates - I recommend doing the full tasting - plus desert. Love the BYO £4.00! Not a huge amount of atmosphere but props to the Gorillaz album playing. Great for a date night!

I visited Counter Culture off the back of the amazing review from Time Out and it was incredible. Delicious Food, fantastic staff, BYOB and just an amazing experience all round. Couldn't recommend them highly enough.The bill came to about £80 for two people including service which is very reasonable considering the quality of the food, and sitting at the chefs counter chatting with them and watching them work was an added bonus. Best Restaurant in Clapham Common by a mile.
Visited this recently and I have to say it is A1 - in terms of food quality and experience. This place is hard to beat. Only problem is seating space. There are 15 places available including outside sitting space which will reduce in Winter, but it has gained in popularity in Clapham and the Basque pintxo dishes are to die for!