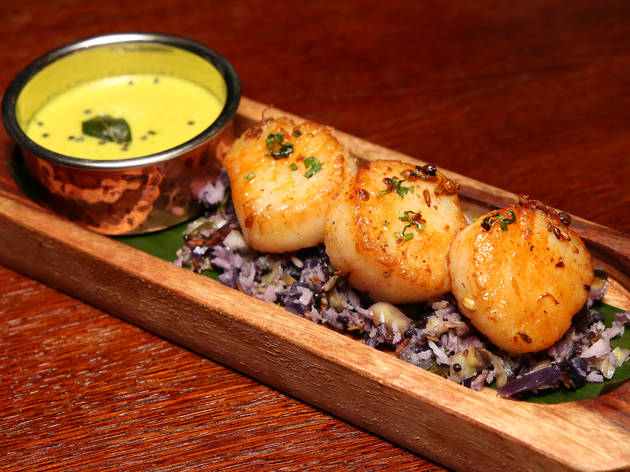 Time Out says
An Indian restaurant from a former head chef at the Cinnamon Club.
It sounds like somewhere you'd go if you were already very drunk. 'Lesshhh go to… da… baar…. ' And, actually, the front bar of this City Indian isn't a bad little spot: on our visit, the drinks – mixed by the charming GM, a one-time bartender who happened to be helping out – were excellent. The plush stools were comfy. If it had been a tad busier, it would have been quite fun.
The restaurant, however, is more of a mixed bag. The high-ceilinged, minimalist space – all dark tiles and sleek wood – is entirely devoid of character. It's the dining room equivalent of someone who's had too much botox. Yet staff could not have been more attentive, with owner and exec chef Abdul Yasseen (previously head chef at Cinnamon Kitchen) taking time out to chat to his few diners and generally press the flesh. We wish he'd spent more time in the kitchen, though: the cooking might have been a bit more consistent.
Our main courses were glorious: moist on-the-bone baked rabbit, with fiery corn-kernel sauce, and an exceptional goat biryani, prepared in the hyderabadi style (slow-cooked in layers in a clay pot) combining tender meat, fluffy rice and just the right level of heat. Yet starters and puds under-delivered on their lofty descriptions. Our 'nanza' (an Indian pizza) promised a topping of 'paneer bhurji' (spiced, crumbled paneer), 'smoked chilli' and 'oven dried tomato', but turned out to be a pedestrian paneer flatbread dominated by slices of semi-raw red onion. A chocolate 'brick' in a dessert was just a cake, and a too-dry one at that; 'marinated winter berries' in another a mix of plain berries. At these prices (£6.90, £7 and £6.50 respectively), you'd expect better.
But stick to big plates and bring your own fun (ie a group of friends) and you can eat well here, even – if you opt for the under-£15 daily lunchtime special – without breaking the bank. A final note: before you settle the bill, be sure to spend a penny. The loo seats are pre-heated and come with more buttons than one of Napoleon's jackets. They connect to the bar, too, so if you do end up coming here for a drink when you're already very drunk, you can still treat yourself to some high-tech bottom-warming.
Darbaar Restaurant says
There's a huge open kitchen which features tandoor clay ovens and a robata grill which is key for many of the dishes. The menu features healthy grills, street tapas, spit roasts and biryani. There are also signature sharing dishes such as Nawabi slow-roasted leg of lamb and Keralan shrimp cocktail.
Details
Address:
1 Snowden St
Broadgate West
London
EC2A 2DQ

Transport:
Tube: Liverpool St or Old St
Opening hours:
Monday to Friday Lunch - 12pm to 2:45pm Monday to Saturday Dinner - 6pm to 10:45pm Bar - 3pm to 6pm
Do you own this business?