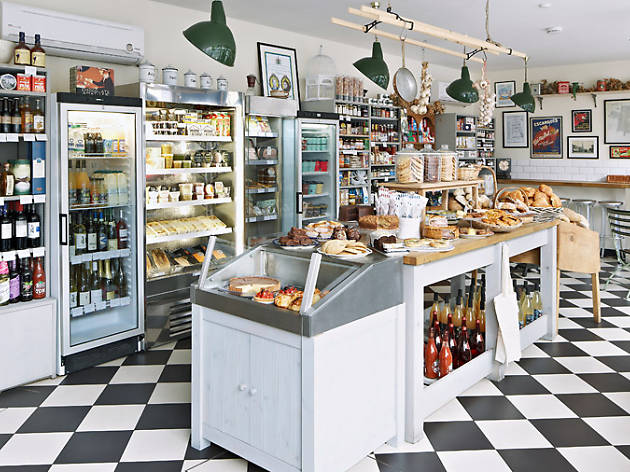 A deli and coffeeshop in north London.
More
Less
De Beauvoir Deli says
A one-stop-fine-food-shop in the heart of the community. Famous for our scotch eggs, sausage rolls and own-brand products. We also continue to work with the best suppliers in order to offer the finest in-season produce and support local, independent producers wherever we can. Come and say 'hi!'
More
Less
Venue name:
De Beauvoir Deli
Contact:
Address:
98 Southgate Road
London
N1 3JD

Opening hours:
8am-8pm Mon-Sat; 9am-4pm Sun
Transport:
Tube: Essex Road rail or 21, 76, 141 bus
Price:
Coffee and snack for two: around £12
Menu:
View Menu
Do you own this business?
You may be interested in:
Average User Rating
3.8 / 5
Rating Breakdown
5 star:

5

4 star:

5

3 star:

0

2 star:

2

1 star:

1
It is brilliant to have this place open up round the corner. Sure, it is more expensive than Tesco, but it feels worth the extra cash to support a shop instead of a monolith. Plus the pastries, pork pies, sandwiches, ice cream, cakes and cheese are in a different league. And the doughnuts are half price after 6pm.
I feel lucky to have the de Beauvoir Deli close to where I live. Their bakery, in particularly, is excellent. They make pastels de nata with almond filling, which are simply sensational. And at Christmas time they have the best mince pies you'll find anywhere in London.
Excellent! A local hub with delicious food and great service!
Have to agree with the bad reviews here re the service I'm afraid. Staff always very unfriendly and the food is average. I went to a Christmas fair at the local church where they had a stand with mulled wine, and when I asked if they had soft drinks too I was told no as though it was a really stupid question (I'm pregnant). I appreciate they were probably providing the wine free but presumably it was to advertise the deli - but they just reinforced the bad impression I had already. It's also incredibly expensive e.g. £1.20 for a croissant. The corner shop opposite sells fresh bread which is just as nice and cheaper, and they are all really friendly in there too. I like going to local shops (I live literally round the corner) so I wish I could be more positive, but each time I go I have the same experience.
Popped in here the other day and am so excited to have found such a gem on my doorstep. Absolutely the best mozeralla i have ever tasted and the scotch eggs have to be tried to be believed. Service has been spot on whenever i've been in so maybe those commenting below have just been unlucky. Have been back several times already and will continue to do so, best coffee in the area by miles and great stuff for christmas presents or treats for dinner parties.
Best coffee in North London
Ordered a Debeauvoir Deli Club sandwich - very tasty and staff were polite and substituted mustard for mayo. It's a good-sized sandwich on fresh brown bread - better value than a Pret-a-Manger for a similar price. Tables inside and out were full today around 1:30pm - must be more working-from-home people or tourists in the area than I imagined. No attitude problem today - except perhaps from some of the sit down customers who imagine they're in a higher caste from the rest of us.
The spate of negative reviews for the de Beauvoir Deli is not surprising. I have been to this shop many times since it has opened, picking up items for my own kitchen, gifts for others and the occasional eat-in. Despite this the whole experience leaves me cold each time- to the extent that anytime I am asked about it by uninitiated friends and neighbours, my first instinct is to warn them of the rudeness of the staff who display acute anti-social behaviour (glaring eyes, frowning face, monosyllabic character of their conversation) When will this change? Each visit is only further confirmation that for the owners of the de Beauvoir Deli's the priority is not the satisfaction of their customers. WILL BE KEEPING AWAY FROM NOW ON!
I am really surprised by the negative comments on here - I find the staff really pleasant and fun, if a little rushed off their feet at the weekends. The food is great, as is the coffee - best macchiato in town! My only quibble is the price, but isn't that what you expect from such high-quality food? You get what you pay for, and while this is not somewhere I could afford to shop every day, it's the perfect place to get a great sandwich and a treat for the store cupboard!
It takes a while for you to realize that the staff at the De Beauvoir Deli have a bit of an attitude problem. I suspect that this comes from the top down as even the most senior staff (the management I assume) treat their customers as if they are an inconvenience. As a regular customer for almost two years, I have witnessed on numerous occasions that it is often the customers that makes far more of an effort towards the staff, rather then the other way around. Particularly when its busy, the poorly trained staff is more concerned with its image than with customer service. I challenge anyone to tickle as much as a smile out of a group of people who are simply 'too cool for school'. This is very unfortunate because some of the food stocked and produced at the deli is very good - despite being vastly over prized. I can't imagine that in these economically difficult times, a business will be able to survive without a minimum of respect towards their clientele. And so I return to the De Beauvoir Deli, always hoping that the staff has changed it's negative attitude.
More venues
Sponsored listings