Decatur at Pamela - CLOSED
1/5
2/5
3/5
4/5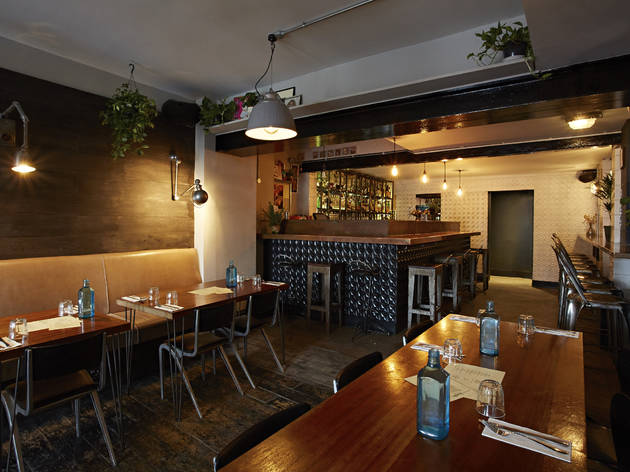 5/5
New Orleans-inspired cooking at a hip Haggerston bar.
Please note, Decatur has now finished its residency at Pamela. Follow them on Twitter to see where they're next popping up. Time Out Food & Drink Editors, January 2017.
First things first: who's who and what's what. Pamela is the bar. If you're thinking: Hey, that's a pretty dandy name for a bar, just wait until you see the wall. Yup, that'll be a line-up of famous Pams there: a big poster of '70s actress Pam Grier, a lot of Pamela Andersons. Think 14-year-old boy's bedroom circa 1992. This space is from the crew behind Dalston hangouts Birthdays and The Alibi; they've always had a sense of humour. When I email to book, someone actually signs off my confirmation with 'Pammy xx' (kiss kiss). As for Decatur, it was initially a temporary residency, bringing a taste of New Orleans to Pammy's drinkers, but it was such a get-out-your-jazz-hands-success that it's sticking around.
The best of the menu – hardly surprising when you consider it was originally designed as bar food – is anything small or snacky. So instead of saving yourself for comfort food mains, be sure to go large – mammoth, please – on the little plates. Like the baked oysters. If you're the sort of person that thinks that oysters taste like a) the sea when you think you might be drowning, b) the inside of a can (metallic, minerally), or c) a giant bogey, then try having them baked. Specifically, Decatur-baked. These moist, juicy bivalves come with a cheesy, salty, fiery topping (butter, pecorino, garlic, hot sauce) and are dangerously addictive. Order as many as you can afford. Then there's the 'beer cheese'. A Brit twist on a New Orleans staple, this doesn't look like much: a firm orange paste in nuclear-fallout orange. But applied thickly over buttered, grilled sourdough (they also give you a raw garlic clove for rubbing), you get all the flavour of cooked-down extra mature cheddar, pilsner, Cajun spices, mustard and a splash of vinegar. On the side? Pink pickled radishes, a trio of Ritz crackers. Of course. Finally, barbecue shrimp. A neat row of juicy shell-on tiger prawns, slathered in a sauce that's sweet, tangy, fiery and buttery.
For what's essentially a small, dark bar, with only a handful of tables (plus a few outside), this joint punches well above its weight. Cocktails are enticing and original (it's the kind of place where the gin comes beetroot-infused; the Short Ireland Iced Tea is made with London-distilled Bán Poitín) and the staff hugely welcoming (even if they did get slower and slower as the night advanced). Hey, Pammy, thanks for having Decatur to stay. Kiss kiss.
Venue name:
Decatur at Pamela - CLOSED
Contact:
Address:
428 Kingsland Rd
London
E8 4AA

Do you own this business?
You may be interested in:
Average User Rating
3.7 / 5
Rating Breakdown
5 star:

1

4 star:

1

3 star:

0

2 star:

1

1 star:

0
I'm an American in London and this place is worth the trip for the sweet tea and fried chicken alone. I also haven't found a biscuit this good since I moved to the UK!
I'm a big fan of New Orleans, almost entirely for it's food. I was super excited to read that there was a New Orleans pop-up on the scene in East London, so we booked ourselves a table for dinner a few fridays ago. The cocktails from Pamela were terrific, original and delicious. But the food from Decateur left a bit to be desired. The oysters were good, rich and tasty. But that's where the fun ended. The chicken wings were almost inedible and seemed to crumble to some sort of odd dust in your mouth. The beer cheese was almost flavourless, which is hard to do with beer + cheese. If I had to guess, I would guess that both had been frozen and defrosted, or something else. It wasn't good. The good times were not rolling...